Posted by mike | Filed under Reviews
I firmly believe that a good staff makes a restaurant. Front of the house employees play a big role in defining the overall atmosphere, and — for me — atmosphere is really what makes or breaks a dining experience. One even hopes that it reflects the chef's or owner's sentiments. That's not to say food isn't important. It is. My argument is really that good service can overcome average food; even the best food can't overcome a restaurant staff that simply doesn't have their heart in the game.
Don't think for a minute that I'm saying anything negative about the food at E2. The restaurant's various constructions package amazing flavors in a beautifully rustic package. I just think it's worth pointing out that there's a certain quality to the staff at E2 that makes the restaurant stand out. A certain attitude, really. They all carry a free spirit and a fun attitude that makes a dining experience all the more pleasant.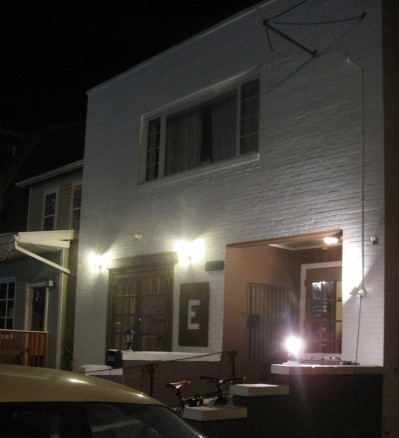 E2 (think Enrico's 2)
e2pittsburgh.com
5904 Bryant Street
Pittsburgh, PA 15206
(412) 441-1200
The restaurant, an outpost of the Enrico Biscotti Company, opened about a year ago in Highland Park — starting with weekend brunch and dinner 4 days a week and eventually expanding dinner all week long. Under the culinary direction of chef Kate Romane, the restaurant churns out what I would call rustic Italian cuisine. I'm guessing the space was an old house in a former life, with standard seating limited to a small dining room on the first floor. Both the bathrooms and a fairly large private event area are tucked downstairs in the basement.
They avoid self-application of any label, but I would say the place falls squarely into what I consider casual fine dining: fantastic food from a passionate chef served in a comfortable and unpretentious environment. During brunch you'll find the only copy of the menu posted on a wall-sized chalk board in the upstairs dining room. During dinner, they use the chalk board for "OMGs" (appetizers) an pass out a paper menu with the day's selection of dinner options. With a menu as dynamic as E2′s, it's hard to imagine any other format. (more)
Tags: Breakfast, byob, casual-fine-dining, highland-park, independent, must-try, newcomer, veggie-friendly
Posted by mike | Filed under Beer, Commentary
Last week, I received an email message from someone in the planning stages of a new restaurant in the area. He reads this blog and had come to realize that I have some opinions when it comes to a good beer list. Not wanting his to be one of the places that I grumble about, he asked for some advice.
I was thrilled by the opportunity to have a positive impact on a new restaurant, so I pondered for a few days and eventually typed up some notes. By the time I was finished, I had a fairly lengthy message that I thought might be useful for other readers (and Googlers) as well.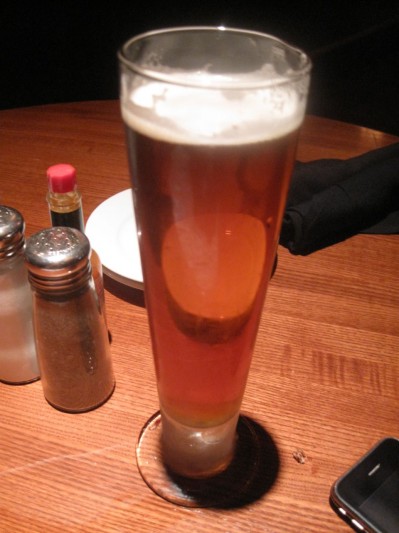 I'm not posting it here not because I claim to be an expert in the area—I'm certainly not. I can actually think of several far more qualified readers who will likely chime in to tell me where I'm wrong. Really, I have two reasons for posting. First, there might be other restauranteurs out there looking for similar advice; second, because I have no doubt that I'll be seeing some insightful comments in response. I have a feeling the comments will help turn my thoughts into something even more useful.
I realize some of you could care less about beer. If that's you, then just ignore this post and start looking forward to the E2 post that I'm working on next. (more)
Tags: good-beer
Posted by mike | Filed under Beer, Reviews
When I first heard that Point Brugge was opening up a new restaurant, I was excited. When a Canadian friend pointed out that they would be serving traditional Montreal poutine, I was intrigued. The original location has a great reputation for serving up some good Belgian cuisine and a pretty good selection of beer. The biggest problem: they're always packed. It's nearly impossible to go with a group, and even a small gathering can translate into a lengthy wait. In time, I'm afraid Park Bruges will be very much the same, but there's some hope that maybe the new location will take some weight off the old.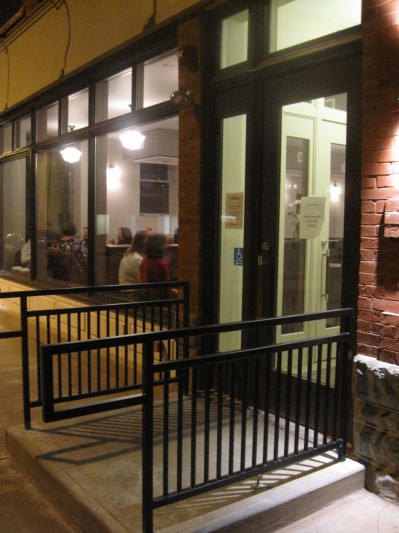 Park Bruges
www.pointbrugge.com
5801 Bryant St
Pittsburgh, PA 15206
(412) 661-3334
Park Bruges, you might notice, uses a different spelling of "Bruges;" that would be the French spelling instead of the Flemish "Brugge" variant. The reported plan is to point their Highland Park outpost in the direction of Belgium's French community and leave Point Breeze location with all of its Flemish tendencies in tact. Like the original, Park Bruges still serves up a quality beer list of mostly Belgian bottles with a relatively small Belgian-focused draft list and a few American craft options for those who want it. In other words, it's the Highland Park destination I've been waiting for.
Not that any of the existing highland park destinations is at all bad. (more)
Tags: good-beer, highland-park, must-try, veggie-okay
Posted by mike | Filed under Beer, Reviews
I'm not typically a fan of pizza—mostly because so little of it is actually worth the calories involved. Then, every once in a while, I hear about a new pizza place—one that looks like it might actually serve some really good pizza. At that point, the pull of trying a new place overcomes the opposing force of being healthy, and I make my way over to said establishment. You never know, the adventure might actually lead something good.
In the particular case of Pi Coal Fired, the results were mixed: great pizza, plenty of veggie options, and even a few craft beer options. The pizza was even fairly healthy—very well balanced without being overcome by a thick layer of cheese. That's not to say the place is perfect—you need to tolerate a few (manageable) shortcomings along the way, but I still recommend checking it out.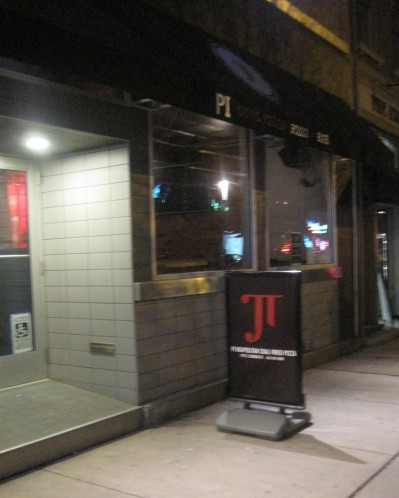 Pi Coal Fired
www.picoalfired.com
1707 E. Carson St
Pittsburgh, PA 15203
(412) 431-5095
There seem to be quite a few people who had never heard of Pi Coal Fired. Given their proximity to some other well-known South Side destinations, that's a little surprising. They're right on Carson near 17th Street—somewhere between Fat Heads and Carson Street Deli. Based on a City Paper commentary, it sounds like they opened in February 2010 with a goal of bringing great Neapolitan pizza to the South Side. I think they manage to meet that goal—with one caveat: the restaurant is attached to a night club (Jimmy D's). That association has a somewhat significant impact on the overall atmosphere, but I'll dive into that issue a little later. (more)
Tags: pizza, south-side, veggie-friendly, worth-a-shot
Posted by mike | Filed under Beer, Reviews
I get excited about all kinds of restaurants. There are those restaurants that any foodie would love, those that embrace a healthy dining experience, lunch-oriented sandwich shops—and, of course, those that know how to build a good beer menu. The unifying theme is that they're all small businesses at heart—anything but a cookie-cutter replica of the same old place. If anything, Fiddler's fits into the third group: the beer-centered establishment with decent food. That's not to say it's another Bocktown or Sharp Edge, but their beer list outdoes many other restaurants in the genre—especially for the North Hills (though even that is slowly changing).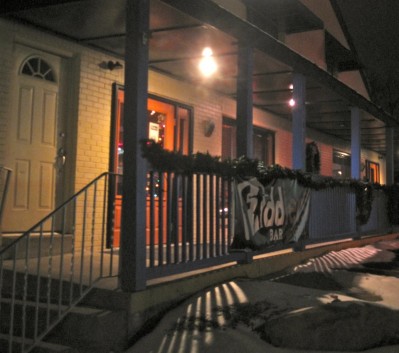 Fiddler's Bar and Grill
www.fiddlersbarandgrill.com
9101 Perry Hwy
Pittsburgh, PA 15237
(412) 635-2300
You may already know Fiddler's by another name: Magoo's. That seems to have been the name of the restaurant before their recent re-branding. The ownership hasn't changed, and I'm told the interior hasn't either. The "big" change is really a slight modernization of the menu. As far as I can tell, that's code for a few veggie-friendly options plus some 90′s-era foodie highlights: sun-dried tomatoes, goat cheese, and the like. It's still not a vegetarian or foodie mecca, but the slightly modernized options are welcome. (more)
Tags: freewifi, good-beer, pittsburgh-north, veggie-okay
Posted by mike | Filed under Miscellaneous
As many of you know, I'm a big fan of the independent sandwich shop with free WiFi (prime example). The source of my love is twofold: a good sandwich and a low key place to pull out my laptop. I frequently try to stop at a coffee shop on my way home from work to catch up on reading, blogging, and all those other aspects of my life. The problem with that trend: I often leave work at a time when should really be thinking about dinner. Coffee shops are great for WiFi (and coffee), but they're miserable with food. The deli-with-WiFi concept gives me a chance to order something remotely healthy to munch on while I work. Everybody wins.
When Jeff Bearer suggested that I give Zuppa's a try, I added them to my list. The Wexford location is relatively close to where I work, so I made a point to stop in one day on my way home. What I found was a freshly minted local business: friendly owners working hard behind the counter and a unique menu showing off their particular take on what a sandwich shop should be. It's good to see another independent restaurant up in the North Hills.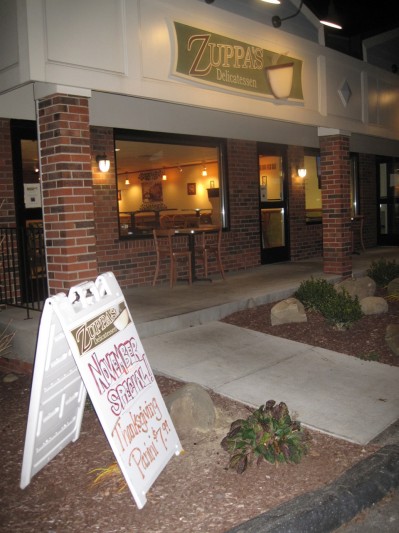 Zuppa's Deli
www.zuppasdeli.com
10850 Perry Highway
Wexford, PA 15090
(724) 934-4700
Zuppa's is new in the area: they opened just a few months before my first visit. The theme is sandwiches and soups. They also offer some salads, but I don't think that's a focus: Zuppa's main success lies in the sandwich—and, almost necessarily, the soup. After all, zuppa is the Italian word for "soup."
Founded by three friends late last year, the stated goal is to be the best Italian deli in Pittsburgh. That's a lofty goal, but I respect the spirit. From my own interactions with the owners, it's very clear that they care deeply about every customer's experience. I was more than a little impressed that they remembered my name when I stopped by for a second visit—more than a month after my first. In my experience, running into a non-owner is a somewhat rare occurrence.
(more)
Tags: byob, freewifi, independent, pittsburgh-north, veggie-okay, worth-a-shot
Posted by mike | Filed under Beer, Reviews
I'm not a big fan of Mount Washington. That may be a somewhat blasphemous position to take, but I don't think I'm alone (am I?). Sure, there's a great view and a chance to ride the incline, but most of the restaurants just don't stack up. The ones I've been to are dated at best: stuck in an era when a stagnant menu and stuffy atmosphere were sufficient to impress the city's moderately high end diners. Thankfully, that era is over.
Over the past few years, we've grown as a city. A burst of casual fine dining has brought quality food without the oppressive atmosphere; dynamic, often seasonal, menus have become the norm. More in line with my interests, some of the city's best restaurants have even started opening previously bland draft lists to more interesting beer options. I would even say it has become a little rare to find draft list dominated entirely by industrialized adjunct lagers.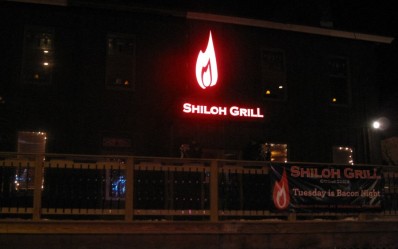 Shiloh Grill
www.theshilohgrill.com
123 Shiloh Street
Pittsburgh, PA 15211
(412) 431-4000
In many ways, I view the current owners of Harris Grill as an early example of those trends: they've had a great beer list for as long as I can remember and casual is the rule of their game. The food is notable, but probably not exceptional—at least relative to my own biases. It's all well prepared and consistent, just not the type of food I usually go for. For example, you've probably heard of "bacon night" (Tuesday).
Despite the caloric minefield, there are some healthful options—even good number of vegetarian options. Whatever your leanings, you're more than likely to find something that fits your diet—unless you're dead set on vegan options, which are shamelessly bashed on their menu. Of course, Harris has always augmented that culinary baseline with a dynamic list of draft beer options and moderately impressive list of bottles. Merge the food with good beer and you have a place worth getting excited about.
What does Harris Grill have to do with the Shiloh? Everything. The same owners that made Harris Grill what it is today are renting the space that was formerly Shiloh Inn. At the end of last year, they opened it back up in the image of Harris. Actually, the renovation was completed so quickly that I didn't even hear about it until it was finished (via Bill Toland's story in the Post Gazette). By that time, Grill #2 was basically up and running, and I had no choice but to go check it out. (more)
Tags: freewifi, mt-washington, must-try, veggie-okay
Posted by mike | Filed under Beer, Reviews
I've been to Ruggers something like three times now, and I never seem to get a chance to actually write about my experience. Despite the lag since my last visit, I'm going to write up some thoughts—just because I really think they deserve more attention than they seem to get. When you're looking for a low key bar with a decent list of craft beers on tap, it's well worth venturing off the main Carson Street drag to seek the place out—as long as a little smoke doesn't bother you.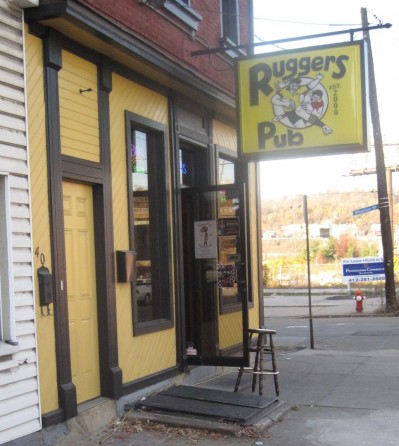 Rugger's Pub
www.ruggerspub.com (a work in progress)
40 S. 22nd St.
Pittsburgh, PA 15203
(412) 381-1330
Ruggers first came to my attention on Twitter, after I bumped into one of their bar tenders at the PodCamp after-party (@pghrugbyangel). Based on the limited information I could dig up on the web, Ruggers seemed like exactly the kind of place I like to seek out: the under-appreciated and somewhat unknown local joint. After that initial digging and some friendly Twitter-prompting from Claire, I decided to give it a shot.
The "Ruggers" name highlights backing from several members of the Pittsburgh Rugby Club. I've also heard that it's owned by the same guy that owns Patrick's Pub up in Moon Township. It's certainly not really a foodie destination—or even a beer destination, for that matter. Instead, Ruggers is more of a relaxed bar that manages to steer clear of some of the South Side's more obnoxious revelers. Similar places can be found both on and off Carson Street, but the crowd at Ruggers is distinctly different: a little younger and a little more interested in good beer and better food. Perhaps even more significantly, the menu is far more than a little vegetarian-friendly. (more)
Tags: freewifi, good-beer, independent, south-side, veggie-friendly, worth-a-shot
Posted by mike | Filed under Beer, Reviews
I know. I've written about Carson Street Deli before, but they recently changed owners and extended their offerings to include the one thing that could have made the place even better: beer. Good beer, at that.
I've been sitting on my notes from my most recent visit for way too long, and the addition of beer definitely means they could use another quick mention. They're not perfect, but they represent a tend that I can get behind: a low key stop to get some dinner, catch up on email, and enjoy a quality beer.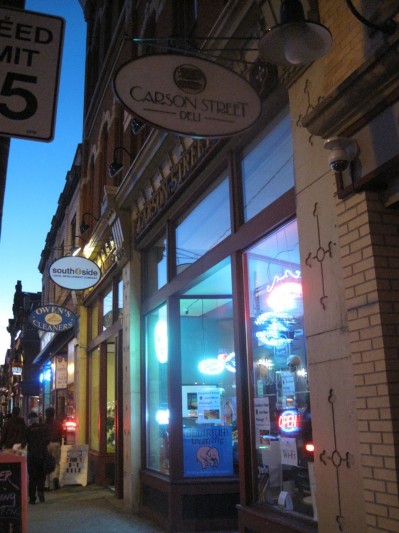 Carson Street Deli
www.carsonstreetdeli.com
1507 E Carson St
Pittsburgh, PA 15203
(412) 381-5335
Carson Street Deli is nothing new to frequent visitors to the South Side. They've been sitting in the same spot and serving up some pretty good deli sandwiches for as long as I've been paying attention. They were even a long-time source of Free WiFi (the focal point of my previous write-up).
The big change appeared when home-brewer and beer enthusiast Mike Murphy stepped in and bought the place. Unlike many ownership changes, he didn't change much at all. The menu remains entirely unchanged, and the WiFi is just as free as ever. The one change he did make was the addition of beer. Without shifting the general layout, Mike squeezed four taps and three coolers full of assorted bottles. Carson Street Deli (CSD) still isn't anywhere close to a bar; it's a deli that just happens to serve beer. I think that's a good thing. (more)
Tags: freewifi, good-beer, south-side, worth-a-shot
Posted by mike | Filed under Reviews
If anyone knows where the name "Thai Suan Thip" comes from, please let me know. That's the name of the restaurant that has made their way into the old Mojo Bistro space. When Mojo Bistro was closing, the owners told me that a Thai restaurant would be moving in to replace them; they just didn't have many details. At the request of a friend, I recently checked in on the incoming Thai restaurant's progress: though hard to tell from the web, the new place is definitely open. The problem: other than a phone number on the now-defunct Mojo web site, the restaurant is barely mentioned online. Given the situation, I had to stoop so low as to actually call the place to confirm they were even open. Shudder.
After calling, but still armed with minimal details, I took the leap and made my way out to Bellevue to give the new place a try. I was very glad I did.
NOTE: Thanks to some helpful readers, I did eventually figure out the history on the name. Thai Suan Thip literally means "garden of the heavens." It's the name of a beautiful garden in Thailand and — at least one commenter notes — it's the site where the owners were married. Thanks to everyone who posted an explanation!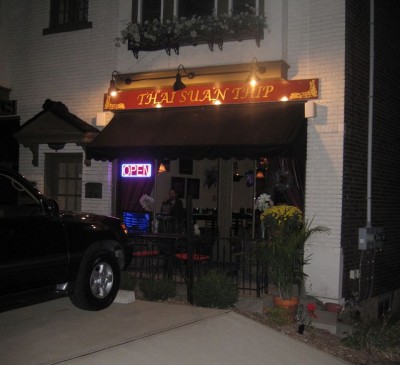 Thai Suan Thip
(somebody needs a web site)
172 Lincoln Ave
Pittsburgh, PA 15202
(412) 766-1899
Now…it's about time I take a stab a documenting the existence of place on the web. (more)
Tags: byob, must-try, pittsburgh-north, veggie-friendly