Posted by mike | Filed under Beer, Reviews
I've been hearing about the Pittsburgh Bottleshop Cafe on-and-off for a little while now. At least part of that is good PR on some-one's part. You hear about them in promotions on 105.9 (you know, FM radio), and the Pittsburgh Beer Meetup was there a while back (but I didn't get to go). Wanting to give it a try, I decided to head out that way with some friends for my birthday.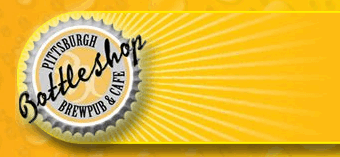 The Pittsburgh Bottleshop Cafe
http://www.bottleshopcafe.com/
1597 Washington Pike
Bridgeville, PA 15017
412-279-8170
So what is a bottleshop? My explanation would be a restaurant/bar that makes a point of carrying a huge selection of beer bottles. That usually suggests that their draft selection is also pretty good. The Bottleshop Cafe claims to boast more than 250 different bottles, and I would guess they had about 10 different beers on draft.
My main conclusions: they do in fact have a wide selection of beer, but nothing to write home about. Their selection paled in comparison to similar bottle shops like Bocktown Beer and Grill and Barley's and Hop's. I didn't take an extremely close look at the draft selection, but it didn't look particularly noteworthy. I will saw one thing with regard to their selection: they carried the Redbridge Gluten Free beer, which enabled my friend Rose to actually order a beer. That's a positive sign.
Here's what we ordered…
Me — Grilled Portobello Salad
Charles — 2 dozen Cajun wings (to pass)
Vicki — Shrimp Wrap
Brett — Grilled Chicken Wrap
Erica — Vegetarian Wrap with a bowl of French Onion Soup
Rose actually ordered the chicken salad but requested portobello in place of chicken. That sounded hugely exciting to me, so I went for the same–paired with their house dressing, a tomato basil vinaigrette. The dressing was actually very good–nice and tart as a result of a more appropriate balance of vinegar with oil than some places, which seem to overdo the oil and skimp on vinegar. I could have used a little more lettuce to fill out the bowl, but, other than that, it was a pretty solid salad (for a bottleshop). Many similar establishments will use an excessive amount of cheese, but that wasn't the case here. They didn't even put french fries on by default. I found such exciting items as tomatoes, cucumbers, and red onions along side my grilled portobello. None of them were great examples of extremely fresh vegetables, but that would have been an unreasonable expectation for this type of place.
Erica's soup looked (and smelled) pretty good, and the wraps looked pretty standard (not really worth writing about about, but not bad either). The wings were also nothing to write home about. I can't say I was disappointed by them (I had one), but I need a little bit more of an intense flavor to enjoy a chicken wing. These had a mere dusting of some Cajun spices. They could have made up for the light seasoning if the wings were especially well cooked. That would mean served very hot with meat that would easily pull off the bones. These weren't that type of wing. Then again, wings tend to be falling out of favor for me these days, so that might be a somewhat biased assessment.
I will say that Charles had an order of fries that he passed around to share. I tried one, and found them to be pretty good. They were still hot in the basket, and had a nice texture–somewhat of a crunch on the exterior with enough flavor to carry the interior. Many fries of similar form run into the problem of the right crunch exterior with an overly starchy and bland interior. That didn't seem to be the case here, so I was pleased (but good enough not to munch on too many of them).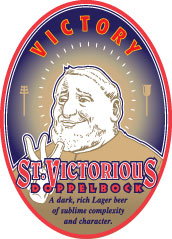 Oh, and let's not forget the beer: I started with a St. Victorious from Victory. That would be their seasonal beer for the winter months. It was recently featured in draft form at Mad Mex locations around the area, but I never had a chance to get out there and try it. I was actually rather surprised by the flavor. I expected a little more hop character coming from Victory, but didn't find it (a welcome surprise). Instead, the beer was left on it's own to show off it's flavor. The main showcase was a malty sweetness that wasn't too aggressive. That said, I probably would have enjoyed something just a tad drier. Even so, I thoroughly enjoyed it.
I followed that with an Irish Red from O'Hara (actually a part of Carlow Brewing). I can't say I know much about O'Hara (based out of Ireland), but I'm currently in the process of brewing an Irish Red and wanted to get some further examples of the style under my belt. I really can't pull much together in terms of commentary on this one, but it was good. All I can really say is that it was well-balanced. Some subtle (but definitely present) European hops (not sure which) made an appearance along side a gentle maltiness. I definitely enjoyed this one, and actually preferred it to the St. Victorious (which actually has a little more hype behind it).
Tags: good-beer, independent, pittsburgh-south
Leave a Reply