Posted by mike | Filed under Reviews
If you've ever talked to me for more than a few minutes–especially if you're brought up bread and baking, then you've probably heard me rant about Enrico Biscotti. Historically just a bakery with a lunch time cafe added only recently, Enrico's has been hosting special monthly dinners for a while now. Larry, the owner and head baker, is rather inspired to present his take on rustic Italian cuisine. I had a chance to attend this month's Friday dinner and thoroughly enjoyed the meal.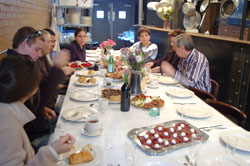 My first exposure to Enrico's (short of stopping in for biscotti), was Larry's monthly bread baking class. If you haven't taken the class, and have any interest in Italian cuisine or baking in general, then you should take the class. It's definitely worthwhile. You may not come out a professional baker (or even a successful baker), but Larry's presentation of bread's role in our culture heritage is enormously inspiring. Hell, it turned me into a baker.
Now, let's talk about the First Friday dinner.
Held on (surprise) the first Friday of each month, this dinner represents all the goodness of Enrico's without any of the bread baking (and, sadly, without Larry's informative commentary). The dinner takes place on a single long table set up on the cafe, so you'll probably have a chance to interact with your neighbors and meet some new people. There are spaces for about 12-14 people, which seems to be about the right size. It wasn't really possible for the whole table to join in on a single conversation, but there weren't any deadening silences, either. The group size was just about right.
Enrico's makes no compromises on quality. Everything they serve is top notch, and far better prepared than anything I can see myself doing. The courses broke down into lite appetizers of cheese, bread, and various spreads followed by a salad, pasta, fish, and finally a nice little desert. I'll hit on the three distinguishing notes for a little more detail.
The salad. The salad was good (but not really my style). There were plenty of vegetables all cut to a nice size and tossed in a subtly flavored dressing. I'm not big on the pre-dressed salads. I really prefer to be in control of what goes on my salad and just how unhealthy it is. I'm also not big on the dressings that lean more toward oil than vinegar. I love the tart flavor added by a vinegar-heavy vinaigrette, and this one didn't really have it. That all sounds like a big complaint, but really it's a series of nit-picks. What can I say, I'm a salad snob.
The pasta. Normally, I'm not a big fan of pasta. Even if I do go the pasta route, I'm more likely to mix in more veggies than pasta and definitely shy away from a red sauce. The pasta dish for First Friday was simple, but delicious. I would call it rigatoni with a slightly creamy red sauce. There was definitely some ricotta floating around in there as well. Everything really came together into something that looked simple but was executed so well as to make it exceptional.
The fish. This one was surprising. Imagine a white fish (think cod) with a roasted red pepper on top all wrapped together with a puff pastry and baked. That may seem like something a little low-brow (well, except for the pepper), but it was surprisingly good. There were no strong flavors to detract from each of the underlying components (aside from a light sauce underneath). The puff pastry was light and did a fantastic job of locking in quite a bit of heat to keep the fish most, hot, and delicious for quite a while. It all came together quite nicely. I even ate the whole serving–which is huge given that I'd be likely to eschew that particular assemblage of ingredients at a lesser establishment. It's not often that something wrapped in puff pastry and served on cream sauce is worth the mass of calories it represents: this one was.
That all might sound pretty tame, but the preparation here is key. Larry and hist staff know what they're doing (and are always paying attention). Did I mention Larry's home-made wine? He served up some of that too (charging by the bottle).
My final take? For cuisine that diverges from my standard tastes, this was an exceptional meal. If you can appreciate good food and often find yourself dissatisfied with the food at most restaurant, then you should definitely give Enrico's a try.
Tags: independent, strip-district
One Response to "First Friday Dinner at Enrico Biscotti"
Rose & Charlie Says:
March 7th, 2009 at 11:38 am
Leave a Reply