Posted by mike | Filed under Beer, Reviews
Last night, a friend invited me out to give Hofbräuhaus Pittsburgh a try. For those of you that have been hiding under a rock, the Hofbräuhaus just opened up on the South Side a few weeks ago. As a larger unit, Hofbräu has been a brewing powerhouse in Munich since 1589 when the Duke of Bavaria was trying to satisfy the demanding tastes of his people. Not until 2003 did they first appear in the US with a beer hall in Newport, Kentucky–just outside of Cincinati. There are a few others around the states, but I still don't think there are enough of them to consider the place "overdone" (yet). That having been said, their recent expansions left a feeling somewhat reminiscent of The Cheesecake Factory, when they first started popping up–well, everywhere–back in the early 2000s. There's actually a fairly detailed history available from the primary Hofbräu site if you want to know more.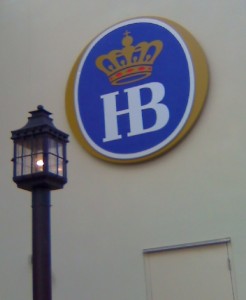 Hofbräuhaus Pittsburgh






/ ($$)
3201 S Water St
Pittsburgh, PA 15203
(412) 224-2328
Enough history: how was it? I can't say I come down on the etremely positive side. The menu had a number of traditional German entrees, plus plenty of appetizers suitable for drinking. My meal was flavorful, but not prepared very well. I also happened to be attending with some German exchange students–one of whom was thrilled with her meal, the other: not so much. The beer was a similar story: commendable for ticking to a classic style but not in any way exceptional. Overall, If I had to give Hofbräu a star rating, I'd say 2.5 out of 5 (though it pains me to say it).
Only four beers? There are currently only four beers available: all Hofbräu brews, with the promise of a rotating selection of seasonal brews. The whole restaurant is lined with conical fermenters, and I'm told those are functional. So, one would have to believe that over time the beer selection will expand. There are 8 different taps at each bar station, so there's some room to grow. I certainly hope that proves to be the case.
Solid session beers. I hate to give Hofbräu any trouble over their beer. I do enjoy their bottled lager, and I am a strong supporter of any brewery that makes a point of sticking to a very traditional style. Hofbräu does just that: they brew four standard beers:
Import? Why not just brew locally? The story goes that Hofbräu was originaly created as a cheaper alternative to importing the castle's preferred beer from Einbeck in Lower Saxony. For those of  you not up to speed on German geography, Einbeck is in north central Germany; Munich is in the far southern region. Einbeck is the home of the bock style–a strong lager, and that is the basis for the Hofbräu Premium Lager that served as my second beer of the night. Think Yuengling, and you'll have a pretty good idea of where this beer sits. It's definitely very drinkable, with a nice lager flavor and more body than you would find in a Pilsner. Overall, it was a solid session beer, which is essential given the quantity of beer Hofbräu likes to throw at you (up to a liter at a time).
Look ma, no salad. For some time now, I've been fascinated by sauerbraten–a dish I've never made for myself but would love an opportunity (hint). The trademark of this dish is it's strong, vinegar flavor coupled with a tough cut of meat that has been marianted and braised to the point of being tender. There should also be some sweetness to balance the tang. My dish at Hofbräu was paired with red cabbage sauerkraut and fairly plan mashed potatoes. The sauerkraut was the recipient of much of the sweetness associated with the Sauerbraten.
Tough meat. The brisket component of my Sauerbraten was tough. I hate to say that, because it's a huge cliche and I'm not even really into meat. It just was. The beef was clearly not prepared in the traditional way (over the course of hours). Rather than a brisket transformed by time and attention into something tender and flavor-packed, the brisket I received was in 0.25″ dry slices that were literally difficult to chew. It was topped with the type of tangy sauce that you might expect with sauerbraten, but not enough of it to help me cope with the toughness of the meat. I'd like to give them the benefit of the doubt, though. After all, this location just opened a few weeks back.
The culinary bright side. One of the German natives in my group was excited to give Hofbräu's schweinshaxen a try. The result was reported to be much better than my sauerbraten. I must say, the presentation was  very impressive. Schweinshaxen is a ham hock, roasted with a crisp exterior shell. The skin actually reminded me of a golden turkey coming out of the oven. My dining companions seemed to love it: they tore it apart and ate every last piece they could scrape fromt the bone. Clearly the food at Hofbräu isn't all that bad (though definitely outside of the genre I'm aiming for).
The (noisy) atmosphere. Hofbräuhaus is noisy. I was there on a Thursday night to find live music–singing the Hofbräu song and other drinking favorites (think, "eins, zwei, g'suchen."). That much would have been fine–and even festive. Then add to that the roar of the imbibing crowd, and the result is a noisy night out. I wasn't able to carry on much of a conversation at all. That's not a gripe, though. I think that's the goal. It was just beyond the level I expected to hear.
My final take? Hofbräu is a drinking establishment more than anything else. Go there with your friends and enjoy a rauchaus night out–just don't go there with high hopes for fine cuisine and a vast array of drinking options. If you're looking for some German food, just go to Max's. They have a more interesting beer list to boot.
Tags: chain, non-veg-meal, south-side, veggie-fail
25 Responses to "Review: Hofbräuhaus Pittsburgh"
Leave a Reply