Posted by mike | Filed under Reviews
One of my favorite weekend activities is walking from my house—which is near Greenfield—all the way down, up, down, then up again to Murray avenue. It's not really that far (1.3 miles), but this is Pittsburgh. On Saturday, after my usual reading activities at the 61C Cafe, I stopped by the Smallman Street Deli (Murray Avenue location). I usually wait until I get back home to eat lunch, but this time I decided I wanted a fresh look at one of my favorite places for the purpose of a review.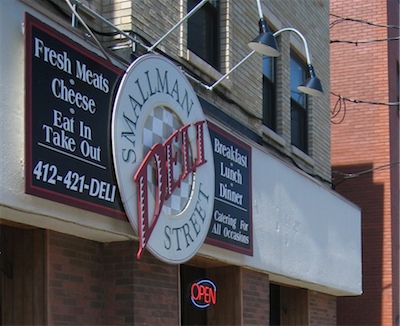 Smallman Street Deli






($)
1912 Murray Ave
Pittsburgh, PA 15217
(412) 421-3354
The original Smallman Street Deli can be found in the Strip District—you know, on Smallman Street. The Squirrel Hill location is much larger and is open both nights and weekends; the same can't be said for the Strip, but that makes sense in the Strip. As a go-to sandwich shop, this is one of my favorite establishments. They offer up a deli counter with some of the best deli meat in Pittsburgh, a customizable assortment of sandwich options, and even a reasonable selection of beer (bottles). Basically, they identified all three avenues to my heart.
Not-so-sit-down. Smallman Street is not what you might call a "sit-down restaurant;" it's a deli. You place your order at a counter, grab yourself a drink, and wait for someone to carry out your food. I have no problem with that arrangement, but those unfamiliar should set their expectations accordingly. As far as I can tell, this arrangement doesn't suggest leaving a tip. If I'm completely wrong on that front, let me know. I would hate to be unintentionally screwing someone. If someone from Smallman is reading this, I'd love to throw money in a tip jar at the register.
Salad and half a sandwich. This time around, I ordered the salad and half sandwich combo. Normally, the "salad" option includes a deli salad. I paid a little extra to get a "side salad" (you know, with lettuce). For my sandwich, I selected the Mediterranean veggie and paired it with pumpernickel. That translates into hummus, plus a healthy dollop of a tomato/olive "spread" (the "Mediterranean veggie"). I also chose to include lettuce and a slice of tomato.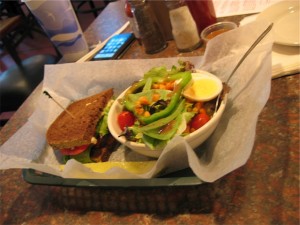 In contrast to some other sandwich joints, Smallman does a good job in balancing the bread thickness with the sandwich contents; the slices aren't so thick as to dull any flavors in the sandwich. I expected the tomato/olive spread to carry much of the brined flavor of the olives and maybe some vinegar, but that wasn't the case. Instead, the spread carried a subtle sweetness, that could have just been the impact of the tomato component but was more likely an addition. That didn't really fit my expectation, but it wasn't necessarily bad. Just imagine dipping bread into a spinach and artichoke dip and tasting sweet pickle relish instead. Did I enjoy my sandwich? Yes. I didn't expect to eat the whole portion when I ordered, and that's what ended up happening. Could it have been better? Definitely, but it's worth noting that Smallman really specializes in more traditional meat-heavy sandwiches.
The best roast beef brisket. If I had to craft my all-time favorite sandwich, it would include the following: a small quantity of lean roast beef brisket (appx. 1.5 oz), pepper jack cheese, yellow pepper rings, Woebler's Hot & Spicy Mustard, and several pieces of  leaf lettuce all between slices of quality pumpernickel rye. Yes, I'm a sandwich snob. The point is that I know sandwiches, and I have found no better roast beef brisket than at Smallman Street Deli. At your typically grocery store, they don't even offer roast beef brisket as an option—just top round. Smallman offers up two options: lean and, well, not lean. I prefer the chewy texture of lean, but almost never remember to specify. That's probably fine, because both are quite good. When I'm looking to make my week of lunch-time sandwiches special, I always stop by the deli counter for a half pound of the stuff.
Far too heavy on the meat. So why, you might ask, do I order the only vegetarian sandwich they offer when I dine in and then rave about the quality of the roast beef at the deli counter? One simple reason: they throw way too much meat at any sandwich you order. Of course, "way too much" is my own opinion. I suspect that's an effort to make "normal" customer's happy: I'm an oddity in that I prefer sandwiches with more veggies and relishes than meat. Smallman explicitly markets their roast beef sandwich as containing a half pound of beef. That's just way too much, so I take the brisket home and make my own.
Just enough beer options. I wouldn't have pegged Smallman Street Deli as the type of place to serve beer, but they do. There are three beer coolers opposite the deli counter with a halfway decent selection of bottles, and they often have something on special sitting on ice near the counter. The options are somewhat limited, but they do tend to have something from great lakes and a small sampling of the more ubiquitous craft beers. I never see anyone having a beer with their meal, but I enjoy the fact that it's an option. I know I've taken advantage of that option. It's also convenient to pick up a six pack while I'm picking up some deli meat. Just beware that the options are a far cry from Kazankski's, which is just down the hill.
"Plus some other good stuff too." Smallman Street isn't all sandwiches; they also serve a series of dinner entrees and breakfast all day, along with a selection of both deli salads and entree salads. The salads are surprisingly good—with plenty of fresh veggies and optionally topped off with anything from grilled steak to egg salad. I've also tried the soup on occasion, but haven't found any of it to be exceptional. It's rather thin and broth-y without a sufficient amount of "stuff" to make it great. I'd much rather take the salad option with my half sandwich.
Pulling it all together. If you're looking for a sandwich or a neighborhood deli, Smallman Street Deli is fantastic. It's one of my go-to establishments on Murray Avenue, and well worth a visit if you're in the area. I gave it a 4-star rating. Perfection would require some sandwich options with reasonable amounts of meat and heartier sop, but those are nit-picks based primarily on my (somewhat) unique preferences.
Tags: good-beer, regional-chain, squirrel-hill
Leave a Reply