Posted by mike | Filed under Beer, Reviews
I had various reasons to celebrate on Friday, and have wanted to make a point to go back to the Pine Restaurant for a formal review all week. What better time to gather up a few friends and make my way out to Kennedy Township for a try?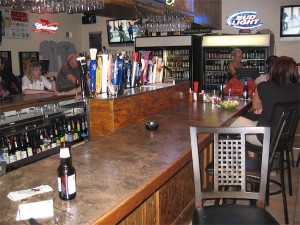 The Pine Restaurant and Bar






($$)
318 Forest grove Road
Coraopolis, PA 15108
(412) 331-9282
Why review The Pine? Last Sunday's TRASH meeting was held at The Pine. I checked out the web site beforehand, and, at first glance, it's not clear what to expect. The menu lists all the basics for a casual dining establishment (appetizers, salads, sandwiches, burgers, etc), but the execution of that menu could have gone either way. Once I arrived, I found that they're making a point to connect with the craft beer enthusiasts of the world through somewhat impressive selections both on tap and in bottles. That scores big bonus points on my end. Even more interesting: they're just getting started and the owners are actively pushing to get the word out. That's exactly the class of restaurateur that this site looks to highlight.
The patio is the place to be. From the outside, it's unclear what lies within. The parking lot is a all gravel, and the building exterior is brown wood—almost like a boy scout cabin. Upon entering the dining area, the scene was relatively calm and quiet. The crowd was slightly older (i.e., beyond their 30's), but that seemed to change as the night went on.
After passing through the restaurant area, we stepped back outside onto the porch or head directly to the bar—which opens to the porch. The actual bar area is relatively small, with seats around the bar but no bar tables. The patio is relatively large and sits primarily under the roof of the main structure, so it would even be worth visiting in the face of some light rain. The outside seemed to house a slightly younger crowd–or at least a little louder and more fun (though definitely not in a negative, Hofbrauhaus way). Of course, given that we went on a really nice night, the patio was packed.
Minor missteps and clumsiness during seating. I must admit, our initial arrival was a little clumsy. We walked in the dining room entrance, and requested a seat outside. I think we were lost somewhere in the hand off between the inside and outside waitstaff, because they seemed to seat at least one other party before us. Then again, I may be wrong. Maybe We just didn't see them waiting before we arrived.
Fun back and forth with the wait-staff. I really can't complain about seating misstep: it gave me a chance to scope out the bar and order a beer for my friends. I have no problem hanging out and enjoying a beer while waiting for a table, but I also know Brett, one of my compatriots, was a little anxious. Once seated, the service was exceptional: just the type of server I most enjoy: a waitress who doesn't shy away from an ongoing line of communication with some playful back and forth. As an example, when Brett's girlfriend asked for a drink recommendation, our waitress recommended a cosmo and turned around behind her to show off the beverage her mother was sipping at the table next to us. To me, that exemplifies a free-spirited and fun atmosphere. Plus, her mother was sitting next to us drinking a Cosmo!
Big menu with lots of options. I'll admit, there comes a point where a menu has too many options: a kitchen can only do so many dishes well. The Pine menu is far more extensive than I would have guessed. Lots of salad options, a few pages of sandwiches and burgers, and a concluding page of pasta and some other entrees. On Friday, we also received a two-sided printout of specials. Is that too big? It's on the borderline–aided by the fact that may of their entrees fall into the same class. Suffice it to say that the Pine doesn't have a particular specialty; the kitchen staff is clearly a group of generalists. Unless I missed something, that means there is no single go-to item on the menu for wich pine is known. Of course, that also means that there's something on the menu for everyone.
Fresher salad than I expected. I ordered the grilled portobello salad and was pleasantly surprised. The salad was big, but not quite super-sized. It also boasted a lot more vegetable content than I expected, including at least one surprising ingredient: roasted red peppers that tasted freshly roasted. The portobello's were also surprisingly good–and even cut into bite-size pieces rather than the long strips that you might find on similar salads. Like the peppers, they carried a sense of freshness. They clearly hadn't been over-marinated or left to soak up excess grease after cooking–both big pet peeves surrounding this class of salad. The tomatoes were bland and clearly had been refrigerated (a no-no for tomatoes, but, irritatingly, a reality and necessity for most restaurants).
Sampling the beer. I started with an Ol' Red Scottish Ale from Erie Brewing. I've gone back and forth on how I feel about Erie over the years, but this beer was different enough to be well worth trying. It doesn't get the highest marks on BeerAdvocate, but I rather enjoyed the smooth malty flavors: lots of malty sweetness with a substantial raisin flavor and a smooth carbonization that I could have swarn was nitrogen (though I doubt that's the case). It wasn't very sessionable, either. I later moved on to a second beer, with my selection based on the recommendation of our waitress. To be completely honest, I think the second beer was stale. The keg must have been old or something. I ended up passing it by completely for a chance to try a third: sadly, I can't recall exactly which beers filled those second two slots. That's the problem with taking too long to write up my review, and not even taking notes!
Some thoughts on beer menus. In general, I was impressed by the beer menu at The Pine. They did a better job than most establishments without any particular connection to the beer world. That having been said, the vast majority of beer on their menu fell in the category of what I call "craft beer cliche." That may seem like an oxy-moron, but there are certain craft beers that are easy to find (and probably easier to source). When a restaurant takes their first steps into the craft beer universe, that's just what they're going to find first. If you compare that with, say, The Sharp Edge, there's some overlap but also much more attention paid to the craft beer universe. The Sharp Edge employs someone full time to follow the beer culture and tends to gather an audience that can really appreciate beer that truly is difficult to get elsewhere in Pittsburgh (most notably Belgian varieties—on draft, no less). Of course, that same audience is also willing to pay a little more for their beer. Without a customer base willing to fit the bill, it does little good to offer up high brow beer. It all just ends in a stale keg. That having been said, The Pine is planning a monthly beer tour—presumeably with some new incoming beers as that progresses. My hope is that they will continue to grow overtime, and I wish them luck in that effort.
My final take. The Pine Restaurant is impressive for an establishment with new ownership. They have gone from 0.5 to 55 in less than a year. I'm guessing there was a time when they offered only Coors Light and maybe Yingleung. They have better than expected food and an impressive starting point for a beer collection. Is there room to grow? Yes. Does that mean you shouldn't go there: no way. They're definitely worth checking out—especially if you're looking for a fairly large outdoor seating capacity over the summer.
Tags: good-beer, independent
Leave a Reply