Posted by mike | Filed under Beer, Reviews
I've been making a point to go out at least once a week to head out to some place new that I can walk to from my house—primarily Squirrel Hill and Greenfield. On Monday night, I stopped by Hough's in Greenfield. The place has been sitting there on Greenfield Ave for some time now, but I was never quite sure about whether I should stop by. I drive by on a regular basis and, at first, I wondered whether they were even open. Well, after a mention on I Heart Pittsburgh, I realized they actually had a big selection of beer. Score one for Hough's: definitely worth at least stopping in.
Hough's






($$)
563 Greenfield Ave
Pittsburgh, PA 15207
(412) 586-5944
Overall, I'm surprised by the level of quality I found. That having been said, I have some definite complaints as well. They have a more intriguing selection of beer than The Pine, but the food was limited and, quite honestly, nothing to write home about. That having been said, it's a bottle shop: not everything needs to be a 5-star entree.
No really, it's kind of nice inside. If you've driven by Hough's, then you might know what I'm talking about when I say it's unclear whether they're open for business. The main sign is a vinyl banner that hangs above the entrance, and the windows are dark. It's the kind of bar exterior that made me thing it was either closed, or not the most welcoming of bars.
When you walk though the door, the appearance improves considerably. The interior is loosely divided into two mid-sized rooms. The bar sits in the first, and the second looks to be a party room that was dark and unused when I showed up. In the main room, the area behind the bar is completely packed with a cooler full of a surprisingly large, and well-chosen collection of beer. It was late when I showed up, so there were no active waitresses: just two girls beyond the bar. That's where I placed my order.
Free WiFi! No really: this little bar in Greenfield offers up completely uninhibited free WiFi access. That simple fact made up about 50% of my motivation to hit up Hough's on that particular night; restaurant and bar owners take note. I was getting home late from work and wanted to "make use of my dinner" at a place that I could finish writing my review of the Pine Restaurant and check on a few things for work. A new bar with free WiFi was ideal.
On the menu: just casual dining basics. In my reading of the menu, I didn't notice anything particularly noteworthy. The menu lists some basic fried appetizers, soup, a handful of "Pittsburgh Salads," burgers, sandwiches, and some entrees. I saw a review on Urbanspoon that raved about their burgers, so there's some indication they might be worth a try. Your mileage may vary.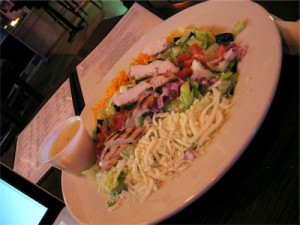 Just my typical salad. This time, I picked a grilled chicken Pittsburgh Salad and respectfully requested that they "hold the Pittsburgh" (i.e., fries). I also ordered up my first of two beers (more on that later). When the salad arrived, I couldn't help but note it's distinct Cobb-influenced layout: tidy uniform rows of each topping. This one included shredded mozzarella, red onions, diced tomatoes, cucumber, and shredded cheddar. The chicken was sliced on the diagonal and placed above the veggies down the center. I'm not sure how I feel about doubling up on the cheese, but the veggie toppings were appreciated. The "mixed greens" indicated by the menu was, in reality, iceberg lettuce. That was misleading, but I'm not going to get worked up about it—at least not as much as some of you might.
Did I like the salad? Almost. It certainly didn't have anything wrong with it, but it wasn't exactly noteworthy either. The chicken didn't carry much flavor or really any seasoning at all other than the briny flavor of salt-cured deli meat—which it was not, or should not have been. The dressing probably came from a ginormous jar in the back, but it wasn't really necessary given the ample portion of shredded cheese and other toppings. I attacked this one sans dressing. The cheese was a nice thought but just about the least exciting cheese possible without becoming offensive. The iceberg lettuce was a minimal let-down, but there was certainly enough of it. Basically, I could have easily given the salad a far more negative review if I were in a bad mood. Fortunately, that's not the case, so I'll let it (mostly) slide.
From Kolsch to Stout in 60 minutes or less. As far as I can tell, Hough's is trying to really carry themselves with their beer selection. In large part, the succeed. The draft selection is minimal: mostly the basic light american lagers and maybe a Yeungling. Then again, at least they're honest with themselves and probably avoid sitting on old kegs of something noteworthy but stale. The bottles are an entirely different story. The options tend to be clustered around some of the better known and/or local craft brewers: Flying Dog, Dogfish Head, Great Lakes, Stoudts, etc. That having been said, the list included at least all of my personal favorites.
I started with the Tire Bite Golden Ale from Flying Dog. The menu conveniently pegged it's style as a Köslch, and I had just read an article about the style, and I wanted to find an example to try. I've actually had the Tire Bite before and never realized it was a Kölsch. Go figure. It wasn't the best beer on the menu, but it's the one Kölsch they had. It was drinkable, but not particularly representative of a Kölsch.
While I worked on my salad, I moved on to Drakes Crude Oatmeal Stoudt from Erie Brewing. It was listed in the "seasonal" section of the beer list, and I wasn't sure if they had any. Turns out, neither was the bar tender, but a quick look into the fridge surprised us both. I'm a fan of the style and wanted to give Erie another try. I've been less than enthusiastic about their beer in the past, but have heard of some recent improvements. Those rumors seemed to be accurate: the Oatmeal Stout was a pretty good instance of one of my favorite styles. Sadly, I took far too long to write this review and can't comment too much on the beer beyond that.
Was it worth it? Yes and no. If you're going for food, then turn around and go back home. If you're going for a wide selection of bottles to enjoy with some good friends, then keep charging on. Given that limited use case, I'm giving them a 3-star rating. The food was so-so, but not exceptionally bad either. The beer selection was vast, and the WiFi will forever tempt me as an alternative to my favorite coffee shop when I'm looking to do some reading after work. :-)
Tags: good-beer, greenfield, independent
5 Responses to "Review: Hough's (Greenfield)"
Leave a Reply