Posted by mike | Filed under Beer, Reviews
On Friday, I was traveling to Chicago to visit my brother on his birthday. I was making the trip with my parents, as a somewhat-annual reunion of my immediate family that actually moves around to different times of the year. Sometime around lunch, we needed a place to stop for food. Based purely on location and external appearance, we picked an intriguing place called Jed's right off the Ohio Turnpike where Route 23 leads up to Toledo on the way to Michigan. I'll write it up here—because that's what I do when I feel some place is worth promoting. If you're ever on that path and looking for a place stop, Jed's may actually be a pretty good option.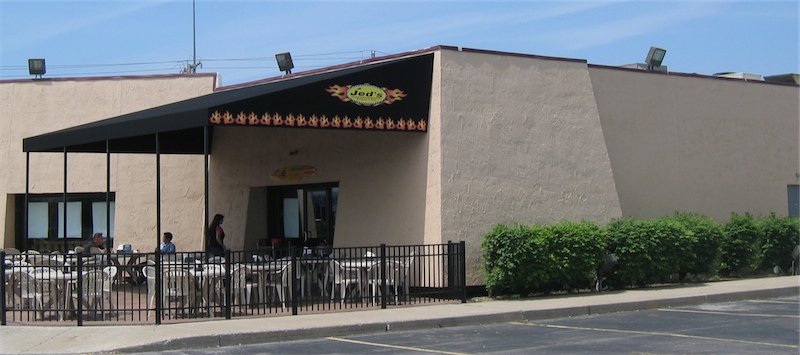 Jed's Barbeque & Brew







2531 S Reynolds Rd
Toledo, OH 43614
(419) 353-6164
Don't read my positive spin the wrong way: Jed's is a bar just as much as it is a restaurant. If I had to paraphrase their style, I'd say it's eclectic bar food. A quick look through the menu surfaces strange words like "fireball" that require a second scan for what that even means. Those items that look self-explanatory can be surprising with the "Jed's Chopped Salad" serving as a prime example. Don't read all that as criticism: It's good food that's worth it; just be sure to walk in with an open mind and a willingness to enjoy something that turns out a little different than your expectation.
Just off the Interstate. Just a few hundred feet off I-80, Jed's appears in a large-ish structure—clearly a restaurant but the identity is hidden until you've almost driven past. Based on the architecture I can almost imagine it being a former Chi-Chi's; in fact, I'm almost certain it was. A patio filled with plastic tables sits abandoned for the winter. Walking through the doors unmasks a large bar area—one that almost made me think the bar outweighed the restaurant. The decor is limited, but certainly not run down.
A larger-than-expected menu. It's not a cheesecake Factory style page turner, but two sides of an oversized laminated page list a variety of interesting options. The sections are all familiar: appetizers, salads, sandwiches, burgers, and a few specialty "celebrity" sandwiches. A pita section attempts to mix it up, but it's brief and probably better labeled the gyro section. The theme is chicken: specifically in the form of bite-sized chunks each breaded and drenched in your choice of wing sauce. They appear in everything from salads to pitas plus as an appetizer in their own right.
So I ordered a pita. Specifically, it was the garden veggie pita: grilled peppers and onions, mushrooms, and banana peppers; plus a topping of shredded lettuce and diced tomato. The thing was supposed to be served drenched in tzitziki sauce, but I opted to take that on the side. It also came with fries and coleslaw. My mother ordered the chopped salad—conveniently, this was the other item on the menu I wanted to try. We ended up splitting our meals for the sake of variety—an pleasant biproduct of her place in my culinary foundation.
With a surprisingly quick turnaround, our orders were ready—all in unison on a single large platter. This is where expectations were shuffled. I expected the veggie pita sandwich to be a halved pita with veggies stuffed inside; instead, the form factor was more that of a gyro with pita folded around a filling. Actually, there were two: toothpicked together and propped up by a healthy portion of fries. This was a large meal. The fries resembled the common, overly starchy steak fry—only salvageable with a heap of mustard, so I skipped them. The tiny cup of coleslaw didn't look particularly noteworthy either; also skipped. The sandwich itself was excellent. I would have preferred more veggies inside, but it's clear that any more would have just spilled out. The pita itself was excellent. I'm sure they didn't make it there, but it was soft and flavorful—probably the bi-product of being made with a healthy dose of olive oil and maybe some potato flour.
The finely diced a diced salad. My mothers salad was no traditional "chopped" salad. I think "diced" is a better descriptor.If you can imagine a salad with the appearance of a Mediterranean tabbouleh salad, then you have a pretty good idea of the format. Quite honestly, it looked horrendous, and I was glad I opted for the pita. Then the surprise: it was really good. Filled with diced lettuce, green onions, red onions, tomatoes, feta cheese, crunchy Asian noodles. It was served with a special dressing, but the many-flavored salad and all it's constituent feta bits made that completely unnecessary. It was different enough that I almost want to make a version of my own and serve to my friends just for the sake of variety. In any case, the end result was outstanding.
Not actually a beer destination. The "and Brews" in the name sparked my interest, but I don't suggest a trip to Jed's just for beer. I'll admit that they're trying—the waitress was quite proud of their menu of 23 different beers. Many of those were industrial light lagers, but some were worth drinking. I just wouldn't call any of them "craft" beer. I think the list is better described as "specialty" beer; at least half of it consisted of widely distributed "craft" lookalikes from Bass to Leinenkugel Summer Wheat. I imagine that much I didn't recognize was also an offshoot from a larger brewer, but there were some worthwhile options: Great Lakes Dortmunder Gold is an example I can remember.
Would I go there again? Turns out, that's a valid question even in this case: my travels take me past that exit on I-80 more often than you might think. My answer: Yes and no. I'd try out anything else at that exit that I haven't tried yet, just because I enjoy something new rather than something known. I'd definitely come back to Jed's once it came back up in the rotation. I certainly wouldn't 'recommend anyone go too far out of their way to try it, but it's worth stopping by if you're looking for food, beer, and a summer patio near the Toledo exits off I-80.
Tags: travel
Leave a Reply