Posted by mike | Filed under Beer, Reviews
Continuing in my exploration of Squirrel Hill, I decided to zero in first on those restaurants that I already enjoy on a regular basis. These are primarily the places I really like, and I'm highlighting them first because I want more people to give them a try. That was my rational on Monday night, when I hit up PD's Pub: one of my go-to Squirrel Hill favorites. The pub is was recently jointed by a partially adjoining restaurant: the Four Wood Grille. This time, I hit up PD's, which now shares a food menu with the Four Wood. I'll consider reviewing the Four Wood Grill separately in a future write-up.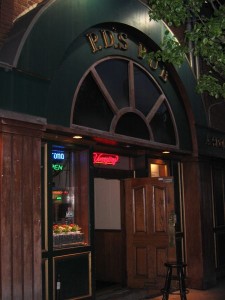 PD's Pub






($$)
5832 Forward Ave
Pittsburgh, PA 15217
(412) 422-5027
PD's Pub is one of those places where I have to admit a little bias. I really want them to succeed. I actually have that feeling about many of Pittsburgh's local restaurants, but the current incarnation of PD's is one that I've witnessed and appreciated from very early on. They aren't perfect by any stretch of the imagination. They have an excellent beer selection and make a valiant effort when it comes to serving up high quality food. The waitstaff is down to earth and stays out of your face  while providing just enough service. Overall, it should be clear that I like the results.
Lots of space and even a stage. When you first enter PD's Pub, it's hard to tell how big the place is. The bar flows along the wall to your right, and there's a wall not too far off on your left. It's not until you actually walk in that you can see the entire room open up about 25 feet later. The back of the bar includes not only a number of extra booths and tables, but a stage that hosts regular live events. In fact, I was there on Saturday night for a performance from Bill Toms, a local musician that I can now highly recommend. It was a good show (though it did cost me an unanticipated $5 cover).
The whole space is a little dark, even for a pub. Then again, that might just be a result of the complete lack of windows. With the Four Wood Grille now operational, there is an open passageway  between the restaurant and bar. That lights up the back ever so slightly at times when the restaurant is open–up until 10pm.
Bar and Restaurant: Sharing a Menu. In a move that was somewhat surprising, the "bar" menu is now just the restaurant menu. I had eaten at PD's before the restaurant opened up and remember the days of un-laminated 8.5×11 menu on white paper. Even at the time, the food was a little more interesting than typical bar grub. Now that the restaurant is up and running, it seems they  share a menu. That's surprising to me given that many restaurants have separate menus for their bars–even when the bar is a proper sub-unit of the restaurant. Restaurant meals and "pub grub" don't really fit very well on the same menu.
The menu contains what I'll continue referring to as "typical casual dining fare." When I pull out that phrase, you should be thinking: appetizer, soup, salad, sandwich, burger, and a few entrees. There's nothing in particular on the menu that stands out, though the summer months have brought outdoor barbecue to PD's, making a noteworthy addition to the menu. It will be interesting to see if that trend continues now that the restaurant is open.
You guessed it: a salad. As per my usual, I ordered a salad–a salmon salad, and I did that with a particular rational. I very much believe that the salmon salad can say quite a bit about the quality of a restaurant; for PD's, a couple of things stuck out:
The salmon had a small quantity of melted cheese on top (what are they covering up?)
The salmon was flaky to my fork, but drier and chewier than I hoped.
The salad included way too many contrasting and unrelated flavors (though mostly veggie)
The tomatoes were clearly refrigerated and hence mealy (hard to avoid, I know)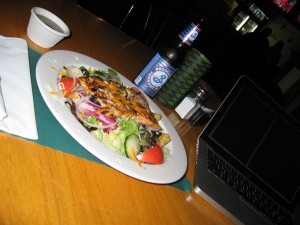 The lettuce component included a mixture of red romaine (for color) and iceberg (not some other leaf lettuce). I took it to be an impressively insightful way to cut costs. Iceberg lettuce is cheaper but can disappoint many. I'll bet that if you throw in some color via a few leaves of red leaf, then many customers will think the whole lettuce combo is pretty classy. I won't fall for it, but I'll be the first to accept and even embrace it. Of course, I have to note, as always, that certain friends disagree strongly with my acceptance/tolerance of iceberg lettuce. They shall remain nameless.
I'd like to give PD's some bonus points for a quality balsamic vinaigrette. Recently, at Hough's, the dressing list did not include balsamic (my favorite), and offered up italian from a bulk-purchased vat in the back. Why bother? PD's offered up a balsamic vinaigrette in it's non-emulsified form. It even included lots of floating herbs and packed some impressive flavor. Maybe they bought it in bulk, but they definitely thought through their selection. With all the various toppings veggie toppings, I hardly needed dressing, but I made a point to try it anyway and was quite impressed. The big question is: do they actually make it in house.
Beer: lots of bottles and even some drafts. For as long as I've known anything about PD's, they've had a surprisingly good beer selection. Most of that selection is in bottle form: available in three different beer coolers. They also tend to have two or three craft beers on draft, which is better than what I've seen so far over at Hough's. They're certainly not one of those bottle shops that boasts "200 bottles," and there have been times when I tried to order two or three before finding something they actually had available that night. The point is that they're trying. Many restaurants are following the craft beer phenomenon in hopes of hopping on the bandwagon for a lucrative new market. PD's has been trying for longer than a lot of other bars, and has been doing a respectable job. No complaints here.
Worth trying—especially for beer. Will I go back to PD's? Well, I already have in the time since ordering the salmon salad and posting this review. That should be some indication of what I think of them. It's a rock solid place to go for a drink with friends, and I can't argue with the convenience factor. It's a short walk of only 3/4 miles  from my house, and probably much closer for those who live near Murray Ave. If you're hungry, the food is at least pretty good. I can't say I'd go there just for the food, but that sometimes changes in the summer when they light up the grill. This place is definitely worth trying if you haven't been there already.
Tags: good-beer, independent, non-veg-meal, squirrel-hill
13 Responses to "Review: PD's Pub"
Leave a Reply