Posted by mike | Filed under Beer, Reviews
At some point a few years back, I was searching the web for a fun new place to head out with some friends. Somewhere in that quest, I stumbled upon Bado's Pizza Grill and Ale House in Mt Lebanon and even managed to convince my friends to head out and give it a try. You know what? We loved it, and continue to go back even now. On Saturday night, I made my first trip out there since starting this site, so it's time for a review.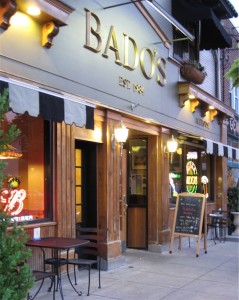 Bado's Pizza Grill & Ale House







307 Beverly Rd
Pittsburgh, PA 15216
(412) 563-5300
Bado's has all the essentials: a decent beer selection, a fantastic atmosphere, and an abundance of character. I would have to say their specialty is large-portioned pub-grub, which, of course, leans away from my preferred style. That aside, they put some effort into some well-executed salads and, for the most part, present a huge assortment of very enjoyable optionsf. I highly recommend the place.
Feels like D's (sans cave). Bado's is organized in a way pretty similar to D's in Regent Square—without the beer cave and scaled up 150% (or more). The main entrance tosses you into a bar area with just a little bit of seating along the opposite wall. Just around the bend and to the left, the dining room opens up for three full rows of tables. Still not huge, but it feels quite a bit larger than D's—probably because they lack a cashier's counter against the far wall. The vibe I get is definitely unassuming neighborhood grill/pub—complete with unpretentious decor and outgoing waitstaff. In fact, I might go so far as to say the waitstaff portrays a little more personality than D's (and I'm not talking pieces of flare, here).
Unique and outgoing waitstaff. Two aspets of Bado's really reasonate with me: great service, and house dressing served in Grolsch bottles. I love it! My friends were all out of town, so I made a trip in that direction on my own. After camping out in the nearby Coffee Tree Roasters location for some quality time working on this site, I made my way two doors down to Bado's and found a seat at the bar. The Bar Tender, Zach, was awesome. While some disagree, I think an important first step in the server-customer interaction is the establishment of a certain raport. That's not to say I expect to find a new friend in the waiter or have any illusions relative to their motives. Establishing a positive relationship and associated open communication channel simply makes everything run smoothly—not to mention an emotional appeal to the customer's wallet come time for a tip.
Philosophy of waiter-customer relationships aside, I felt welcome and not the least bit awkward that I was there alone (or taking pictures of both the bar and my dinner, for that matter). Zach really knew something about the various beers on draft, and even made a reference to Scott Smith over at East End Brewing. Bado's was carrying East End's Monkey Boy Hefeweizen.
A vast sea of menu options (too vast?). The menu at Bado's is quite extensive, but they seem to carry the assortment well: I don't feel too much pain from the problem of "100 options but none extremely well." I'm most familiar with the salad menu but have also gone crazy and ordered wings, tried a slice of pizza, and even ordered a sandwich. The full menu is on the Bado's web site, but I suspect their specialty is pizza and subs. Next time, I'd even like to take the pluge and give the Basil Supreme Pizza or Hot Sausage Sandwich a try. The world has healthier options, but what's life if you don't live every once in a while?
Beer selection down (recently). I had two beers during my visit: Brooklyn Lager and Pilsner Urquell. Both were good, and both were options I had not tried in a little while. I'm not going to discuss my analysis each beer here, but I will comment on the beer selection. This time, they had about 10 taps, about 40% were from craft brewers and 60% were from larger brewers. In the past, Bado's has listed a huge number draft options. For this visit, I couldn't help but feel like they scaled back a little. I certainly can't fault them for the scaling, as the reasons are probably financial and run against their likely target. Even so, that realization was somewhat upsetting. My feeling was later confirmed by a comment from Zach (remember, the bar tender), but his explanation pointed the finger at availability. I still suspect that some combination of  cost and rate of consumption are also involved..
That said, Bado's does a respectable job with their tap selection and I certainly can't complain. If every restaurant in town was doing as well as them, then I would surely develop a drinking problem.
The soup and salad combo. Not being extremely hungry and having munched a little here and there during an earlier brewing event (beer), I stuck with a salad. I was nearly drawn to one of Bado's core options of pizza and sandwiches, but couldn't pull myself to do it. The result, a Greek salad with gorgonzola and a cup of Manhattan clam chowder.
The chowder was disappointing. Honestly, the chowder could have easily passed as vegetable soup. It made for a fine vegetable stew: plenty of veggie chunks. It lacked two elements that I consider essential components of the manhattan clam chowder: plenty of clam matter and a little heat. Typically the heat works best when accompanied with an acidity from either a thick helping of tomatoes or a dash of vinegar. One might argue as to whether the spice should be there, but few will contest that clam chowder does require clams. They were hard to come by in what I had on Saturday night.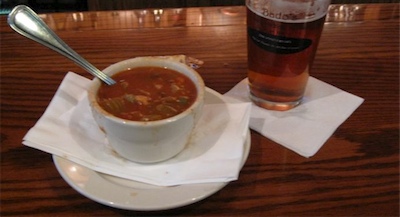 The salad was pretty solid. Overall, this was exactly the salad advertised. The portioning of greens to toppings was just about right, and the variety of toppings was welcome: cucumber, kalamata olives, Even the cheese was present but not in excess (as is often the case). Just be forewarned that the greens are primarily iceberg (if not entirely?). That's fine by me, but unacceptable by many. I was moderately annoyed by the salad-plate balance: there was so much salad on the relatively small plate that pieces of it seemed to fall onto the table with every bite. Granted, it was a side salad (as part of a soup-salad combo), but I'm noting here in case the guys at Bado's happen to read my review.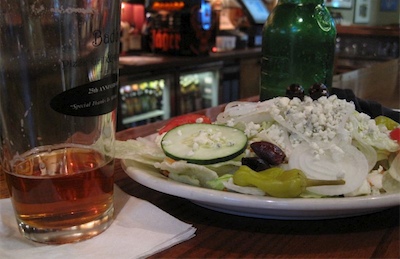 Oh and don't let me forget to mention the house "zesty italian" in Grolsch Bottles! Plus 200 points for character right there.
Would I go there again? Most definitely. The bar tender encouraged me to try their pizza next time, and there's a good chance I will. I'll take a recommendation like that in an instant; healthy eating be damned! If you haven't given them a try, I suggest you make you're way down to Mt. Lebanon. If you're spending a warm summer evening on Beverly Rd, then you might even consider hitting up the ice cream parlor a few doors down after dinner.
Tags: good-beer, independent
5 Responses to "Review: Bado's Ale House"
Leave a Reply