Posted by mike | Filed under Reviews
Last week I didn't have any plans for Friday night and ended up venturing out into Squirrel Hill to continue my quest to review every place I can walk to from my house. It was late, and the notice was short enough that I couldn't round up any dining companions, so I aimed for more casual than not. My selection: Lucci's Pizza.
Lucci's Pizza






($)
1900 Murray Ave
Pittsburgh, PA 15217
(412) 422-9660
Lucci's is actually a place I've wanted to try since they opened (maybe 2006?). A bunch of my friends stopped by right after they opened, but I couldn't make it at the time. After they went, no one was particularly enthusiastic about the place and I had kind of a hard time dragging anyone out there. Talk about the perfect place to hit up on my own for a bit to eat.
Gutsy? or is just uninformed? With the highly regarded (and much debated) Mineo's and Aiello's just down the hill, starting up yet another pizza place on Murray Avenue was a gutsy move. That makes me wonder what kind of market research was done before setting up shop. Lucci's seems to be differentiating themselves as the pizza shop that a) delivers and b) sells 6-packs. Plus, they're open late: 2:00am on Friday/Saturday. With 3 years under their belt, that model seems to be working. I would even say that the pizza is good enough to make Lucci's a viable option (though I won't start any holy wars with a comparison to its competitors down the hill). I will say that the salad selection is even a little more varied than I remember from either Mineo's or Aiello's. If you read this blog often, then you'll know that's a plus for me. I'll dive into the salad details a little later (and do some nit-picking). My take: if you're looking for beer, delivery, or salad options: it's worth a try (though the salads aren't in my preferred style).
Lucci's is a pizza parlor—not a restaurant. The main storefront is a fairly large dining room with efficiently aligned tables—almost too efficiently. A beverage cooler and a set of trash cans sit on either side of the counter, behind which lies a very basic kitchen (with pizza oven, though not wood fired). Honestly, the look is a little bland: not nearly as much character is the other local pizza shops. The dining area typically looks a little empty when I walk by—making the place appear ever-so-slightly uncomfortable. I've never seen them packed, so one wonders why the dining area is so packed with tables. While they seem to be clean and tidy, the bland atmosphere is good reason to take advantage of delivery.
Some welcome salad options. A glance over the menu shows off many aspects of a typical pizza parlor You'll also find a few stretches into the world of more interesting entree salads and Italian entrees. That's not entirely atypical of the genre, but the menu does seem to do a little more reaching than other pizza shops in the area—at least in the greens department. For example, I ordered the tuna "imported" tuna salad.
The food: "good enough." It's certainly not notable for any particular aspect, but I did enjoy the meal. In my order, the focus was, as per usual, a salad. I also realize that reviewing a pizza shop without ordering pizza would be damn-near blasphemous, so I ordered a slice of mushroom and banana pepper pizza as well.
The salad was decent, though I have some criticisms. I requested light on the cheese with balsamic dressing on the side. I'm a fan of the topping choices for the selection, though not sold on the "imported Italian Tuna. I didn't realize that was supposed to be a selling point. In terms of veggie matter, you can expect iceberg lettuce, cucumber, red onion, cherry tomato, and some shredded carrots strewn about. Plus cheese and, don't forget, way too much tuna. The tuna actually dwarfed the rest of the salad (see photo). I seem to remember a similar experience about a year ago when I ordered take-out salads from Lucci's as dinner in the middle of some all-day housework with my parents. That experience brought me a chicken salad with some amount of lettuce and about equal volume chicken, fries, and cheese. At some point, it's no longer a salad.
Don't get me wrong. My rant on the salad may sound hugely negative, but that doesn't mean it was unpalatable. I actually think this one was far more balanced than my memory of the chicken salad. That may be a trend over time, it may be a difference between chicken and tuna, or it might just be my own faulty memory. The short take: some of the right ingredients (because I typically let the iceberg thing slide)—just way too much tuna.
A solid baseline pizza. As you might expect, the pizza was a little closer to what I would hope for. I ordered by the slice, and it looks like they pulled a mostly cooked slice of cheese pizza for a quick toasting in the oven after topping with my requested ingredients. I appreciated the warm and freshly melted pizza, but probably would have done better ordering something pre-assembled. The mushrooms (seemingly from a can) and banana peppers were purely surface elements stacked on the cheese—clearly not full-time residents.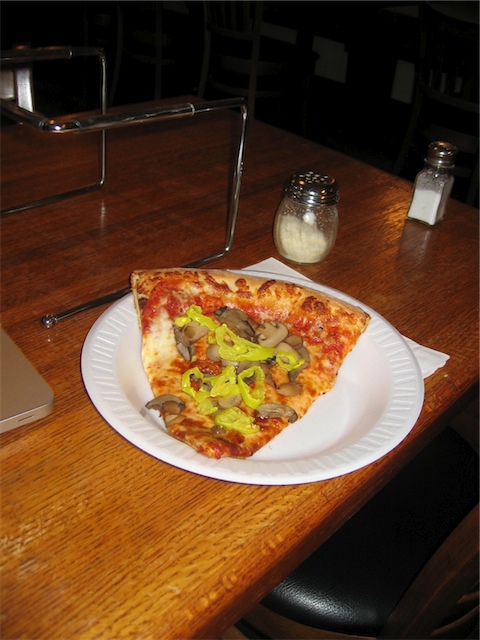 It's worth noting that some pre-assembled pizza slices are available, so a high quality single slice is very doable if you're not picky. For my visit, the pre-made options were limited to cheese (with red sauce), a white pizza, and a rather intriguing Gyro pizza. It's unclear if the Gyro was an example of a rotation option, or a standard.
The all important crust. I'm a bread baker, which makes crust something that (a) know about and (b) care about. I'm happy to say that this crust was worthy. First of all, it was warm and freshly toasted with a crispy and satisfying exterior but soft and flavorful interior. The greasy residue was limited—definitely on the Aiello's side of the equation. The thickness was also almost ideal: just enough flavorful crust that it was a pleasure to munch on without being overwhelmed. In fact, Lucci's success here may inspire me to go back and try a full made-to-order pizza (with fully incorporated toppings baked all the way in). Such a pizza would probably be very good: not too far from my personal target for an ideal pizza.
They do have a liquor license. That's something, right? It's hard to give any credit beyond possessing the license (which is, as previously noted, more than one can say about Aeoli's or Mineo's). I ended up ordering a Yeungling bottle when I placed my order. You could say that's my go-to bear when the options are at slim. They kept Yuengling bottles in a fridge behind the counter, so ordering a single bottles was easy (and okay). It's not clear whether it would be possible to order a single bottle of anything from the cooler, though one can order a pitcher. In line with the take-out differentiator, buying a case to go seems to be the more common use case for Lucci's. Despite the limited options, I have no real complaints on the beer. I would have loved to enjoy something more interesting than a Yuengling, but I'm also typically surprised by how much I can enjoy a pint/bottle of the stuff. It's not a bad beer at all.
Would I go back again? If I was looking for a slice of pizza and a bottle of Yuengling, I probably would. Lucci's is a bit rough around the edges, but the pizza is definitely worth trying. You may also want to check them out if you're watching you're pennies; it's one of the least expensive dinners you can find on Murray Ave. Salad and beer clearly aren't their specialty, but at least they're on the menu. The salad selection is even a little better than the more notable pizza joints down the hill.
Tags: independent, squirrel-hill
5 Responses to "Review: Lucci's Pizza"
Leave a Reply