Posted by mike | Filed under Reviews
In an effort to venture outside outside the world of beer for once, I made my way down Murray Ave aiming for dinner at a non-bar. Okay, that wasn't my actual goal, but this site needs it. I ended up at one of Squirrel Hill's newer establishments: Taza 21, for some basic Middle Eastern fare. The bright, stylish sign always catches my interest, but I've only really ate there once before. I suspect part of that avoidance is motivated by an irrational concern over general healthiness (and a possible lack of salad options). That's actually completely unfounded: A quick glance over the menu ought to squash any concern, but the concern has a certain stickiness in my mind; I can't seem to shake it. Until now.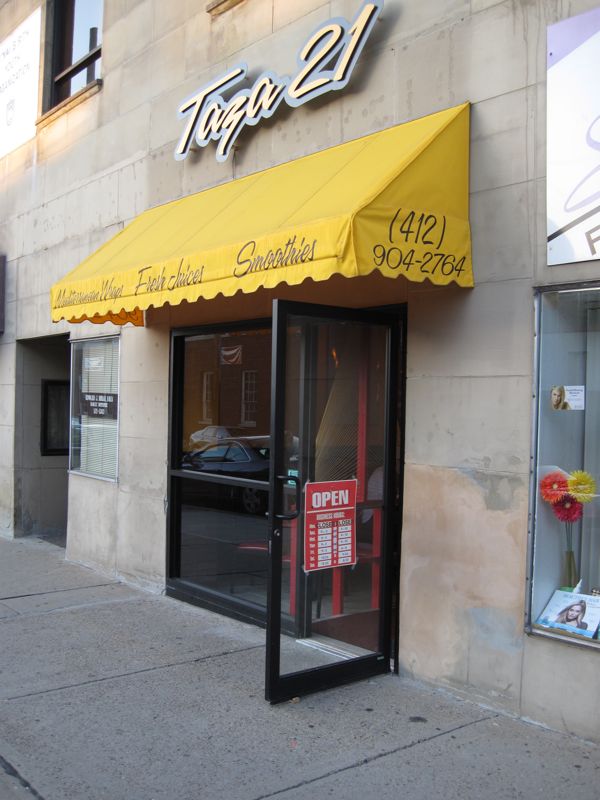 Taza 21






($)
1827 Murray Ave
Pittsburgh, PA 15217
(412) 904-2764
Taza 21 is actually a pretty tiny place but it boasts a more attractive sign and a cleaner, newer decor than many of the independent restaurants in Squirrel Hill. It's also very tiny: the whole restaurant couldn't take up more than 10-12 feet of sidewalk space and has space for only a few tables in the front of the restaurant. An equally tiny kitchen is completely visible to guests (and even passers-by), which makes it quite easy to watch every aspect of your meal's construction. I suspect there is also a grill out back that plays a role in some of the food prep, but that's just a hunch.
Run by a staff of two. The food prep is completed by a single middle-aged man, who I suspect is the owner (along with his wife). This time, I believe his wife was out back—potentially at the still-unconfirmed grill. The two did not seem to have any other employees helping, but that may not always be the case. Even if they did, more than two would definitely be too many cooks for the tiny kitchen. A review in the City Paper confirms this suspicion and  gives them names: Frank and Silva Abraham.
The man behind the counter, who I suspect to be Frank was kind but offered relatively little interaction until I asked permission to take a few pictures after receiving my meal. After approving, he offered a: "do you like?" I did. He worked quickly and tended to a few items on his stove while also preparing my meal at a separate counter—essentially from a handful of basics set up on the counter. A few minutes later, I had a styrofoam box and a diet coke in hand. I had requested my order to go so I could get home before it got too late, so it came wrapped in a plastic bag as well.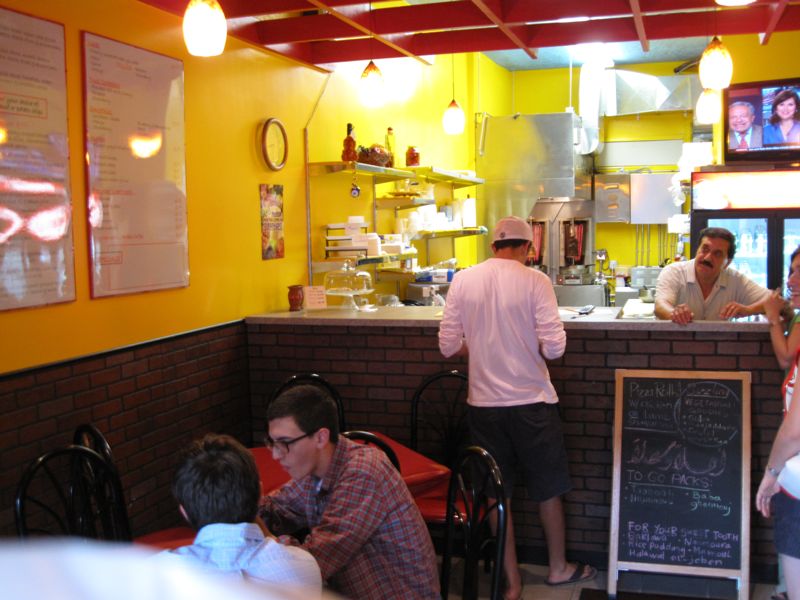 Of wraps and roll-ups. The menu feels a little like that of Aladdin's: meat and vegetarian wraps (think rolled pita a la Aladdins), rolled pizzas, soup, salad, and a spackling of deserts. The central theme seems to be the wraps: and not the kind of greasy, french-fry-stuffed monstrosities appearing in some other Pittsburgh establishments. One filled with a parsley salad and another filled with grilled veggies and rice both caught my eye—at least 3 or 4 on the list were entirely vegetarian. When I ate there last summer, I seem to recall ordering the grilled veggie options and remember being somewhat disappointed by the small quantity of veggies relative to rice. My recollection is vague, but that's something to keep in mind.
The beverage selection is a mixed bag. Some of the smoothies and lassis typical of Middle Eastern cuisine appear in the menu and both bottled water and a small-ish range of canned soft drinks fill a single upright cooler behind the counter. The cooler included a few cans and a few of the can-sized 12oz plastic bottles—sometimes both for the same drink. I'm not sure if that reflects a transitionary state or not, but it seemed odd. For what it's worth, I didn't specify which form factor of diet coke I was aiming for and received a can.
Spinach; beets; tomatoes. This time, I ordered spinach and beet salad and was quite pleased with the result. The ingredients were basic: spinach, beets, marinated tomato wedges, and a dusting of fresh parsely, red onion, and a spice mix. The whole thing was tossed in an oil and lemon dressing. The baby spinach came right from a plastic bag of the size you might pick up at Giant Eagle. The other toppings were pulled from bins on the counter.
I liked it. Even after driving a few minutes home and plating in a ceramic bowl, I was pleased with the results. The pickled beets (sweet) and tomatoes (slightly tart) complemented each other extremely well, and both the parsley and red onion played exceptional supporting roles. It wasn't a big bowl, but I definitely ate the whole thing. Very well balanced and light—despite the fact that it travelled a few minutes post-tossing.
Will I go back? Probably, but not frequently. I like the place and have huge levels of respect for what they Abrahams are aiming for. Unfortunately, I'm not often in a situation where the sandwich stop style eatery makes sense. Then again, I'm intrigued by my two vastly different experiences: once getting a somewhat disappointing wrap and now getting an outstanding salad. I'd be interested in trying some of the other options on the menu. Who knows; perhaps I was just in a bad mood when I ordered the original wrap. That visit was long enough ago that I can barely remember the circumstances, and I'm always willing to grant another shot.
That said, it's definitely a place worth a trying. If you like Aladdins but want something a little scaled back and more unique to Pittsburgh, then Taza 21 is definitely worth at least a shot—especially if you're looking for a quick bite or non-pizza take-out.
Tags: independent, squirrel-hill, veggie-friendly
3 Responses to "Review: Taza 21 (Squirrel Hill)"
Liz Vouja Says:
July 16th, 2009 at 11:32 am
sarah a. Says:
August 14th, 2009 at 11:30 am
Leave a Reply