Posted by mike | Filed under Beer, Reviews
As you all should have seen in my recent post, the upcoming TRASH XIX Homebrew Competition is to be judged at the Rivertowne Pour House—a brewpub out in Monroeville. I'm helping to organize that event, but I've actually never been to Rivertowne. Wanting to correct that situation, I invited a friend of mine out last Sunday for lunch. Read on for my take on the place.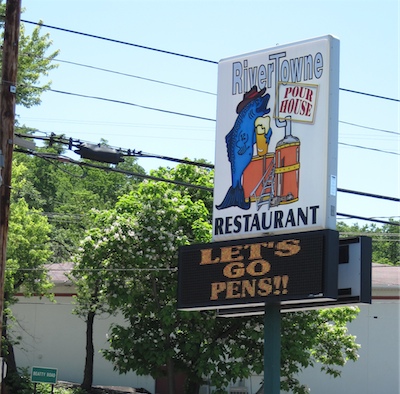 Rivertowne Pour House






($$)
312 Center Rd
Monroeville, PA 15146
412-372-8199
The River Towne Pour House is a fairly recent addition to the Pittsburgh beer scene—having opened just two years back. Stationed on the far Eastern side of Monroeville, it's the third restaurant of three similarly branded establishments owned and operated by Christian Fyke. The others have been around for a little while: one in Penn Hills and the other about 8 miles south in Huntington. The Pour House is the only brewpub of the mix, with brewing overseen by head brewer Andrew Maxwell—formerly of the John Harvard's that was once stationed on the other side of Monroeville.
Didn't pop out at me from the road. I was actually very surprised by the appearance of Rivertowne—both internal and external. From the outside, one could easily drive by the nondescript restaurant without noticing the name. While it looks more like a restaurant than any surrounding buildings, the only real identifying mark is a Rivertowne sign in the parking lot (across the street).
Walking in, I found that the space was actually fairly small, but definitely carried the atmosphere of a laid back restaurant/grille. The Munch review suggests a second level, but I didn't happen to notice an obvious stairwell on my visit. The decor might have even passed as a sports bar, where any type of sporting paraphernalia was replaced with "beer bling." In all honesty, the setting was somewhat comforting and down-to-earth. In contrast, I seem to remember John Harvards being just a tad bit stuffy. They tried to be a brewpub with a penchant for the gourmet (and lacked the playful context of Church Brew Works, which is less stuffy but also slightly "gourmet.")
Making an appearance for lunch on a Sunday, we followed the posted signs and "sat ourselves" at a tall bar table in the center of the restaurant. Our waiter was kind and attentive, and even claimed some (minimal) involvement in the kitchen, but I had a difficult time getting any menu suggestions out of him. I actually think at least part of that was a communications breakdown: it seems English was not his first language—more on that later.
Extended grille pub menu. The menu aligns fairly well with that of a standard American "bar and grille." Think sandwiches, salads, pizza, wings and even a few entrees/meals with a few sprinkled references to fishing ("tackle," "bait," and the like). I've never actually understood the recurring theme for a menu to use the "dinner" or "entree" heading as a miscellaneous section consisting of everything from pasta to steak, but I'll go with it. I think the connotation is "full meals that come paired with other courses," but I find the whole concept to be a relic the traditional (but dying) French menu structure most of the culinary world once embraced. I'm sure someone else reading will have a different opinion (or definitive explanation).
Getting back to the actual food, let's talk about my order. At least this time, I was fully willing to pull away from my typical salad and asked the waiter if there was any particular specialty he recommended—any particular menu item that Rivertowne was known for. I think he assumed I was asking if there were any daily specials and didn't really make any suggestions ("the only special on Sunday is the brunch"). After a little more back and forth, I gave up and ordered the grilled vegetable wrap that I found somewhat intriguing. My dining companion ordered a salmon burger.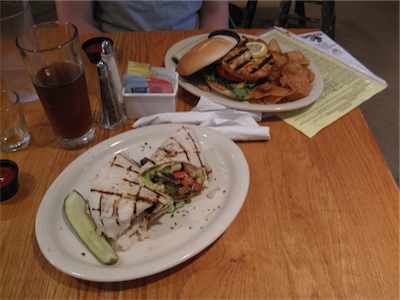 Delicious wrap-age. I was pleasantly surprised by how much I enjoyed the veggie wrap. The advertised fillings: grilled vegetables, avocado, lettuce, tomato, onions and melted provolone cheese. I half-expected the whole thing to be overwhelmed by cheese and really had no idea how the avocado would fit in. On the contrary, I was pleasantly surprised: the cheese quantity was tasteful, and the "grilled vegetables" included a nice quantity of what tasted like spinach, which had the perfect flavor and texture to fill out the wrap.
My (limited) complaints. The lettuce and tomato was a little strange given that the wrap was served hot. An all-spinach solution might have been preferable. If I were to be picky, I would also point out that the lettuce I got consisted of fairly large, thick chunks from the heart. My dining companion's salmon burger had nice, dark green outer leaves from a leaf lettuce. I was jealous, and also slightly distraught by huge chunks of heart-o-lettuce in the center of my wrap. That's not to say I was dissatisfied, just that I would have been a little more careful in my lettuce selection (but isn't that just me?).
On processed salmon and chips. My dining compatriot, Erica, ordered a salmon burger—which was served with potato chips. My brain tends to assume the best, and immediately constructed the image of a "salmon sandwich" with an actually salmon filet between a buns. In fact, this was an actual salmon burger (just as advertised). It wasn't particularly noteworthy (outside of far more appealing lettuce than my wrap). The chips, however, looked quite worthy: thick kettle-style potato chips that may very well have been created on site (though I doubt it). If not, they at least appeared to be worth munching on.
Classic styles, but too many choices. Don't get me wrong, I'm a big fan of choice. That said, Rivertowne goes beyond what I have ever seen before in a brewpub: 17 different options on tap. For many of the options, brew master Andrew Maxwell presented some classic styles—exactly what I like to see in a beer list. Many fall below 5% ABV and very few appear to be hop-centric. Both are rarities among American craft beer, and both representing further reasons to give Andrew a pat on the back.
What's wrong with 17 different beers on tap? I see two potential issues. First, 17 different options means that Rivertowne isn't really the expert at any one particular recipes (apparently reminiscent of their menu). I've heard stories of craft brewers spending years refining each recipe, and that's just not possible with a late of 17 (potentially varying) options. Second, 17 options increases the chances that one or more won't sell particularly well and a keg will sit there attached to the draft system. I'm not an expert, but I suspect there's a limit to how long it might last. That said, I have no evidence that either potential pitfall is nipping Rivertowne. I just have some cause for concern.
The only problem with going to a brewpub on a Sunday over lunch is that it doesn't feel like the best time to order a beer (to most). I was planning on beer, but wasn't going to twist anyone's arm to join me or even order up a sampler. I did order a pint of Rivertowne's Vienna Lager. Having just kicked off the primary fermentation of my own Vienna Lager, I wanted to try an example of the style. I enjoyed the pint, but noted a slight musty flavor. I've tasted similar artifacts in my own beer and for a time thought it had to do with the freshness of my hops. Having shared that beer with some relative experts, I heard no complaints: the musty off-flavor is either in my head or normal. All that said, I appreciate the opportunity to try someone else's interpretation of a style I'm brewing. I'll just have to see if my own beer stacks up anywhere close to Andrew's. :-)
Would I go back? Of course. What's more, I'd go back with a whole table full of friends in hopes that I might see (and try) some of the other options of the menu. I'm already intrigued by the portobello sandwich and shrimp-andouille entree. Of course, I'd be remiss if I didn't order up a few different beer samplers for the crowd!
Tags: good-beer, regional-chain
One Response to "Review: Rivertowne Pour House"
Leave a Reply