Posted by mike | Filed under Beer, Reviews
Last week, I went back to Blue Dust for a chance to order dinner and give them a proper review. I was absolutely floored. If you haven't been to this place, you need to go. It's the best meal you'll get for the money anywhere in the city.
…and, no, I don't care that they're next door to a Tattoo parlor.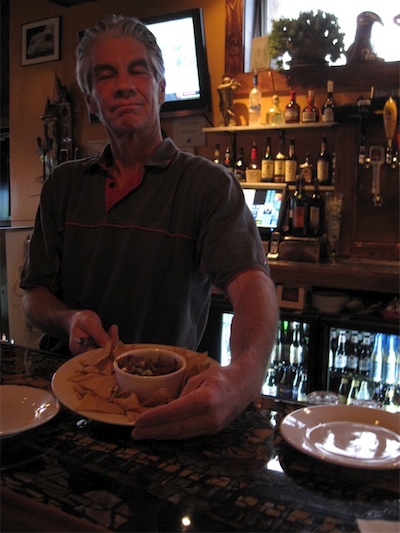 Blue Dust ($$)
www.bluedustpgh.com







601 Amity Street
Homestead PA 15120
(412) 461-6220
If you've been paying attention, you know that I stopped by once for drinks based entirely on their signs advertising "26 beers on tap." It was started just a few months ago by Jerry Miller, who Munch reports as a "restaurant business veteran" and Scott from East End Brewing points out was previously involved with Roland's in the Strip. Miller relies heavily on his family for both artistic input and operational help, but I'm told he has also hired a professional Chef to manage the kitchen.
Completely gutted interior. Despite the promise of vast selection, the actual location and exterior signage is a little misleading. You might think it's a dump based on the exterior. Located on Amity Street in Homestead right before you cross the railroad tracks over to the waterfront, you wouldn't expect to find more than just a dive bar.
If you actually mount the courage to continue through the door, you'll be pleasantly surprised: clean, smartly decorated, with a full row of beer fridges containing about 75% American microbrew with the rest dedicated to big industry light lagers. Tables are pretty evenly spaced throughout but they are sufficiently distributed to avoid any sort of cramped impression. It's easy to move around, and that's not always true. On the far left side, you'll notice a fairly large bar with 26 tap handles and two big jars of homemade spiced vodka behind it. I even noticed a small lounge area with comfortable seating in the far corner. Who would have expected all that in Homestead?
Laid back staff (and that's good). There's really no full-time host table like you would see in a big chain. Jerry mans the bar, and he's been my initial point of contact for both visits. I was up for dinner, so he pointed me toward a table while I waited for a server to come around.
I had pulled out my laptop at the table, so I think the waitstaff intentionally left me alone without too much interaction to start with. The whole picture taking thing probably changed their behavior as well, so it was a little hard to set up the rapport I normally aim for. That said, my server opened up a little with some conversation mid-dinner, which was more than welcome while I waited for the
"drinking buddies" to arrive. A later stop up at the bar once my friends arrived offered a chance for lively conversation with lots of background information from Jerry while we enjoyed some exciting beverages.
The menu: short, sweet and always changing. The menu is a simple printout on an 8.5×11 sheet of paper. Think of it like the specials list at Silky's, except there is no normal menu for it to augment. Jerry says they plan to mix it up a little every month, so the printout format probably makes sense over a fully produced menu.
A quick glance over the page's contents will highlight an eclectic selection of recipes Jerry pulled from everyone in his family. At some point in the evening, Jerry even walked through the whole thing and pointed out the source of each one. I'm not sure if that just means "artistic foundation," and the chef takes it from there or if a specific recipe is coming from family members.
Regarding menu content. You'll find everything on the menu from traditional pub appetizers like wings and nachos to a vegetarian stir-fry with bok choy and portabella mushrooms (which was my order). Somewhere in the middle are a few wraps and sandwiches—including a somewhat familiar Crab Roll that sounds quite a bit like something Jerry carried with him out of Roland's. Several of the wraps are vegetarian friendly, so it's a great place to take your beer-drinking vegetarian friends.
Did I mention the Falafel platter thrown in just to keep us on our toes?
I've already told you about the beer. I had a nice, light-bodied (but dark-colored) East End Fat Gary with dinner and moved on to something a little crazy for dinner: a Maredsous Dubbel that Jerry threw on tap…well, because he liked it. There aren't many places where I can see something on the draft list that I've never even heard of, much less tasted.
In the face of others with a much better ability to describe these beers, I'll leave the analysis to the pros. With 26 different styles on tap, there's little chance you won't find something that calls to you.
Someone's paying attention to food. I ordered a vegetarian stir fry, which falls totally outside my typical salad order, but I had a feeling Blue Dust would offer up something good. The stir-fry was prefaced by a side salad, which means that I even got to see an example of salad execution (on which I consider myself an expert). Both were outstanding.
Salad time. The side salad was small and tasteful with a heafty amount of fresh leaf lettuce topped with a tasteful amount of cranberries and slivered almonds plus a sprinkling of thinly sliced red onion. I had requested the balsamic vinaigrette, which was very clearly made in house. Actually, it was one of the best examples of what I consider the perfect balsamic: deep color showing off a large balsamic as compared with red wine vinegar, and a nice vinegar tartness that comes from limiting the amount of oil. Add in some herbs (and probably garlic), and you've won my heart.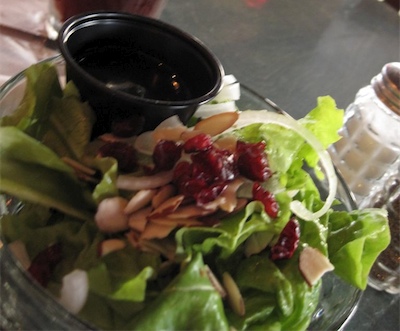 Later on, I even found that the greens come directly from Jerry's brother-in-law, who grows them all in his garden. If you're a local food fanatic, it doesn't get much better than that. I'm not such a devout locavore, but that's an entirely different conversation.
On to stir-fry. The stir-fry was equally impressive. I normally don't even like stir-fry because too many restaurants serve up a huge greasy mess without nearly enough vegetable content. Clearly, the insufficient vegetable pitfall was impossible for Blue Dust's vegetarian version, so I went for it. That was a good decision: their stir fry implementation was light and filled with both vegetables and flavor. This implementation was able to avoid any hint of the oily-salty after-taste I typically associate with Americanized Asian cuisine. Yet another win for Blue Dust.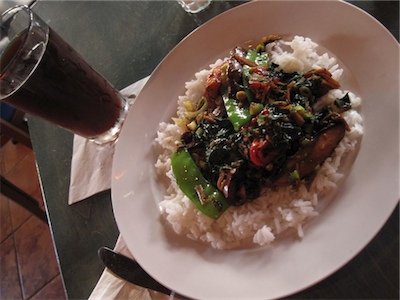 My favorite part: the portion was really just right. I detected bok choy, portabella, sugar snap peas, red pepper, scallions and a lightly sweet but salty glaze that gave the impression of about half teriyaki sauce and half soy sauce. The whole thing was piled on top of a thin layer of white rice distributed across the whole plate. Blue Dust's balance of rice to stir-fry actually seemed just about right. If you look at the picture above, just imagine the rice being thinly spread across the plate in a manageable layer below the stir-fry. The portions were manageable enough, that I even ate the majority of it—something I never do for typical rice portions.
With homemade roasted salsa to cap it off. While we were at the bar, Jerry mentioned his roasted salsa in passing while discussing the menu and smoker in the back. Intrigued we ordered a platter of the stuff and were definitely impressed (see my introductory picture). Jerry says he char-grills the veggies before smoking the whole mix for several hours before lightly blending the whole thing with garlic, lime, and "all the other stuff necessary to actually make the mix salsa" (Jerry's words).
So will I go back? Most definitely. I'm going to pull my friends out there for dinner as often as they'll let me and already discussed adding the destination to a "Thursday Night Drinks" tradition I maintain with a group of my friends my friends. If you have any interest in quality food in the 'Burgh (or just like a good selection of craft beer), then there is no reason not to hit up Blue Dust. Just get over the tattoo parlor (and don't do anything stupid).
Correction: I have nothing against tattoo parlors. Read the comments for details regarding the Tattoo 2 shop next store to Blue Dust.
Tags: freewifi, independent, must-try, veggie-okay
21 Responses to "Review: Blue Dust"
Leave a Reply