Posted by mike | Filed under Reviews
Let me preface this post by explaining that I am an idiot. I was scheduled last Friday to head over to PD's and try out their ribs—or at least I thought I was. Apparently, I entered the wrong date in my calendar and showed up a week early. So there I was, ready for dinner and already up in Squirrel Hill. The good news: this problem is easily solved in the Hill of Squirrels. The solution I chose this time: Bubble Pi.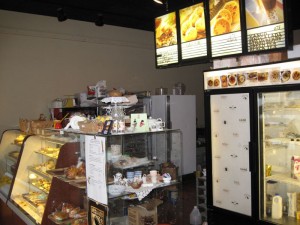 Bubble Pi Baking Arts
2218 Murray Ave
Pittsburgh, PA 15217
(412) 422-0993
You probably know of Bubble Pi; you just don't know their name. Allow me to perform the introduction: Pittsburgh, meet Bubble Pi. Yes, Pi like the number. Bubble Pi has been waiting for you to see them over in the corner.
If you're confused, Bubble Pi (not Bubble Phi) is the little Asian pastry shop toward the bottom of the hill on Murray Avenue. They're also exactly the type of place that I want to document on this site—primarily because they seem to fly under everyone's RADAR. From an outside perspective, the shop looks like it could be fantastic, or maybe not; no one seems to know. In an effort to salvage a review from my schedule failure at PD's, I stopped by last week to figure that out.
Making the most of a questionable location. Let's be honest, the location is less than ideal. Most of the action on Murray avenue is further up the hill. Sure, there's a Starbucks right at the bottom, but the general restaurant scene dies off after Hobart. Then there's Bubble Pi. The sign is more enticing than some restaurants but still somewhat ineffective. Prime example: I only figured out the actual name when I stopped in and happened to chat with the owner, Lin. The only thing that sparked my interest was the picture of a veggie panini that actually disappeared a few weeks ago. The picture is gone now, but it definitely caught my attention at the time.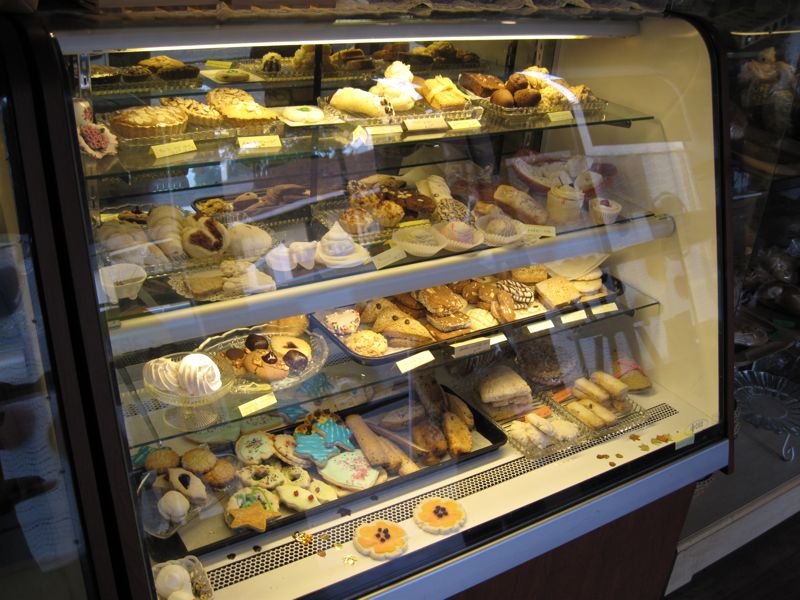 It's a bakery, silly. In retrospect, I think Bubble Pi is really more of a bakery and bubble tea vendor that decided to sell a couple sandwiches on the side. The bakery is not a not a dinner destination—or at least it shouldn't be. With only minimal space in the front of the shop for anyone to sit, they're essentially limited to take-out. Despite the baking focus, I ordered a sandwich. It was about time for dinner, and I've long had an ich to give them a try.
If you ever stop in, you'll probably find one or two middle-aged women either at work in the back or up front eagerly awaiting a customer. With a little conversation you'll probably discover that one of them is the owner is more than willing to chat about her business and what brought her to to her perch near the bottom of Murray. In my case, I also discovered that I had sat through more than a few college lectures with her (more on that later).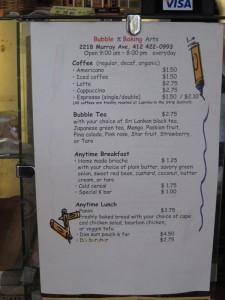 The dining menu at Bubble Pi is limited to only a handful of sandwiches, with a vast selection of pastries and breads below the counter. Making an effort to be at least somewhat healthy, I nearly skipped the pastry. That would have probably been a mistake, so it was lucky that Lin decided to throw a cookie in with my order.
The sandwich. I'll be honest and say the sandwich was uninspiring. Ignoring a recommendation of chicken salad, I ordered a vegetarian panini. While one of the women prepared my sandwich and told me about her choice of tofu. It was apparently hearty and thus good for people who grew up eating meat. At the same time, the other, presumably Lin, mentioned her son's time at CMU; his education is actually what brought her to the 'Burgh in the first place. If you were an undergrad at about the time I was, you may remember Lin's accompaniment of the 11-year-old in your advanced computer science course. I certainly do.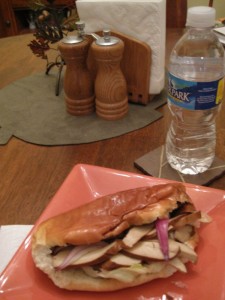 Skipping the single row of street-facing seats, I took my completed sandwich home to re-plate and enjoy. Filled with slices of the hearty tofu and a few unattractive chunks of iceberg lettuce, the bread was really it's redeeming quality—which is more than reasonable for a baker. Lin had explained that her bread was a Chinese bread similar to Challah. The sweet bread and savory sandwich was a little unnerving, but I enjoyed the texture and found a salty sauce soaked into the bottom that provided at least a little balance for the sweet. Of course, I would have used with more veggies and less tofu if I were making my own. I'd say it's flavor was a little like bottled teriyaki glaze—cut with soy to keep the sweetness in check. All in all, it was worth eating, but not worth going back for.
The Cookie: worth going back for. The cookie was an entirely different story from the sandwich. The example I was given: a chocolate espresso tea cookie—heavy on the espresso. If you like a subtly sweet crunch in your pastry, then you'll love it. If you're a coffee fan, you'll like it all the more.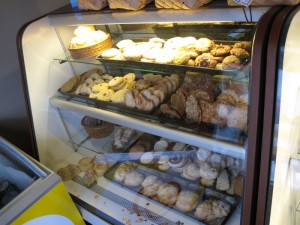 The pastry actually reminded me of some chocolate espresso Sables I've baked in the past—only better. This one was a little lighter and felt a little less overwhelmed by butter than a Sable (i.e., tea cookie). The best part: little bits of coarsely ground coffee beans distributed throughout. That may sound like an unpalatable chew, but it was hardly the case. The crunch offered up some enjoyable crunch-iness and probably went a long way to emphasize an already-intense coffee flavor. Trust me, it's worth a try.
Will I be going back? For a cookie, of course. I can't say I will be ordering another sandwich, but Lin's cookies are a welcome addition to my list of favorite pastries in Squirrel Hill. I'd much rather sample a few more varieties from Lin's expansive case than indulge in yet another chocolate chip cookie. Not only are the cookies delicious, I'm willing to be they're a more reasonable caloric investment than their enormous-but-still-exceptional drop cookie brethren up the street.
Tags: bakery, independent, squirrel-hill
4 Responses to "Review: Bubble Pi Baking Arts"
Leave a Reply