Posted by mike | Filed under Reviews
At the beginning of the week, I received an email message via the contact form on this site. Megan, of Franktuary not-quite-fame, was offering up a free "Locavore" hot dog and an opportunity to interview one of the owners (her). Was it a shameless request for publicity? Yes. Just keep in mind that this site is all about exploring new restaurants in the Burgh, and I've never been out to Franktuary. I literally can't ever make it during their operating hours (10am-3pm, weekdays). In their current carnation, they cater entirely to the lunch crowd downtown. That said, I'm off this week and it seemed like a great opportunity to try something new and support a local and independent establishment downtown.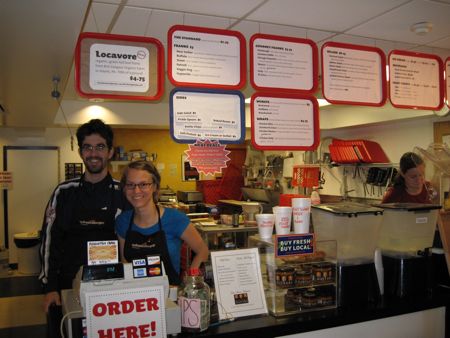 Franktuary ($)
www.franktuary.com







325 Oliver Ave
Pittsburgh, PA 15222
(412) 288-0322
Franktuary is actually a tiny lunch stop downtown near PNC Center between Wood and Smithfield (though I had trouble finding it). Three college friends from Grove City created the concept after participating in a quirky hot-dog-centric social group. Thinking they might actually have a viable business, the shop as it exists today was born. After five years (the first two under a different name), they seem to have been right. Now here's the kicker: Franktuary is in the basement of a church—Trinity Cathedral. The minute I walked in and realized that essential detail, the name suddenly made sense. Franktuary.
Just keep your eyes peeled. I'll admit, Franktuary is a little hard to find. I'm sure part of that is the fact that I'm mostly lost downtown, and the basement-of-a-church location means that the only exterior markings are small sign stand outside the door. Once you walk in, the place is only a few steps down the hall on the left. Outside of the architecture of the building, it's not really obvious that you're in a church, which is a probably a good thing (for both Franktuary and Trinity Cathedral). The entirety of Franktuary is behind a standard sized door, so it's not really an open cove set up as a hot dog shop. The restaurant behind the door is a single open room with one rectangular chunk of a corner carved out with countertops as a make-shift kitchen and prep area. The door-side edge of the prep area presents a single cash register under a hanging menu of options (see photo, above).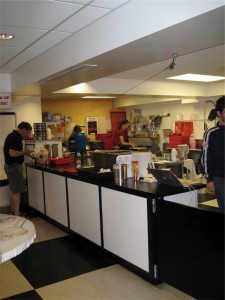 Dogs n' more. With a name like Franktuary, you can expect hot dogs. I actually think their whole menu is like Dee's minus the beer and anything fried (fries, wings, etc) or baked (pizzas, calzones). For such a small-scale operation, I actually half-expected nothing beyond dogs. That's not the case: they have bratwurst, knockwurst, and even kielbasa for those wanting more than just a basic dog but still staying within the theme.
Beyond the dog-ish options, I was excited to see a well-construct salad list, chicken wraps, and a handful of sides (including hand cut home-made coleslaw!). That's not too bad for a single open prep area—not bad at all, and I didn't even mention the "fruit shakes" (that are actually smoothies). Honestly, the menu hit the target for my (admittedly high) expectations of a hot dog shop. Good job, Franktuary.
So I ordered a Locavore. What, you expected a salad? The Locavore is the new Franktuary dog released (pdf) on July 1. Megan had invited me over just to try it, so I went for it. After all, I do go crazy at Dee's and order a hot dog every once in a blue moon–actually, more often than I order a Blue Moon. When I do, I'm drawn in by the topping options (which are definitely present in full force at Franktuary). That said, on my next Franktuary trip, I'll probably be aiming for an Athens Salad and a side of that homemade slaw.
Given my choice of Locavore toppings, I tried to balance enjoying the dog for what it was and with filling it out with the toppings I love and would typically get on a hot dog. Megan was kind enough to cut it in half and top half with kraut. I hit up the second half with the recommended Locavore mustard: Miller's (made in Gibsonia, PA).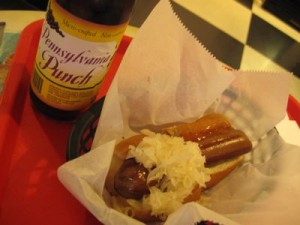 Top-loading bun. All the dogs at Franktuary rest happily on a New England style hot dog bun. That choice is a little unconventional, but I like it—if for no other reason than mere novelty. Megan also pointed out that, unlike a normal side-loading bun, it does a good job of keeping the dog upright and in the bun. Don't worry, the bread itself was still that of an all-white sandwich loaf. I read a commentary at some point on the fluffy soft roll as being the essential bread style for a proper pulled pork sandwich. I would tend to agree, and say the same is true for a hot dog.
Detailed dog analysis. The Locavore, like all of the (meat-based) dogs at Franktuary boasted a natural casing and the same familiar salty flavor of a typical dog. I definitely enjoyed the natural casing. I've seen some dogs in which the casing is a little too tough, which can mean a messy meal when unbroken casing starts to pull a dog off it's bun. For the locavore, this was definitely not the case: the casing was noticeable enough to provide a welcome texture but not so thick or tough as to cause "mechanical difficulty."
Speaking of skins, a few browned up edges showed the dog had been grilled rather than boiled—a point which Megan later pointed out was essential for quality dog prep (I agree). If I were cooking it myself, I might have even aimed for some darker grill marks. Moving inside, the Locavore reveals a uniform texture throughout, with no visible irregularities. I know that for many lesser dogs—think Oscar Mayer, a look inside would reveal a series of white specks distributed throughout—presumably fat or cartilage. The Locavore (of course) bears no such specks or associated texture, but the same is also true for Franktuary's standard dog (a Boars Head frank).
It's too big! My only qualm with the Locavore is size: At 3.2 oz, I didn't finish my whole dog. For the sake of sampling, I had ordered my dog with minimal toppings, so it's not like there was a lot piled on. I went home that night to build my own dog from a Boars Head frank Megan provided for the sake of comparison. The smaller size was much closer to idea: allowing for some space (and some appetite for toppings). For comparison, the Boars Head Frank weighs in at 2 oz; a standard Oscar Mayer hot dog is even smaller at 1.75oz. I think my ideal would be a Locavore the size of the standard Boars Head Frank. Between the claimed health benefits and a chance to support a local grower, I do like the idea of sticking with the Locavore. There's supposed to be a flavor distinction as well, but the difference was lost on my overall unfamiliarity with quality hot dogs.
Will I go back? That question is my standard test to decide whether I liked the place, but it's a bad test here. Based entirely on timing, It's nearly impossible for me to eat at Franktuary. I don't work in the city, so I'm never in the area for lunch. That said, I'd say it still depends. I rarely eat hot dogs. When I do, it's probably going to be at night when I'm out at night with friends (not really over lunch).
Counterfactual. If Franktuary were to be open evenings, then would I go back? Absolutely, though infrequently. I might actually go somewhat freqently if they have a killer salad. With the free WiFi, I might actually go semi-often for a place where I could hang out over a decent salad and work through some FoodBurgh content. According to Megan, that option might someday be a reality: they're actively looking to expand—possibly even into Squirrel Hill. The only barrier right now is finding investors. All you guys with deep pockets and high hopes for an established local business: that would be you.
Tags: downtown, freewifi, independent, non-veg-meal
5 Responses to "Review: The "Locavore" at Franktuary"
Leave a Reply