Posted by mike | Filed under Beer, Reviews
note: This article has been superceded by a second, updated version after a few more visits. I have also brought the food blogger meetup to this location and written of my results here.
Inspired by the appearance of East End's LOAF, I recently made my way down to Bocktown Beer and Grille. I had been intrigued by the very notion of LOAF—basically a Russian Kvass (i.e., fermented bread). In this case, Scott used 60 loaves of sourdough. Independent of LOAF, Bocktown is also the recipient of extensive new media attention. Actually, they're a quite active participant in that community—in the general blogosphere, podcasts, and even Twitter). Naturally, I was curious, so I schedule a trip out not long ago. Better yet, I even found a few friends to join me in the outing.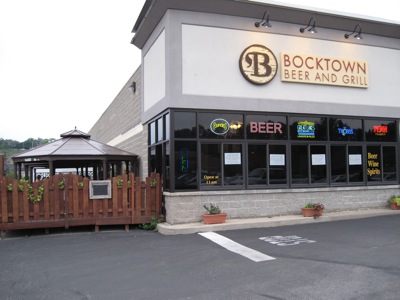 Bocktown Beer and Grill
www.bocktown.com







690 Chauvet Dr
North Fayette Twp, PA 15275
(412) 788-2333
Bocktown is a pretty recent entrant to the Pittsburgh restaurant scene. Located in "The Pointe At North Fayette," (near Robinson Town Centre), they came on the scene in 2007—really without my noticing. They serve up what the City Paper calls "beer-oriented food," and that's a surprisingly accurate description. Big sandwiches, massive orders of fries to pair with 16 rotating drafts plus over 400 bottle varieties. Not too shabby. If you're looking for quality beer or a 6-pack to-go, Bocktown is definitely worth checking out.
Classy design plus patio. You'd think that a beer destination in a strip mall would struggle to create the right atmosphere, but Bocktown does a surprisingly good job. By virtue of the social-media savvy of owner Chris Dilla, they even draw in the right kind of crowd: beer geeks. The entrance leads into the main room—host to a long series of beverage coolers filled with beer of every sort imaginable and a sizeable bar featuring 16 rotating taps. If you skip turning right toward the fridge line-up, you can even make a break for another door leading to the patio. There you'll find umbrella-covered tables and some bar-height tables—both well suited to chilling over a beer on a nice summer day.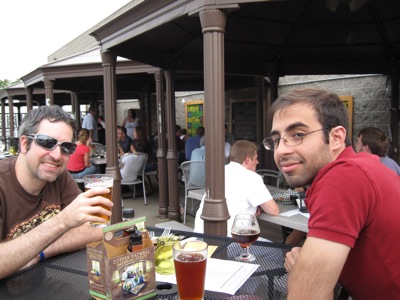 The whole place is extremely well decorated. It almost has the feel of a larger chain benefiting from an interior design prowess made possible by scale. Except it's not a big chain, and I can't imagine they have a design department. I do know that either Chris hired the right people or she just has a knack for the stuff. The whole setup is impressive—but still lots of fun and not the least bit "stuffy."
Nothing but high-calorie options? Despite the condensed, two-page form, Bocktown's menu presents what appears to be a number of options. The main features seem to be fresh-cut fries and "sandwich stacks" (featuring pickles from Smallman Street Deli). I've heard nothing but good about the food, but you'll have a hard time finding a decent vegetarian option. Based on their focus, a big part of me wanted to go for a sandwich. Despite my "better" intentions, I couldn't manage to find a single sandwich that I could feel good about ordering. In retrospect, I could have tried the grilled chicken stack, but I failed to notice that option when ordering. That's my fault, but would it kill them to serve up a portobello sandwich or maybe a grilled veggie wrap? That would be my biggest request.
correction: Chris (Dilla?) has commented below to clarify that any sandwhich can be ordered with grilled portabello. There are also some vegetarian entrees on the way.
Varied salad options…or maybe not? The volume of salad options is somewhat promising, and that ended up being the direction I took (surprise). One negative comment from a dining companion: the salad list is prefaced by an explanation that every salad has the same exact base with a different topping laid on. While that didn't both me, it bothered him: some salads might work out best with different toppings or even a different type of lettuce. I see his point, but it's pretty hard to put a veggie on a salad that disappoints me. That said, they do have a decent list of options—though still only two vegetarian options, and one of them is the side salad. What's up with that?
Except I probably ordered the wrong item. In the end, I went with the garden salad and a cup of soup: a she-crab stew. I received exactly what I ordered, but it's obvious that neither is really Bocktown's strong point—not a good way to try the place out. The good news: my dining companions were a little more traditional in their orders. That means I did still managed to get some perspective—albiet from a distance.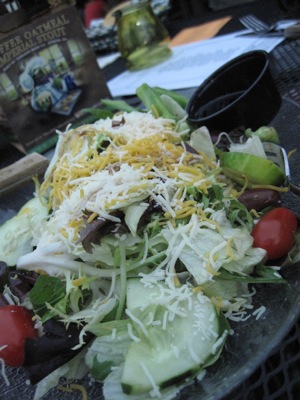 Excellent salad with a so-so balsamic. I have to admit, I was nervous about the salad. That just meant that a positive outcome was that much more impressive. To begin with, the lettuce foundation was the combo typically described as spring mix: baby greens with some frisee thrown in to add body and textural variety. Everything was pretty fresh and piled adequately to balance the number of toppings. It's unclear whether that would have still been the case had I ordered a salad with something on top, but I'll Bocktown the benefit of the doubt on that one.
Topping off the greens were cucumbers, grape tomatoes, sliced red onions, a few green pepper pieces and kalamata olives—exactly as advertised. By virtue of using grape tomatoes and (I'm guessing) adequate storage, the tomatoes even offered up all the flavor I would hope for. If you're storing them for any amount of time, grape tomatoes tend to carry a little bit more flavor than similarly stored larger varieties, so it's a good route to take for a restaurant. The olives deserve kudos as well: I'm pleasantly surprised that a place specializing in such "beer-inspired" food would lean in that direction rather than just sliced olives from a vat in the back. Score a few more points for Bocktown.
Apparently not a soup destination. In a pinch, I tend to enjoy the garden salad and soup combo. That said, I was a little frightened by the "homemade chili" being promoted as not containing any beans. I'm guessing that means it was mostly beef. While I would swing away from my veggie world to try a good chili, I really don't like the "giant bowl of seasoned ground beef" approach to chili. I didn't want to risk that fate, so I ordered the she-crab stew soup. Not a low calorie option, but potentially good.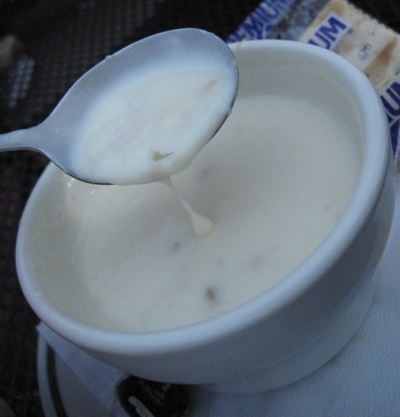 In ordering the seafood stew, I hoped and expected to see something with the following: a somewhat thick cream base with slight spicy twang that served as a foundation for noticeable chunks of crab meat and a nearly equal amount of celery and onion. What was ended up getting was lots of the cream base with barely noticeable levels of crab and…well, not much else. No spicy twang, and certainly no celery or onion to speak of. Basically, it was a huge waste of calories.
correction: I originally said "she-crab stew," but have been corrected that it was a "soup." That does make it slightly more acceptable that it was low on celery and crab.
How did my companions fare? One ordered a cheeseburger (Brett); the other a crab roll (Mark). Both were pleased with their selections, which are both better representatives of Bocktown's focal point than my own order. The burger was served on a soft yellow bun with just enough structural integrity to keep it's form while eating the burger. From the picture below, you can see a pretty decent slice of tomato and adequate lettuce—though brett wasn't a fan of the chopped/shredded lettuce in place of a full leaf or two. That's a minor nitpick—in general Brett definitely approved.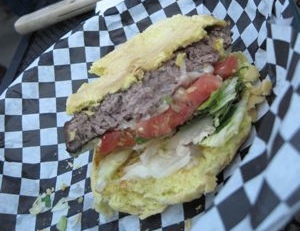 The crab roll was similar to the Roland's concept in form, but could stand to work on presentation (and apparently butter content). The roll came with both lettuce and tomato on the side—similar to the burger, but Mark chose not to throw on the veggies. That lead to a sandwich that looked, well, boring—at least to my eye. That's Mark's fault—to some extent. That said, he seemed to like the sandwich overall but had one major complaint: way too buttery. He detected a thick butter dousing that detracted from the crab and it's bread. I'm not sure were that was introduced in the production.
Any beer you could hope for. Obviously, I was drawn in by the East End selections (specifically, LOAF), and any establishment with more than two from my favorite local brewer on tap is clearly on the ball. In all, Bocktown offers up 16 rotating beers on tap. Almost all of them are from craft brewers—good ones, at that. Unfortunately, there's no definitive list available on their web site, so it's a bit difficult to review the full list and comment. I ordered a LOAF followed by a Marzoni IPA (the brewery featured in the previous week's tasting).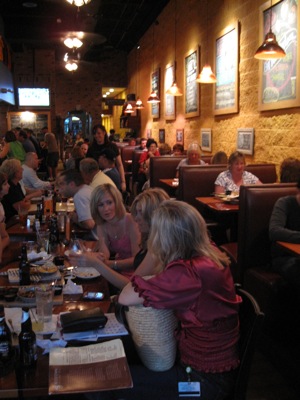 LOAF was…present and murkey. The Kvass style is typically low in alcohol. In fact, it's traditionally considered safe for children (in Russia). The style is also typically unfiltered, and LOAF was no exception. It's one of those beers that are intriguing in their construction, but really hard to analyze—at least for me. It carried a very low hop character and lacked much of a malty sweetness. Then again, it may have just been served too cold for me to really dig in.
Bocktown also features a massive collection of bottles. I wouldn't say they reach the scale of D's, but the selection is large and all available cold in mix-n-match 6-packs. I always manage to find bottles for any brewer typically available in the region—and then some.
Did I say tasting? Yes: beer tasting. It's worth noting that Bocktown also offers up a beer tasting for a different brewer every Wednesday night. The full schedule is available online for anyone wanting to find a brewer of interest. I've been to one of these tastings with the Beer Meetup and found it to be informative, but you have to reach for it. A representative from the brewer stands in a corner of the deck to pour samples for anyone who asks. I made a point to hit up the rep for some background on each of the beers, but that information wasn't really presented otherwise (to my knowledge). To correspond with the tasting, Bocktown also offered up multiple beers from the featured brewer on tap. That aspect was nice, as it gave me the opportunity to sample beer from both the "tiny sip" and "full serving" perspectives.
Will I go back? Well, yes, of course. I imagine the Beer Meetup will return on a somewhat regular basis. Now that I'm one of that group's assistant organizers, I could even set up an outing if I wanted. That having been said, it's the beer that will draw me back—not the food. If I had to make one suggestion to Bocktown, it would be to add at least 1 or 2 more vegetarian options to their menu. A grilled veggie sandwich/wrap or a portobello salad would really suffice.˜
note: The availability of portobello for any sandwhich was corrected above.
If you haven't been up to Bocktown, and you like beer, you should definitely stop by and give them a try. Form your own opinion.
Tags: freewifi, independent, pittsburgh-south
11 Responses to "Review: Bocktown Beer and Grille"
Leave a Reply