Posted by mike | Filed under Reviews
It wasn't until my recent visit to Rose's Ice Cream, that I even noticed Calli's. Since then, I've driven by a few times and been meaning to check them out—mostly because I had no idea what to expect. After I (finally) finished catching up around the house on Sunday, it seemed like the perfect point to head out for dinner and do a review. A little poking around Urban Spoon suggested Calli's is open for dinner 7 days a week, so a Sunday evening visit proved quite successful.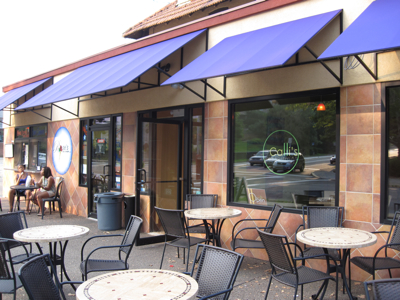 Calli's






($$)
7600 Forbes ave
Pittsburgh, PA 15221
(412) 242-8281
If I had to characterize the new establishment, I'd call it "low-key casual dining." The menu lists appetizers, sandwiches and a few entrees, but no salads. From over at the bar (a surprise attribute), you can order a few craft beer options in bottles with one or two on draft, and even a wine option or two. If the weather's nice, they even have a good bit of cafe seating on the side walk.
What did I find? Well, Calli's has only been around for 4 or 5 short weeks (since mid-July), and they already have some key details either in order or heading in the right direction. That's not to say Regent Square's newest dining option has smoothed over all the rough edges, but I definitely expect great things from this place.
Shared awning confusion. Calli's sits in the same building as Rose's—the bright blue awning even spans both storefronts. To me, that just suggests the building owner played the largest hand in decoration but I'm worried that Calli's in-window sign is a little harder to detect than Rose's bright white sign. With time, I'm hoping they invest in bulking up on signage.
Eerily clean decor. From the interior, it's clear that some time and money was invested in decor. Once you step inside, all similarities to Rose's fall away. In contrast to the classic indie ice cream shop, Calli's interior is clean, tidy, and colorful. Black tables, nicely finished walls, pre-placed white table settings serve up a lot of color contrast that defines quite an appealing decor. "Semi-modern" might be the right label.
Televisions? I'm ever so slightly confused by a series of flat screen televisions quietly flickering with cable news in the background. If you want to hang out during a Steeler's game, that might be a bonus. That said, I'm relatively indifferent to the feature.
Dissonance: Menu vs. Decor. Calli's feels like full scale casual dining operation, but the menu skips out on some items I find essential; Most notably, I'm pointing at the lack of any mention of a dinner salad (or side salad, for that matter). Of course, the menu's simple (but colorful) stapled pages are probably a stepping stone to something better. In fact, a discussion with Kate Whitmore, a jack-of-all-trades-style employee (but not an owner), indicated that more permanent menus are on the way.
Sandwiches and basic entrees. Based on reading my reference to "sandwiches and a few entrees," you might worry that the food is a little low brow. Don't get the wrong idea. Some of it is pretty class. I didn't scribble down a list, but notable items include steamed mussels and the grilled veggie sandwiches on "multigrain Ciabatta" that I ended up ordering (more on that later). In general, veggie options seemed to be generally available and the non-veggie items were more than just low-brow pub grub.
Sorting out waitstaff kinks. When I first walked in, a server/hostess suggested I just pick a table: outside, inside, or even back at the bar. First off, the bar? That's the first I had heard of such an option. I expected a beer-free zone (no really, I did). On my way to investigate the bar, I first bumped into Kate, who was more than eager to help me find a place. You can't say they weren't trying desperately to maximize assistance, but they're still working out a system and just a tad bit apologetic for…not really getting anything wrong? That said, things settled down a little bit once I picked a table in the main dining room—not the bar.
Please: know thy beer list. If beer is an option, then I'm going to order a beer. I did (more later), but not without an awkward false start. I started with asking about what they had from Great Lakes. Response: yes. The waitress seemed a little confused and unfamiliar with the notion that Great Lakes is a brewery and not a specific beer order. Result: a trip back to the bar to get an explanation; her findings: they're out. Try number two: Dogfish 60 Minute IPA. They had that one.
I'm thrilled that they serve up one or two beer options from craft brewers, but I also believe that it's important for waitstaff to know something about those beers. To not know is akin to ordering a specific menu option and receiving a blank stair in return: "We have that?" That's a kink I hope they work on.
Grilled veggie sandwich with sweet potato fries. I have to admit: when I ordered, I was a little concerned about my grilled veggie sandwich. That's a dish that can really go either way, depending on the place. The notion of "multigrain Ciabatta" was a little disconcerting as well. From the perspective of someone who has been baking bread every week or so for almost 3 years, that's an oxymoron. On the plus side, the sandwich came with a side, and sweet potato fries were an one of the options. Hoping to keep down calorie counts and avoid eating too many of them, I went for it.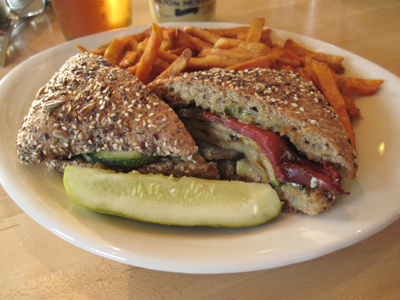 The food was excellent…despite concerns. All the concerns I just spelled out turned out to be unfounded. The grilled veggie sandwich consisted of zucchini and roasted red pepper between a bread that I would compare to Brownberry's "Health Nut." Despite the flat, square form factor of the individual roll, the slices were thin and appropriately balanced with the the veggies. The best part: what I suspect was a sort of pesto lining the bread to offer up a nice flavor profile along side the veggies. Normally, I end up going for mustard with this style sandwich, but, in this case, there was more than enough flavor here to go without. As for the fries: I can't gush enough. They were fresh, very lightly seasoned, and just crunchy enough to balance a soft interior texture.
Did I mention the pickle? Plump and crunchy—not a deli-style pickle, but not a lame pickle either.
Some good beer, but only you can make it better. I talked briefly about beer options earlier, but it's worth pulling together some disparate pieces. First, this isn't a craft beer destination; it's not D's. All but one of the draft options are from larger brewers—the single outlier being the Dogfish 60 Minute that I ordered. Who would have thought? The bottle situation was a little better, but the most notable was the Great Lakes they turned out not to really have. The rest weren't all of the large-scale light lager variety, but they weren't anything crazy either. My hope is that demand for good beer is sufficient to drive in a few more options. Also, why isn't Scott from just up the road at East End Brewing talking to them?
Will I go back? Without a doubt. I am definitely one to give points for trying, and Calli's is clearly a local independent newcomer that desperately wants to get it right. Kate claims they've seen modest success despite starting mid-recession. I think that's great and hope to make it out there again—with some friends to help spread the word. I fully expect that, over time, Calli's can become an excellent choice among Pittsburgh's local destinations.
Tags: independent, newcomer, regent-square, veggie-okay
14 Responses to "Review: Calli's (Regent Square)"
Leave a Reply