Posted by mike | Filed under Reviews
I used to frequent Cuzamil on a semi-regular basis with a good friend who has since moved away. He's gone, but I was still able to round up a dining companion for a trip out on Tuesday night.
Before jumping into a full review, I offer this background: I'm usually afraid of Mexican restaurants—primarily because Americanized Mexican food is often unhealthy. It tends to overflow with grease and, really, just far too much food. In far too many cases, the vegetarian options are limited to rice and refried beans. In the face of this trend, Cuzamil is left with an enormous challenge: balance American expectations with wholesome mexican food. That's a big job, but I'd like to think they lean toward pulling it off.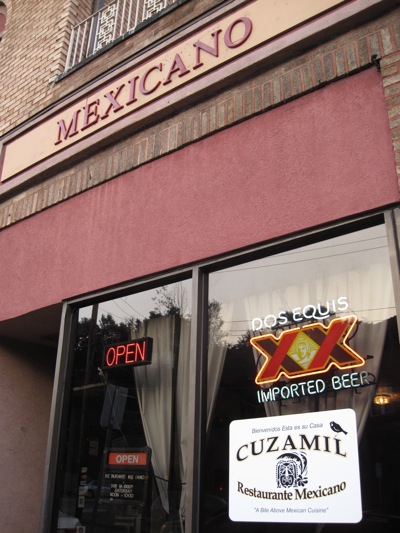 Cuzamil ($10-12 entree)







2109 Murray Ave
Pittsburgh, PA 15217
(412) 521-3250
Cuzamil actually has two Pittsburgh locations: one downtown and the other in Squirrel Hill. The downtown location is open only for lunch, and features a slightly paired down menu for lunch (and lunch only). The Squirrel Hill location, which I review here, offers up a far more substantial menu and a full bar. That location was previously occupied by yet another restaurant—Mi Mexico. I get the feeling the new place has new owners, but that's totally unsubstantiated. Feel free to chime in if you happen to know the back-story.
Simple with a little Mexican flare. Cuzamil has two entrances: one for the restaurant, another for the bar—both on Murray Ave. Each entrance opens into a different room with a single opening connecting the two, so there are two totally different atmospheres. The dining room is well lit with a host table at the entrance, a television in the back corner and a tad bit of familiar Mexican kitch along the walls—think sombreros and multicolor fabrics. The bar is barely visible from the dining room and noticeably darker with yet another television and what appears to be a full liquor collection along with about 4 draft beers. One is Dos Equis, so it could be worse.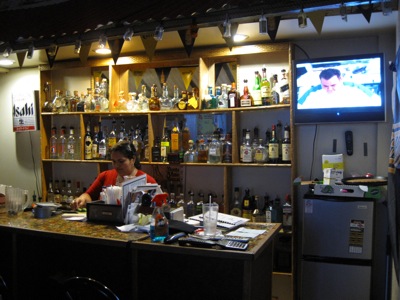 The City Paper nails it: a menu "Familiar-to-Americans." The Pittsburgh City Paper really hit the nail right on the head. Many of the menu items should  familiar, but they aren't completely Americanized. I can't imagine they're authentic either, but the fact of the matter is that I grew up in this part of the country and really have no place becoming a snob over "authentic" Mexican cuisine. After all, authenticity is really just generations of experience making do with available resources; emulation of that resourcefulness is just one possible culinary pursuit. Other pursuits are no less valid, and probably essential if you want to run a profitable restaurant.
Culinary philosophy aside, the menu is segmented much like a typical Mexican restaurant. Rather than list the gory details here, I'll direct you to check it out on your own over at Menuism. I'll start by drawing attention to the space set aside for vegetarian items. That organization makes a lot of sense given the general organization by type of meat: beef/pork, chicken, and fish. Vegetarian is just the next logical possibility. In any case, Thank you! It's appreciated.
It's hard to be healthy at a Mexican restaurant. As a mentioned in my intro, American Mexican restaurants are simply not known for healthy options—especially in this part of the country. There are a few outliers, but the American expectation is for greasy, cheesy, entrees with guacamole and sour cream on the side. I'm actually a big fan of Rick Bayless's intro to Mexican Everyday, where Rick sheds some light on this issue. To summarize, those items we know and love aren't "everyday" fare for most of the Mexican culture.
So what is a restauranteur to do? Should he satisfy American expectations or show off something potentially much better (and better for you)? I think Cuzamil forms a pretty good compromise. The menu shows off all the expected items, but serves them in a reasonably healthy way. Even better, that same menu continues on to list at least a few moderately healthy items: vegetarian fillings for fajitas, a tossed salad, some seafood options. They could still do a little better, but I'm happy with even that.
The off-the-menu vegetarian taco. Based on my experience over at Bocktown, I noticed they had vegetarian fillings for fajitas, but not tacos. The City Paper write-up had inspired me to try tacos, so I asked. 1 query to the kitchen and 1 afirmative response later, I ordered one with just lettuce, tomato, pepper, and onion; the other with a medely of other veggies thrown in. Both came with a light/moderate sprinkling of what I believe to be Monterey Jack. Both options were delicious, but I highly recommend the fully vegi-fied variant. I managed to single out broccoli and zucchini, but there were probably others in there was well—with the whole medley sauteed in a light sauce tomato-based. The flavor in both was well balanced with minimal spice and a just a little tang from the cheese. I am still impressed.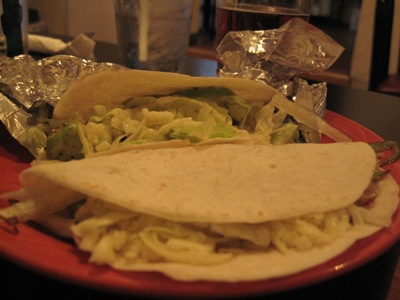 The on-the-menu vegetarian Fajita. My dining pal, Erica, took the veggie option as well and ordered the vegetarian fajitas. This one came with the same vegetable medley from my tacos served on the same oblong cast iron griddle you would expect from anywhere else. The seasoning was, of course, identical to my tacos with the added benefit of a full griddle of the stuff. As with any of the entrees, Cuzumil also throws in rice and beans on the side. That does make for a lot of food, but no one's forcing you to eat it. This was another highly recommended option.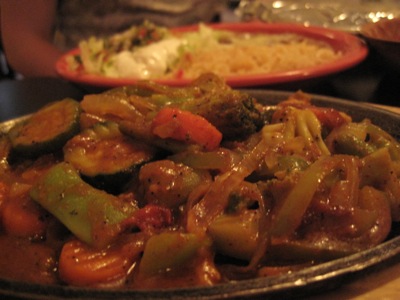 The beer list was unexciting. As mentioned in my intro, the draft list included only 4 options; one was Dos Equis, with the remaining three in the "industrial light lager" category. A few bottled mexican beers are also avaialble. Beer clearly isn't the focus here, but the situation could be far worse.
Would I go there again? Yep (and I have). Cuzamil isn't an over-the-top high end Mexican restaurant, but the the price is low-to-moderate ($10-12 entrees) and the food is quite good. They're not the worlds healthiest option either, but they give you more choices and less grease than many similar restaurants. In other words, they're not a "local destination," but they're definitely worth a visit for a week-night dinner if you're in the area.
Tags: independent, squirrel-hill, veggie-okay
One Response to "Review: Cuzamil (Squirrel Hill)"
Leave a Reply