Posted by mike | Filed under Beer, Reviews
For those of you that weren't paying attention, Fat Heads recently opened a brewpub near Cleveland (North Olmsted, to be precise). Exactly when that opening took place is unclear to me. Now, fast forward to just last week, and that North Olmstead brewpub made first place at an IPA Festival in Hayward California. If you don't pay attention to craft beer, you might not realize how much of an accomplishment that really is. California is particularly well known for the IPA style, so when a brewpub with Ohio/Pennsylvania roots places 1st, it's something to write home about.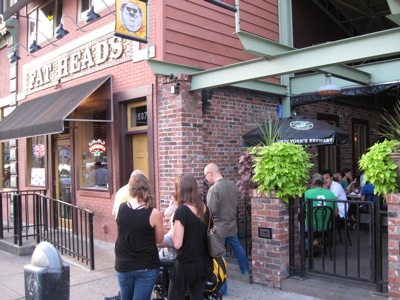 Fat Head's Saloon







1805 E Carson St
Pittsburgh, PA 15203
www.fatheads.com
(412) 431-7433
I'm not traditionally an IPA fan, but it was reason enough for me to head over to Fatheads for dinner with a friend. It was about time for a FoodBurgh review, and I hadn't even been out there since the establishment of the brewpub. The results: noteworthy beer with a better-than-expected salad.
Emphasis on the Saloon. Let's review, Fat Head's is located in Pittsburgh's South Side—one might even say that they are the very embodiment of the traditional South Side image. That means the atmosphere has a bar ("saloon") character. With good beer, and good food, they're always packed—one might even say annoyingly so. On the bright side, they're a local independent doing a lot of good business.
If you're happy with the saloon vibe, or perhaps you just get over it, Fatheads becomes an excellent South Side destination. Being in a potentially old building, the layout is irregular and a little hard to describe, but it's fairly easy to chart a clear dividing line between the bar (left) and table area (right and back). Those divisions mean there's definitely a place for the casual diner, it's just a tad bit noisy—though not to the point of preventing conversation. Also noticeable from the entrance: a stairwell leading up. The stairs do lead to the second floor, but don't be fooled: I believe that's limited to a mini "gift shop." Oh, and my favorite part: they open a semi-enclosed patio for the summer months. Very cool.
"Relatively close to the size of your head." The flagship menu item over at Fat Head's is really the "Headwich." That would be a sandwich "relatively close to the size of your head." That sounds very un-FoodBurgh-like, but give them a chance. Though the Headwiches may be enough food for 3, they certainly don't limit the number of "lesser" sandwiches (lesser by magnitude, that is). Also: the salads are well-portioned, which, for me, that means plenty of lettuce to balance out what sits on top.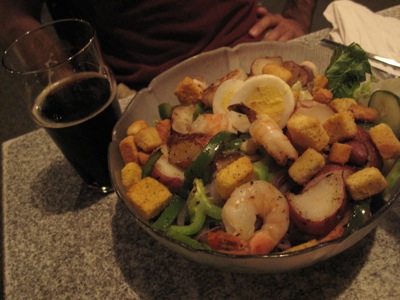 Classier salads can be found. While the salad options sound good and provide a welcome balance the rest of the menu, they have a certain ruggedness that differs hugely from Blue Dust or even Bocktown. Both of those establishments serve up higher-end lettuce mixes and tend to be more delicately topped. The Fat Head's salads are a little low brow, but served in a big, deep bowl of Romain-iceberg mix that appeals to my desire for lots of greens. Honestly, I didn't realize Fat Head's had a lettuce-packed salad in them, so I was quite excited to see a few of these bowls floating around at other tables when I walked in. Maybe they're not not "classy" but still very promising.
A (spicy!) Buffalo chicken salad. On a whim, I ventured into the world of meat to order up a buffalo chicken salad. In a former non-veggie-leaning life, I've had a few good ones, and even today the very concept of Buffalo chicken sits well with me. Any item that can be inundated with flavor from an endless list of potential sauce variations, is welcome on my plate. In this case, Fat Head's brought in the Buffalo with their self-branded "original sauce," and it was….hot. They weren't kidding.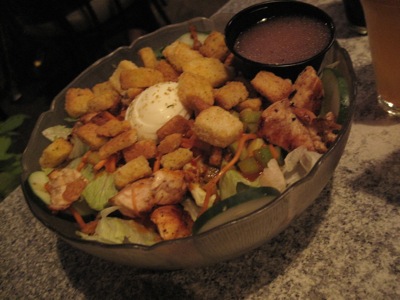 Sauteed veggies pre-tossed with sauce. The main toppings on my salad: mushroom, carrot, celery, grape tomato, hard-boiled egg, loads of croutons, and, of course, the buffalo chicken. At least for this salad, the veggies were lightly sauteed and tossed with the buffalo sauce. Actually, there was more sauce on the veggies than the chicken itself, which was still spicy, but apparently with a dry seasoning. With all the buffalo sauce pre-applied, there's really no need for dressing—though I ordered a balsamic vinaigrette on the side. The salad certainly didn't skimp on chicken, which means there was a bit too much of it for me. I ended up taking half the salad home and skipping veggie-dom for two days with a buffalo chicken wrap and later a rejuvenated salad.
One complaint: too many croutons. At some point one or two croutons were nice for taming the sauce, but the salad was inundated with them. If I ordered again, I'd probably make a zero-crouton request. When it comes to salad, I'm a far bigger fan of a salad's carbohydrate content taking the form of a folded tortilla (a la Mad Mex) or even a homemade pita (a la Rockne's, back in Ohio). Of course, that's a personal preference, and I'm sure every customer has an opinion.
Inspired by my salad musings on the walk over, my dining buddy, Mark, ordered a shrimp salad. Many characteristics and toppings of the buffalo chicken salad carry over, but the shrimp variation came topped with green bell pepper big chunks of new potatoes (plus the croutons, though apparently less of them). Mark seemed to enjoy the salad, but didn't have much to say.
Mixing up self-brews with everything else. Fat Head's has had a big beer list since before that was common, and I commend them on that achievement. With the opening of a brewpub as their second location, they now have the added capability to stock some brews of their own. In a welcome twist in the brewpub theme, they present a big selection of outside beer right along their own. The current mix stands at 7 self-brewed options plus 35 from other brewers. That's 42 total, an impressive number of kegs likely made possible by their location in the heart of the a well-known bar destination.
From Headhunter IPA to a Gütenhoppy Pilsner. During a 25 minute wait for a table, I dove into a Headhunder IPA at the bar. Headhunter is the brew that placed first in the recent Bistro IPA festival way over in Hayward California. I typically tend toward more balanced styles, so the concept of a big potent IPA was a little disconcerting. I quickly found that this had a somewhat unique character in the realm of an IPA: it somehow managed to have a decent malty balance despite an aggressive hopping. Over dinner, I moved onto something else: the Gütenhoppy Pils. This was was obviously a little less intense, but quite good non-the-less. Gütenhoppy is an unfiltered pilsner, so it had a dirty look and a slightly "yeasty." Definitely an interesting spin on pilsner. Mark ended up with a Flying Dog Gonzo—two times over, but only after learning they were out of Rocket Man Red.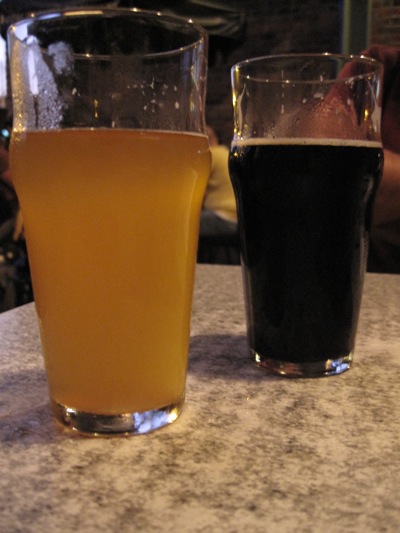 Will I go back? At some point, yes. Fat Head's is one of those places that are just a little inconvenient, but still good. The difficult parking and long wait for a table make it difficult to convince people to make the trip. In some sense, those are outside of Fat Head's control, but I also suspect the situation is a little better at the Cleveland location, which is really in the suburb of North Olmstead and probably has a parking lot. When I get a chance to make it over there, I'd give them a try without a second thought. As for Pittsburgh, I'll definitely be back, but the level of inconvenience will likely slow my return.
Tags: regional-chain, south-side
3 Responses to "Review: Fathead's Saloon"
Leave a Reply