Posted by mike | Filed under Beer, Reviews
I made my way out to Mad Mex with an old friend last week to keep up with an old friend (Sally). Partly, I wanted to catch up with Sally, but I was also looking for a solid Mad Mex compatriot to balance out a review. I knew that Sally shares my love of Mad Mex (and for complementary reasons, even). Of course, let's not forget the extra benefit of not drinking alone—because a trip to Mad Mex necessitates a good beer or a killer margarita.
Mad Mex
www.madmex.com







7905 McKnight Rd
Pittsburgh, PA 15237
412) 366-5656
If you live in Southwestern Pennsylvania, but haven't been to one of the several Mad Mex locations, there's something horribly wrong. As the original venture of the Big Burrito Restaurant Group, Mad Mex is, by my completely unscientific analysis, the most successful regional chain in the area. There's a reason for that success: they get just about everything right. From high quality ingredients to always-changing and always interesting beer lists, they work hard for that success and truly deserve it.
First, a photo credit shoutout. If the photos in this post look better than my normal photos, then be sure to look into the photographer: Sally Bozzuto. And if you just want to thank her for actually offering up a photo that contains both the food and me, just thank her on Twitter. Seriously, if you're looking for a freelance photographer, she's out there.
The restaurant-bar balancing act. I did this review at the North Hills location for two reasons: a) it's on my way home from work, and b) it's not the Oakland location. Sally and I both agree that, unless you're in college, the suburban Mad Mex locations are vastly superior to the original (also preferable if you currently go to CMU :P). The restaurant-bar balance is the crux of the matter: the Oakland location is small, predominantly a college bar, and always packed to capacity. That makes for a long wait and a loud dining experience. While the backlash from my Hofbräuhaus review suggests I'm an outlier, that's my position. The loud bar scene may be fun for the occasional happy hour, but my preference goes to any of the other locations, where space is at less of a premium. Fortunately, a handful of suburban Mad Mex locations gives me all sorts of options.
Can mexican be healthy and fresh? Having just said healthy, fresh, and Mexican in the same sentence, let me first give a shout out to chef/author Rick Bayless. With that out of the way, I commend Mad Mex on making it easy to find healthy and even vegetarian options, while still providing massive burritos to the people that want it. Some restaurants cater only to the health nut; most cater only to the health nots, but Mad Mex is one of the few that seems able to make us all happy. In particular I'm a big fan of the Chic Pea Chili and California Grilled Salad. Even the house salad (a.k.a., "Casa Salad", get it?) even has plenty of character (much like Rock Bottom's). Rather than enumerate the sections, I'll just give you a link.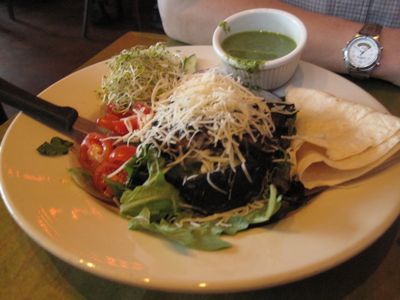 The California Grilled Salad. For use in this review, I ordered a my default dinner entree: the California Grilled Salad with Portabella and the house Cilantro-Lime Vinaigrette. Like all of the Mad Mex salads, there's a lot going on in this one. Lettuce fills out the base, but that leads into…
cherry tomatoes
alfalfa sprouts
avacado

(…trust me, it's in there)

red onion
portabella

(…or chicken/steak)

Monteray Jack
The whole thing is rounded out by a folded flour tortilla—presumably just for starch content. I'm a big fan of the parmesan, which looks like quite a bit in the picture but is really quite a tasteful amount. The portabella is a recurring theme that Mad Mex uses to make any of their standard dishes vegetarian. While their particular preparation is nothing to write home about, it fits the bill; it's a hearty, flavorful, vegetarian, addition.
Oh the beer. The draft list at Mad Mex: always in flux. That alone is fantastic, but the tendency here is toward more agressive American craft beer: IPA, Imperial IPA, Double IPA—you get the picture. They hit all the right notes in that category (e.g., various from Stone, Bell's Two Hearted, Dogfish 90 minute]). Each of those are solid beer choices, but it's rare to find a solid English Pale Ale or Amber Lager—unless you make your way to the Mexican drafts, which all come from larger brewers. Is that the fault of Mad Mex? Or is it just representative of availability? I think we have to blame option (c): customer demand. The draft list is likely based on the level of enthusiasm behind each beer. That said, would it hurt them to throw on a Great Lakes Dortmunder?
Did I mention margaritas? While I rarely target a margarita, I've sampled many, and all were above average. The menu offers up three fast-food-reminiscent sizes, which seems dangerously odd for a margarita. While I don't see it listed on the menu, I seem to recall visiting with my mother at some point and tasting what that night's server presented as the "Perfect Margarita." The idea was a little less sugar and higher quality tequila. Let me say it was excellent. I'm not sure if it's a former menu item (which I seem to remember), or just something off-menu, I highly recommend it. Consider it the margarita for the people who really like margaritas—rather than just fruity alcoholic beverages.
Will I go back? Yes—at the drop of a hat. Based on their overwhelming success, Mad Mex (and the Big Burrito Group in general), has the feel of some large conglomerate—but that's really not the case for Mad Mex. Just think about it: have you ever seen an ad for Mad Mex? Now have you ever seen an empty Mad Mex? Case in point. They succeed because they provide exactly what the people want and let word of mouth and repeat business take care of the rest. Now, if I could just inspire them to throw up some drafts that are both interesting and milder session beers.
Tags: freewifi, healthy-win, pittsburgh-north, regional-chain, veggie-friendly
5 Responses to "Review: Mad Mex (North Hills)"
Leave a Reply