Posted by mike | Filed under Beer, Reviews
Over the weekend, I made my way out to OTB in the south side for a very late lunch amidst some failed project efforts around the house. Joined by a friend just returning from a week away, that seemed like as good a time as any to check out a place that has been pushed heavily by Venture Outdoors and already received quite a bit of attention elsewhere. I've wanted to give them a try for a little while now—mainly because I had no idea what to expect.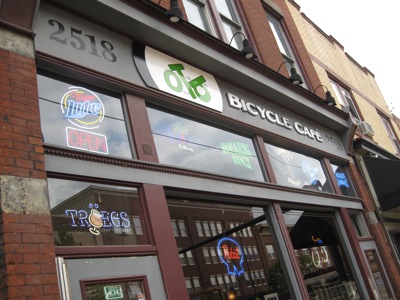 OTB Bicycle Cafe
www.otbbicyclecafe.com







2518 Carson Street
Pittsburgh, PA 15203
(412) 381-3698
OTB is a biker bicycle bar inspired by the recent extension of the Allegheny Trail—which happens to pass right through the South Side on it's long stretch down to DC. The restaurant is a unique little place decorated with old bicycles and colorful murals. The word "quaint" comes to mind, but the moderate size (and media attention) suggest there are probably better descriptions. The menu even throws out local bicycling references and protein-packed sandwiches for the cyclist who's been out on the trail all day. Prime example: a burger with peanut butter on the bun.
Not huge; not tiny. OTB isn't exactly huge, but there seem to be enough tables for a pretty decent crowd. I can't imagine you would be pressed to find a seat, but I also went during off-hours on a Sunday. Comment if I'm wrong. The entrance leads into a front bar area with several bar tables along the wall. If you keep on walking, you'll end up in a partially segmented dining area with similar decor and standard-height dinner tables.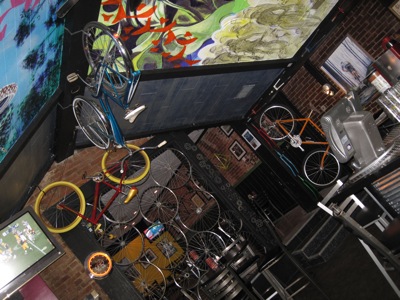 In terms of atmosphere and waitstaff, my visit was quiet, with a single visible server. Given my timing, that's probably not typical. The server was prompt and friendly but not overly personable but not otherwise notable—a mixed blessing. I'm actually a big fan of lively server-patron exchanges, but I suppose more restraint is a safer bet for the server.
Veggies if you want 'em. How does a short menu balance monstrous protein levels (a burgher with peanut butter?) with a decent number of vegetarian options? Think minimalism, then download the whole menu (pdf) to see for yourself. I'm certainly not into the burger options, but several of the salads and non-burger sandwiches caught my attention. I'm thrilled that they list up seitan options whenever feasible. I'd much rather see those options listed than float below the surface as unspoken possibilities, and seitan is far more interesting than the more typical tofu or portobello—though I'm also a fan of both the common alternatives.
Mixing it up with a Rail Trail Wrap. Inspired by the seitan, and trying to avoid my boring salad-focussed tendency, I hit up what is effectively a buffalo chicken wrap with a seitan substitute. Based on the lettuce and carrot listed on the menu, I expected to see an equal balance between seitan and veggies. That turned out not to be the case, so I was a little worried before taking a bite. Also disconcerting: the filling appeared to be fried, so it could have been a little healthier. Then again, who orders a buffalo wrap for that purpose? Post-bite, my worries faded away. The ensemble was far too tasty to warrant any sparse veggie criticism. The shredded carrots under the seitan added a nice crunch, and the whole thing offered up a nice balance of flavors. It could have used an extra slice of lettuce and smaller seitan chunks, but the spice was balanced, and the overall result was satisfying.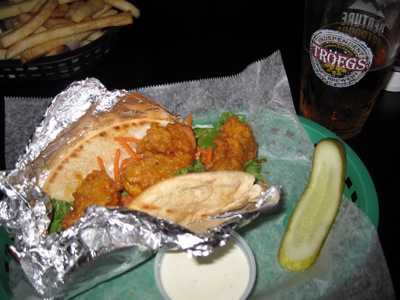 The softer side of seitan. When given the option, I prefer seitan to tofu purely for the texture. I'm a texture freak and love the little extra chewiness I get from seitan. That's why the seitan in the wrap was surprising: the texture was kind of soft—only a little chewier than tofu. Perhaps my seitan expectation is off or fills a wider texture spectrum than I expected.
Brett's ridiculous Dirt Rag order. Okay, I won't give him such a rough time. I was glad just to see how it looked. The "Dirt Rag Delight" is quite possibly the OTB signature sandwich; it's a burger with cheese, pickles, and peanut butter—plus the standard lettuce, tomato, and red onion. Alternative patty options include the standard beef burger, turkey, or even a veggie burger. The specified cheese is american, though they were more than happy too hook Brett up with provolone based on his preferences.
Brett didn't mention any complaints. He liked the crunch of the pickle, and noted that the peanut butter quantity was less substantial than you might expect but still provided a pretty potent flavor—as peanut butter tends to do.
Simple but effective beer options. You won't find a huge draft list at OTB, but you will probably find some good beer. For those of you not in the know, this year's East End Brewing Keg Ride ended up at OTB, so, naturally, they offer up Scott's Pedal Pale Ale. For the sake of trying something new (to me), I went with the Oktoberfest from Stoudts. After all, it is getting to be that season. There were really only a few other beer options, but all were craft beer options. For those of you who won't let go of your industrial light lager, a quirky sign near the bar should provide some assurance: "PBR: Always $2." Funny.
Will I go back? At the risk of serving up far too many positive reviews, I have to say yes. While they did offer up some calorically intense options that I'd probably never hit up, they do make a point to provide vegetarian options, and some alternatives on the lighter side. My wrap was delicious—though less veggie-centric than I hoped. I'd love to go back and try some of the salad options. Based on some unique but tasty option and some good beer options, I say they're definitely worth a try!
Tags: freewifi, independent, south-side, veggie-friendly
5 Responses to "Review: Over the Bar Bicycle Cafe (OTB)"
Leave a Reply