Posted by mike | Filed under Treats
If you've driven past the corner of Forbes and S. Braddock, and you're the least bit observant, you've probably noticed Rose's Ice Cream. It's just a little shop with a decent sign, attention-grabbing window canopies and fantastic location: right there on the corner. Surprisingly, it doesn't seem to register yet in any of the local media or internet restaurant guides. Until now (sort of).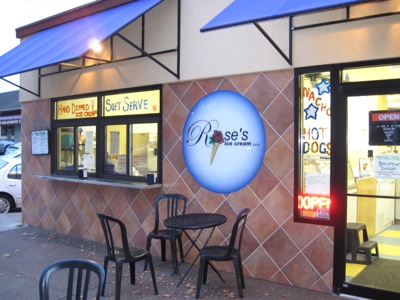 Rose's Ice Cream
607 S. Braddock Ave
Pittsburgh, PA 15221
412-247-3103
A little while back, I went out with a good friend for a drink at D's Six-Pax & Dogz. For whatever reason, neither of us was really up to staying at D's for more than a drink with dinner (okay, it was mostly the other guy). The result: a quick trip up the street to Rose's for a scoop of ice cream to try them out. I'm not typically one for ice cream, but I made the trip. Despite my better judgment, I even bought a scoop of ice cream.
Big sidewalk presense; little shop. Based on drive-bys alone, my impression of Rose's was…highly commercial. Influenced to some extent by the bright canopy and polished storefront, I almost expected the a big chain without much character. A trip inside shows that to be flat out wrong: the quaint interior shows reflect something closer to the ice cream shop I remember from my childhood—not even close to the sterile uniformity brought on by the era of Cold Stone. The main attraction would be the 23 flavors of hard ice cream, but they actually do soft serve and "food" as well (more on that later).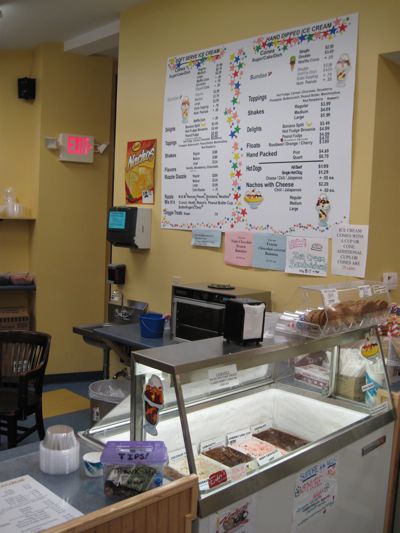 Hot dogs on the menu? Turns out, D's isn't the only establishment on Braddock to sport a hot dog on the menu. Of course, the menu is focused on the standard mechanisms to get ice cream into you (sugar cone, cup, waffle cone…you know the drill); except they go on to list hot dogs and even nachos. I'm guessing sales for those outliers are driven by families coming out of the park and looking for food, but who knows. I'd be interested to know if either menu item is any good or otherwise notable. My guess, D's is still the place to go for your hot dog—or, better yet, Franktuary.
Virtually no web presence. Try searching for Rose's—I dare you. At the time I wrote this, I found nothing above the noise level. No City Paper review, no Post-Gazette mention, certainly no web site. The only reference I could find was a listing of Regent Square businesses from the Square's Civic Association. It's not like Rose's appeared last week, so I'm quite confused by the erie media blackout.
23 Flavors. Good ones. I count 23 different flavors of hard ice cream. Some of them are just the classics, but others seem to stretch and experiment. For example: blueberry pie, cotton candy, and the somewhat intriguing, Oreo cheesecake. Some flavors appear to be classics but vary the names: White House, anyone? Looks like strawberry to me—could they be geeky enough to reference dessert from the 2009 correspondents dinner? It'd be quite the reference.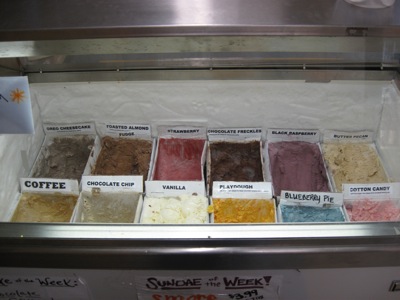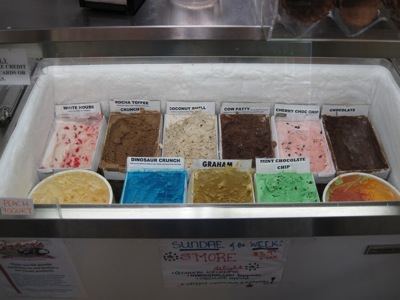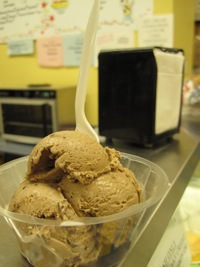 Seemingly good. I'll be honest here, I'm not an ice cream connoisseur. While I'm willing to put health asside for a quality pint of craft beer, I can't convince myself to do the same for a scoop of ice cream. I don't get the same enjoyment that others might. That said, I made a point to try a dish of Mocha Toffee Crunch from Rose's. While I can't, in good conscience, rate it good or bad, I can show a picture and proclaim a few technical merits. First, the flavor combo is a big win for me. Second, the toffee crunch was substantial but yet well distributed. Third, the ice cream itself was appropriately smooth: a clear indicator of some real, heavy on the cream, ice cream.
Will I go back.Well, I'll go back about as frequently as any other ice cream shop. If I'm on braddock and with someone seeking ice cream, I'm there. That said, I don't typically go to Braddock for the ice cream. Then again, maybe I just need to stumble out of the park looking for lunch.
Tags: independent, regent-square
9 Responses to "Review: Rose's Ice Cream"
Leave a Reply