Posted by mike | Filed under Reviews
I don't even remember what brought them onto my restaurant RADAR, but about a month ago I found a reference to Eggs N'at. With a name like that, I absolutely needed to make my way over to scope them out…and I'm not even a Pittsburgh native. For me, a breakfast outing requires a weekend, so I found a free Sunday and made a point to head out that way. I had all sorts of trouble getting there and showed up just 30 minutes before closing time (sorry guys!), but they did serve up a solid omelet in a somewhat unique, cozy little diner setting.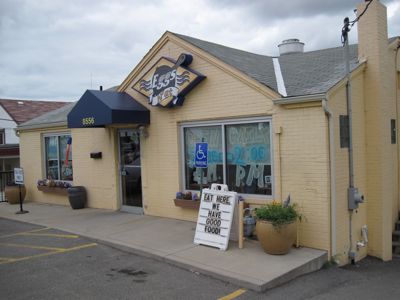 Eggs N'At ($5-10 breakfast)







8556 University Blvd
Coraopolis, PA 15108
(412) 262-2920
I actually have no back-story on how long they've been around or who owns the place (but I'd love to hear if you ever read this). They managed to get a review from the City Paper, but no further media coverage that I can locate. Despite being off the media RADAR, they have a quite effective web site, which reminds me a little bit of the effectiveness through simplicity that I see in Franktuary's site—except without all the social media.
A classic diner feel. From the outside, I immediately zeroed in on two details: 1) the egg-yellow paint job is a little dull but still attention-grabbing; and 2) they really spent some money on getting an actual sign up in front to grab attention from passers by. Given the location, that sign investment makes sense.
The interior has the feel of a classic diner with a slightly more complex layout than the typical rail-car shaped "tube" diner. In general, the clean decor really stands out for me. The maroon and (egg-)yellow paint job brighten up the space but the colors are sufficiently muted to maintain what I would call a "classy" feel. Eggs N'at is more than just a creaky old diner; they bring a certain about of class to the (figurative) table.
Sitting at the "breakfast bar.". The most exciting part of the interior decor is really the "bar." No, not the bar with all the spirits; I'm talking about the breakfast bar. There's something vaguely familiar about the concept of sitting at a bar in a diner and placing an order with a short order cook. The scenario may be uncommon for most, but it's near ubiquity in pop culture is unavoidable. I rather enjoy the fact that Eggs N'at opens the door to that experience (sans short order cook). Having made the trip without the benefit of a breakfast buddy, I was happy to take advantage of the bar-front seating.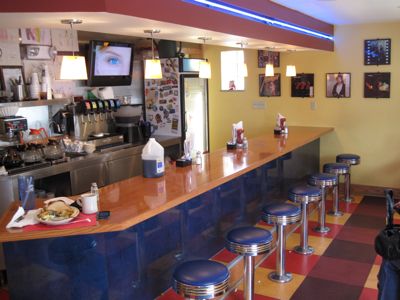 With a quiet, covered deck out back It wasn't particularly cold when I made my way out, but the deck was nearly empty. I'm not sure why, but only one group of diners sat outside. The inside, on the other hand, was packed. The Eggs N'at deck rests up a stairwell from the downward-sloping parking lot (quite a ways up, actually). It really is a nice little outdoor space, though you would be hard-pressed to get any direct sunlight out there. If I had been there a little earlier and with a friend, the deck is exactly where I would have set my aim.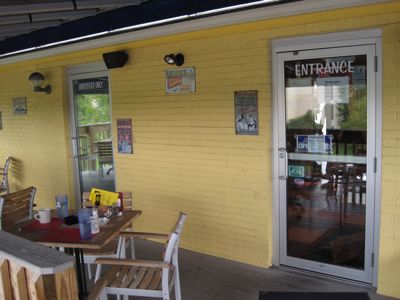 Small but efficient waitstaff. I'm almost certain there were only three employees working the whole place: a chef and two servers. The chef dances about in a not-too-tiny (but quite visible) kitchen, while two servers handle every aspect of the dining room. Overall, the servers were tremendously efficient. The cook, it seemed, was a little flustered, but I really can't complain: my food showed up in no time at all. Of course, the best part for me was maintaining a positive rapport with my waiter; Eggs N'at made that much fairly easy—though the seating situation was a little confusing when I walked in the back door. I had to hunt around a little bit for the sign telling me whether I should seat myself or wait, and the small staff meant I had to wait a little while to be noticed.
The breakfast menu. There's nothing special about the menu, but perhaps that doesn't need to be the case at a place called Eggs N'at. You can download the whole menu and have a look before heading out, but I'll highlight the stuff that caught my eye. First, the two specialty omelettes deserve mention: Arizona and Greek (though only the Greek is veggie-friendly). I'll say more on that Greek omelette later: it's what I ordered. Honestly, I wish there were more "specialty omelettes" than just the two, but I suppose that's life.
The two noteworthy menu curve balls that grabbed my attention: a whole list of "breakfast buritos" (isn't that a McDonald's trademark?) and a handful of "breakfast pizzas." Both options look and sound rather intriguing. Oh, and the burritos all come with salsa by default—a favorite breakfast condiment in my family.
Back to that Greek omelette. Overall, I can't complain: Eggs N'at served up a rock-solid omelette. The egg was thick and fluffy, so this was definitely an American omelette (as opoosed to the thiner, less stuffed French variety). For the sake of a proper review, I held back on my urge to request some mustard to go with (a standard omelette companion for me). The first bite didn't make it to any of the filling, so it lacked much in the way of flavor. Moving in closer to the omelette's center brought far more flavor (and even a little too much power from big pieces of kalamata). My only complaint is that the fillings piled concentrated in the center leaving much of the edges a little bland. A little more seasoning and/or dried herbs in the egg itself would have probably helped with that.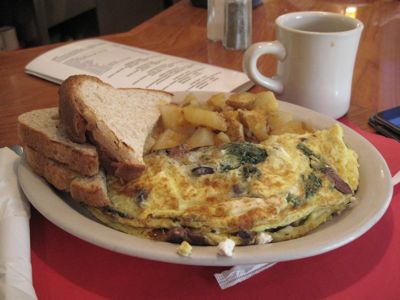 Would I go there again? Definitely, but I probably wouldn't bend over backwards to do it. Eggs N'at is a solid breakfast establishment, but I'm not going to claim it's a must-try Pittsburgh institution. Does it need to be? It is a refreshing alternative for those seeking a low-guilt weekend breakfast amid Pittsburgh's standard collection of greasy breakfast joints. Eggs N'at offers up a great name, a solid atmosphere, and a delicious omelet, making it a worthwhile destination if you happen to be in the area and hunting for breakfast.
Tags: Breakfast, independent, pittsburgh-south, veggie-okay
Leave a Reply