Posted by mike | Filed under Beer, Reviews
Frequent readers will likely remember my earlier review from Bocktown Beer. They've been well-received in the community, and they really are are the type of home-spun establishment that I'd love to support. The only problem: the original menu aligned horribly with my dining preferences (or at least appeared to). That's not to say the food isn't good, or somehow limited to the greasy and uninteresting. Much to the contrary, the menu has always offered up Bocktown's own take on the traditional spread of what I think of as "standard American fare." The only problem: they seem to completely ignore any health concern. Well, now they've made some inroads.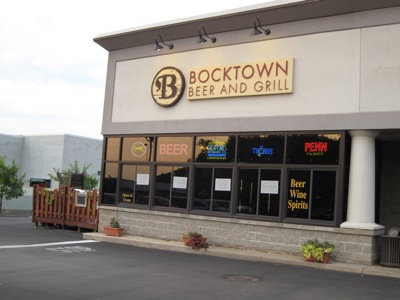 Bocktown Beer and Grill
690 Chauvet Dr
North Fayette Twp, PA 15275
(412) 788-2333
www.bocktown.com
My first visit tried to shoehorn a super-healthy set of goals into a place where that didn't quite fit. That's especially ridiculous, given that I went out that night thinking I would go nuts and order some type of gi'normous sandwich. Well, that trip found them sorely lacking a portabello sandwich. The owners comments on this blog claimed: "well, you could have just asked." Am I the only one that think that defeats the whole goal? I shouldn't have to ask.
Opening up to the veggie-leaning crowd. Fast forward a few months and lots of success for Bocktown. They have now released a new menu complete with some exciting entrees, more vegetarian options, and even a callout on the menu explaining that portobello can be substituted in any of their sandwiches. I had no choice, really, but to swing out there and give one of these new sandwiches a try.
The Port Authority…get it? I'll give you a hint, it's a portobello sandwich, but I'll give Bocktown a little more credit than that: they didn't just take some faceless sandwich, replace chicken with bello' and stop there. It's actually a fairly exciting option in it's own right. The "stack" starts with cole slaw, chopped pickles, and then a big portobello that manages to maintain some texture. Oh, and did I mention a thick slice of a tomato that actually had some flavor? Nice. Throw in Bocktown's own "Untouchable Sauce" and a smattering of tiny onion crisps, you have something a little unique that's definitely worth trying.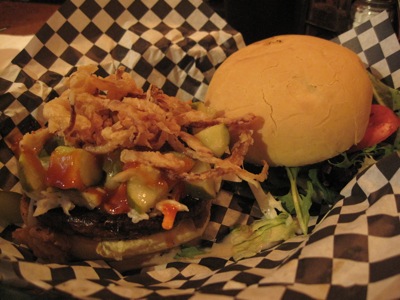 It must be better for you than a Bocktown burger. There are a few flavors that really stood out: pickles and the sauce—a tangy, even somewhat spicy, barbecue sauce. The portobello held it's own, but it really added more texture than flavor. The whole thing fell apart early on, but that's fairly reasonable given a the placement on a fairly standard hamburger bun. I'm not too enthusiastic about the onion crisps—the sandwich could have held up quite well without, but I'll admit that it definitely added some welcome crunch. Probably not worth points, but a quality addition none-the-less.
Some quality veggie matter. The last time I went out to Bocktown, my housemate Brett ordered a burger and complained of chopped lettuce on the bun (rather than a few big pieces of leaf lettuce). Whether it's a trend or an exception, it's worth noting that the Port Authority came with both fresh baby greens and a thick slice of an exceptional tomato specimen. I'm prone to giving restaurants a rough time for serving up boring and even mealy tomatoes that have clearly spent some time in a fridge. Bocktown, I am happy to report, must be doing it right. My sandwich came with two thick slices of a big, red, flavorful tomato. I can safely report here, that the results were fantastic. Thank you. Thank you. Thank you, Bocktown.
Wrapping it up. More and more people are leaning vegetarian these days—often in an effort to embrace health conscious eating more than a social statement. Well, if health is you're primary goal, then Bocktown really isn't the destination for you. That said, the new menu highlights some new options that let the veggie-leaning crowd head out for an excellent beer and a chance go wild…in a somewhat health-aware vegetable-filled way.
Tags: independent, pittsburgh-south, veggie-friendly
2 Responses to "Second Take: Bocktown Beer and Grille"
Bobby Says:
March 24th, 2010 at 3:03 pm
Leave a Reply