Posted by mike | Filed under Reviews
I'm not sure how I feel about Stonepepper's Grill (the second location, in Mars). I read about the place months ago and tossed it up on my Urbanspoon wishlist. I'm all but certain it came to my attention via a Post-Gazette article about the founders, but I can't seem to find that article now. My memory of the article presented the owners as former Carnegie Mellon police officers but, it's likely I'm confusing Stonepepper's with another place. In fact, now that I've actually made a trip out there for dinner, I'm almost sure I have the wrong back-story. The place just feels way too over-developed to be a recent upstart. It feels far more like a national chain than a local upstart.
If anyone can think of which place actually deserves the former CMU police backstory, let me know.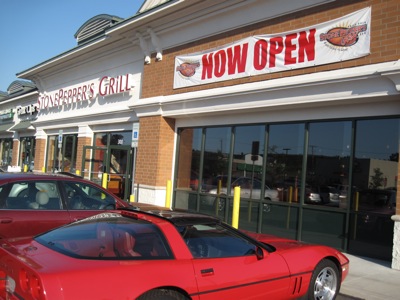 Stonepepper's Grill ($13-17 entree)







Route 228 300 Adams Shoppes
Adams Twp, PA 16046
www.stonepeppers.com
(724) 591-5132
Stonepepper's is huge. According to the signs out front, they just recently opened, so the first might be slightly smaller. Located in a strip mall a few doors down from a McGinnis Sisters, the place feels wide-open and even a little overdone. Again, the place just feels like a big chain. That said, Stonepepper's is a local establishment (as far as I know). It's clear, however, that the facility was by no means started on a shoestring budget; someone took on some debt.
A bar and multiple large rooms inside are augmented by a large patio out the side door. Both the bar and dining rooms are bursting with unnecessary flat screen televisions (a rising trend that is quickly starting to become annoying). The food is only fair; it's certainly not flawed but somewhat disappointing at times. As for beer, you'll find better-than-nothing macro-brews but nothing noteworthy. Overall, I find myself asking: "what's the point?"
Lots of space without any people. In addition to being huge, the look and feel was…a little empty: lacking sufficient diners to fill up more than a few tables (say 15%). I'm guessing I just picked the wrong time (6:00pm on a Thursday night—admittedly a little early), and the size may have also contributed to the sparse population.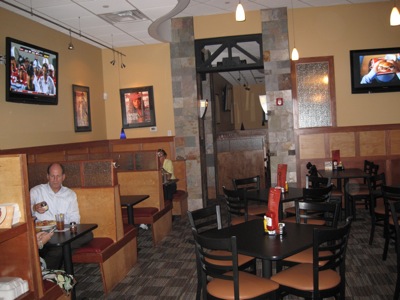 The waitstaff: friendly enough, but unmotivated? For the waitstaff component, our server was friendly enough but seemed just a little uninterested after taking our order. She kept a slight distance and lacked much in the way of enthusiasm. That said, I had no problems getting dinner in a timely manner and even had to ask for more time the first few times she stopped by to take our order. I'm assuming the lack of back and forth later in our meal was a consequence of the ongoing conversation at the table and not any problems with wait staff. Even so, I never built up that positive rapport I value so much.
On the menu: pizza…plus everything else. The main attraction seems to be pizza. They serve up a number of specialty options along with the standard build-your own option. Some of them sound quite tasty, but none of them really strike me as tremendously innovative. Then again, it's pizza. They also offered up a number of salads and salads. Really, the menu is huge, so you're best bet is to check it out online to scope out your options.
The food? Nothing to write home about. My dining companion and I decided to share a three-mushroom pizza and a Cobb salad. Actually, we weren't super hungry and probably didn't need the salad, but I am keenly interested in how well various places pull off a salad. How did they far? Both pizza and salad were decent enough, but they were really lacking anything noteworthy.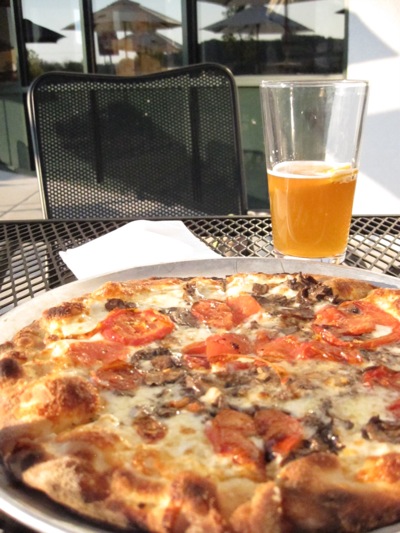 Three Mushroom Pizza: Looking for depth and not finding it. The three mushroom pizza was supposed to be a white pizza with three different mushrooms: white, crimini, shitake. All three may have been present, but they didn't seem to contribute any noteworthy flavor or texture. Let's be honest, white and crimini are nothing noteworthy, so the only outlier was shitake. In any case, there weren't nearly enough mushrooms (of any kind) to call this a "three mushroom" pizza. The crust was also just decent—somewhat thin, but not tremendously crunchy. The cheese was actually the strongest player: just enough to add some flavor without going overboard. Overall, it's safe to say that a "white pizza with mushrooms" label may be more accurate; this one didn't stack up to the "three mushroom" name.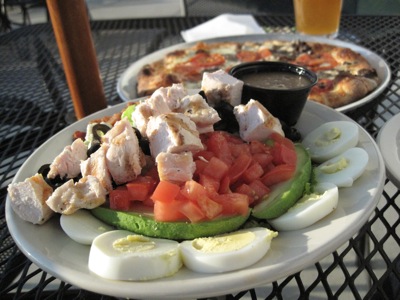 Cobb Salad: Unripe avacodo, bland oversized chicken. Given that we weren't hugely hungry, so I only took a small stab at the salad. It looked pleasant: that aspect was done well; however, the looks were about the end of it. Avacados are always an exciting addition to a salad, but these were particularly unripe. The avacado texture was a little hard, and the lack of ripeness lead to very little flavor. Word to the kitchen: give those guys a chance to ripen. The chicken was…chicken (enormous pieces of it).  Each more-than-bite-sized piece wasn't particularly well-seasoned—they all just seemed big, bland and flavorless.
Beer: Decent, but unexciting. Stonepepper's seems to have completely missed the boat on craft beer; I'm not sure why. They seem to have stocked up on the more interesting side of the large scale breweries, but don't offer up anything that could be called "craft." Sure, there's Sam Adams, but everyone can do that these days. Still, given the lack of options I started with the Sam Adams Octoberfest (a fine beer, mind you…just not noteworthy). Jeff Bearer, from over at Craft Beer Radio, thinks they have have Great Lakes Burning River on Wednesdays. Other than that, it's slim pickings.
Would I go there again? Maybe to the other location. Short of being near my office, there's just no reason for me to go back to the Mars location. It's a decent enough place to visit, but nothing seems to stand out. Even the pizza, supposedly their specialty, was decent but not noteworthy. Throw a lackluster salad on top and I'm unlikely to go back. Just keep in mind that, to some extant, that's my always brimming queue of new places talking. If Stonepepper's is conveniently located for you, then go for it; you could do far worse. That said, I certainly don't recommend going too far out of your way for a visit.
Tags: independent, pittsburgh-north, veggie-okay
8 Responses to "Review: Stonepepper's Grill"
Leave a Reply