Posted by mike | Filed under Reviews
Many of my co-workers know about my little FoodBurgh side-project, so it comes up for discussion every once in a while over lunch. A few weeks back, one of those coworkers threw out a recommendation: Blue Water Tavern in Wexford. I'll admit, his awareness of the place was a result of his daughter landing a job over there—not necessarily having fallen in love with the place. Regardless of his motivation, I was intrigued; any new place is worth trying out. I made a point last week to round up a dining companion and head out that way.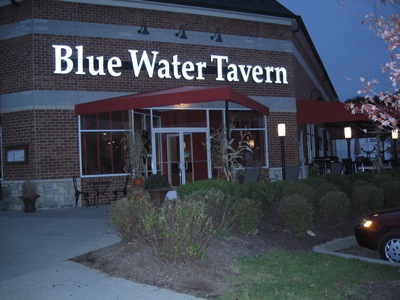 Blue Water Tavern (~$20 entrees, ~$11 burgers)







12087 Perry Hwy
Wexford, PA 15090
eatbluewater.com
(724) 831-9998
Blue Water opened in the last several weeks, but they clearly aren't having too much trouble keeping the place busy. The place felt quite comfortably filled throughout my visit—and that was a Wednesday night. With entrees ranging between $15 and $25, it falls in the high end of the price range I typically hit up. That said, there are more than a few options for any penny-pinchers as well: a variety of burger and pizza options provide options a fairly typical price point for casual dining. This time, I went all out and ordered an entree and glass of wine.
Steering clear of stuffiness. One trait Blue Water manages to avoid: a stuffy, classier-than-thou atmosphere typical of restaurants in higher price ranges. One of my dining pet peeves is the restaurant that feels obligated to "live up to their price point." The result is a stuffy atmosphere that's sure to keep me away, even if the prices were within my reach. Blue Water does a pretty good job of steering clear of that pitfall, and I thank them for it.
Wexford means strip mall. Blue Water caps off the edge of the Pine Tree Shops, filling the same space once held by the Passport Cafe (whatever happened to those guys?). They don't seem to have skimped at all in decorating the place: a big bright sign, stylish interior, and variety of stylish table accessories suggest a rather large remodeling investment. Design investments aside, they steer clear of white tablecloths and still set out that familiar plastic holder for drink specials and happy hour notes. Like I said, not at all stuffy.
Impressively attentive waitstaff. Let me start by saying that our waitress was fantastic on a number of different levels. Of course, that's based on a sample size of one and may not suggest a trend. Even so, I couldn't help but notice a few instances where service quality was clearly a result of training, and (hopefully) the managements eagerness to do the right thing.
Waitstaff Example #1: Owner-Server Rapport. Somewhere between the first and second time our server visited our table, the owner enthusiastically jumped into gauge how things were going and dish out an explanation of the menu. At some point, his presence seemed to get in the way of a server just trying to do her job. Rather than avoiding confrontation and steering clear until he was gone, she came right back and engaged in some playful banter with the owner before he took off to let her do her job.
Is playful server-owner banter a minor point? Is it a point at all? Maybe not, but to me it highlights the owners ability to respect his staff. I wouldn't feel comfortable at any restaurant where I felt that wasn't the case. That quality both improves my level of comfort and makes handing over my money far easier at the end of the night.
Waitstaff Example #2: Not waiting for me to call out a problem. My dining companion noticed what might have been a hair in her food. Neither Meg nor I wanted to be "that guy" and make a stink about it—especially in a situation where neither of us was sure what we were looking at. I'm the type of guy that would typically just suck it up, but the server took note of our detailed plate investigation. She politely asked what was up and basically insisted that we let her request a new one—even if it wasn't clear there was anything wrong. Another big score for Blue Water.
The menu: "three ways to approach it." That's basically the owners explanation (from Waitstaff Example #1). The idea is that you can order an entree, a few tapas plates, or go crazy and order a burger. He left out the dinner salad option, but I'll just go ahead and declare that my version of the "burger." Honestly, all three of the "FoodBurgh-friendly" approaches looked workable for me. Most of the tapas possibilities and entrees looked worth trying.
I ordered the salmon. There are probably some strict vegetarians in the readership that are scratching their heads on that one. Now the secrets out, I eat fish (and sometimes meat, quite honestly). The current salmon entree is described as resting on a melon salsa. That sounded a little weird, but ended up being a nice pairing with a healthy dose of lime and cilantro provided some balance to the sweetness of the melon. Throw in a high quality, well-prepared salmon fillet, and you have a pretty complex dish. The salmon itself was seasoned minimally and flaked easily—just as I would hope and expect. The light seasoning and mild melon accompaniment really let the fish stand out, and it stood up to that attention. There was also a nice crispness to the out salmon layers. That's not to say it was crunchy and hard…just that there was some textural complexity to be found.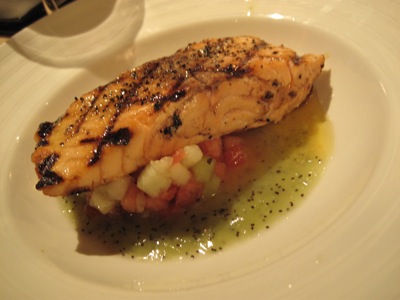 My only complaint was a lack of consistency in the fillet's center: the flaking quality faded completely in the thickest section, where the fillet remained soft and uniformly textured. That may have just been the preparation I ordered (medium). I never know what to expect when asked what preparation I would like when it comes to fish.
Meg ordered the diver scallops. This was another "layered dish," with spinach, polenta, and scallops wrapped in prosciutto all stacked in that order from the bottom. I didn't try any, but heard nothing but praise (once we worked out the possible hair issue from above). According to the owner, this dish actually won a prize from a local publication—but I can't find any reference to such an award on the web.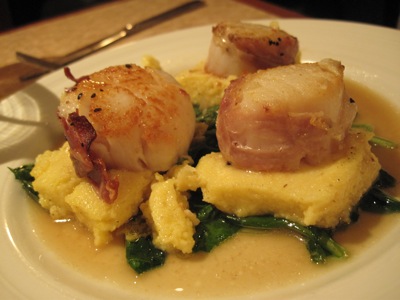 Some awkward beverage options. This time out, I ordered a class of wine early in our visit: a pinot noir (completely ignoring the unnecessary fish => white wine "standard"). I'm a big fan of a dry red wine any day—mostly because I was "raised that way." Unlike beer, I don't know wineries by name; I have to guess based on style and price. This time, I ordered from the middle of the price range for pinot noir and can't say I completely succeeded. My glass was "good enough," but not entirely notable. Interestingly, my date ordered something completely different and ended up with the same impression. None of that reflects poorly on Blue Water, of course, I just don't know my way around a wine list.
I do know my way around a beer list. This is where the "awkward" comes in. Though Blue Water does serve beer, and does offer up some craft options, the specific choices made in constructing their menu are…a little strange. In all, they offered up about 8 beers on tap. The first 2/3 of the list consisted of uninteresting macro-brews. Then came the Sam Adams Oktoberfest (points there). Although, options from three smaller craft brewers rounded out the list, they seemed to pick only the edgiest of options: Dale's Pale Ale (Oskar Blues), Dogfishead Punkin, and a Vanilla Porter (possibly the Breckenridge, but I lost the details). That list is fine if all the other options were what East End Brewing (i.e., Scott) would call GOOD BEER, but that wasn't the case. I can't help but think they could have tamed that part of the list to make it blend in a little better. Otherwise, I'm a little afraid they might not get enough orders from that part of the menu and end up blaming craft beer in general. Here's hoping that doesn't happen.
Would I go back? Absolutely. Blue Water is by no means a "weekly hangout," but I'm already looking forward to going back to check out their salad list. Based on my experience with their side salad, I'm hoping for the best! Regardless, I'm sure I'll be commenting about the follow on visit from @mikebeattie (you know, that Twitter thing).
Tags: independent, non-veg-meal, pittsburgh-north
Leave a Reply