Posted by mike | Filed under Reviews
I'll be perfectly honest on this one: I was contacted by one of the owners of Blvd Bistro a few weeks ago to see if I might stop by and consider writing them up. Being way out in Oakmont, they're not exactly close to my Squirrel Hill residence, but it looked like a pretty FoodBurgh-friendly establishment so I opted to make my way out to give it a try. After all, supporting local restaurants is a major goal of this site.
It's a BYOB establishment, so I scheduled my outing for a Friday night and made a point to stop at Three Son's for a mix-n-match 6-pack on my way home from work. As far as I know, no one at the Bistro knew that the "Mike" appearing on their reservation lineup was the Mike of FoodBurgh, so hopefully the experience was fairly representative. Overall, I was thrilled by the abundance of fresh ingredients and veggie-friendly options and fairly impressed with the depth of flavor in everything I tried. Of course, I have some nit-picks around how they handle beer and BYOB, but that's just me being a beer snob.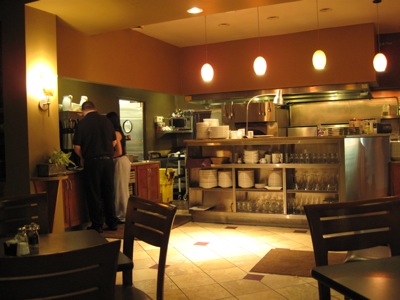 Boulevard Bistro







314 Allegheny River Blvd
Oakmont, PA 15139
oakmontbistro.com
(412) 828-7777
Just perusing the web, it's hard to find much in the way of backstory for Blvd. The only review from the usual outlets comes from the City Paper in 2007. Even the Bistro's own web site is a little sparse: a menu, a photo, and an email form is just about all they give you. Luckily, I have a call set up with one of the owners in the next few days, so I should be able to dig up something interesting and post it here somewhere down the line. For now, you'll have to live with just a review.
Slightly hidden in Oakmont. Blvd Bistro isn't one of those places that screams for attention from passer's by. At least, it didn't seem that way late on a Friday when I showed up. By the time I finally finished crawling through three different areas of highway road construction, the sky was black and I was running late. Granted, I was a little frantic, but I'm not sure I would have even noticed the place if I wasn't looking for it.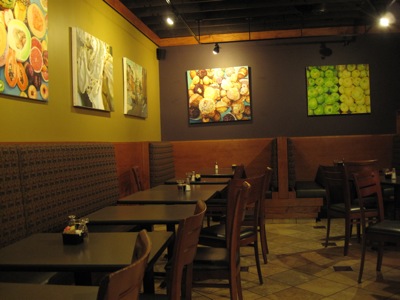 Clean. Simple. Modern. The atmosphere flipped completely once I actually stepped in the door. I found plenty of pleasing earth tones, crisp colors, and a hefty allowance of stainless steel peeking out from an open kitchen area along the back/side. While not especially large, the table spacing in the restaurant's single-room dining area was sufficiently wide to make the room feel fairly spacious. Between good spacing and bright walls, I certainly didn't feel cramped. Overall, the look was clean but still casual enough to avoid a stuffy/fancy atmosphere. No white tablecloths here, and I like it.
Hands-off staff. I didn't make it out until about 9:00pm on a Friday night, when they weren't especially crowded. Typically, that might mean lots of attention from the waitstaff, but in this case our server seemed to keep his distance. That's not to say the service was at all bad: our orders went in and came out quickly, and entree's magically showed up just as we finished the previous course. I just never quite developed the server-customer rapport that I really hope for. Of course, part of that is a result of lots of conversation among my dinner buddies, but it's still something I missed.
Minimal menu that's not afraid of veggies. I almost intro'd this section with a comment about the large number of vegetarian options, but a quick review of the menu reminds me that's exactly the case. From zucchini frittata to mediterranean pasta to the vegetable wrap, there's no shortage of veggie options, but the menu also boasts just about the same amount of chicken, fish, and even burgers that you might expect. It's a fairly decent balance. I suspect the reason for appearing so full of veggie content is two-fold: 1) plenty of health-conscious meals and 2) plenty of veggies involved in nearly every option on the menu.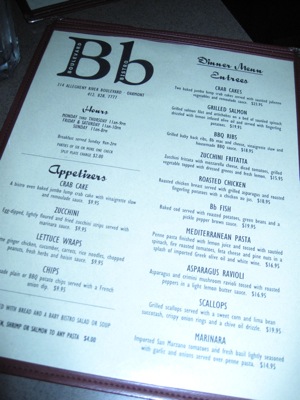 It's also worth noting that both Lunch and Dinner menus were available, and both combined to form what you might expect as an overall menu from a casual dining establishment. The lunch menu offers salads and sandwiches, while the dinner menu offers appetizers and entrees. Merge the two and you have one full menu (admittedly, not all that tiny). Be sure to check out both if you look over the list on the web.
Best salad presentation ever. I didn't order an entree salad this time, but I did upgrade my side dish to a dinner salad—and I'm glad I did. My little collection of mixed greens came artfully presented in a thin cucumber wrap (or maybe it was a bowl). For me a the quality of a salad rests squarely on the veggies that appear on top. In this case, that was tomato…and a huge pile of shaved hard cheese—Paramesan, I think.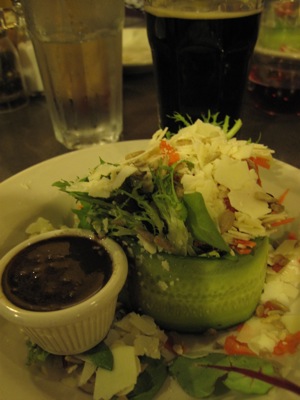 Both I and my companions were a little overwhelmed by the magnitude of cheese, but it was easy to brush off a little excess and turned out to look like a lot more cheese than was actually there. Of course, between the cheese and abundance of other veggies, there was almost no need for the dressing—a house balsamic vinaigrette.
There's squash in that veggie wrap. No really, this one was quite a bit different from what I expected, or really what I've had anywhere else. I think the key difference was a focus on shreds of squash as a filler. I also found a healthy portion of cooked spinach, finely sliced onion, and probably a few other ingrendients. Though not clearly visible, I also picked up a somewhat mysterious (and fairly rich) cheese flavor—a fairly deep flavor that could have well been asiago.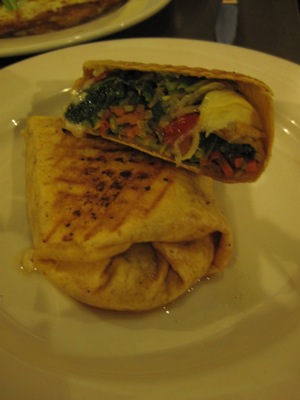 Overall, the wrap came together pretty well. The dark cheese flavor and shreds of squash came together extremely well to create something worth savoring over a lengthy dinner outing. The wrap wasn't as overly filling as it appeared, but the second half did end up spilling into lunch the next day. It was actually a fairly reasonable portion, had I been a little more hungry.
BYOB Confuses me. I mean, I get it: it's difficult and expensive to get a liquor license, so BYOB is often far more manageable for a small restaurant. At least that's my understanding. Well, Blvd Bistro also has a drink list (beer and wine) and happens to be BYOB—though the BYOB question is mysteriously absent from their web site. Presumably, both options are available to give guests a choice either way.
Better to bring your own beer. The house beer list includes Sierra Nevada Pale Ale, but it sits right beside Sam Adams Light—with nothing else form Boston Beer in sight. I've certainly seen worse lists, but I jumped all over an opportunity to bring my own. When the time came to order drinks, I whipped out a bottle of Salvator.
Glassware for everything—except beer. My dining companions brought a bottle of wine, and the server provided some very cool stemless glasses with which to enjoy it. In fact, the outward facing kitchen included shelves of a wide array of glassware: various wine glasses, martini glasses, and so on—all quite beautiful. What they didn't have was any beer-friendly glassware. When I pulled out my Salvator—a doppelbock that would have done fantastically in either a pint glass or goblet, the server offered up only a thick, clumsy water glass at least 4 ounces too large for my beer. I would definitely encourage Blvd to pick up at least a few pint glasses to fill out their collection.
Not that I'm trying to be critical. Looking back, I feel like I've been a little critical, and Blvd Bistro is mostly undeserving of that treatment. They get all the big things right, but leave me with all sorts of room to nit-pick (which I am wont to do). So I'll pull this all together by reminding everyone that they decor, veggie-friendly menu, and flavorful food were all top notch. They could easily move even further up in my book with the following:
More information on the web site
More conversational wait staff
Some beer-friendly glassware
At least one session-able craft beer
Would I go back? Well, travel time aside, I would definitely like to head out again sometime. I like what they seem to be aiming for and appreciate many aspects of their overall execution. Plus, there are several other menu options that I would love to try. I'll give them 3.5 FoodBurgh stars now, but would definitely consider bumping that up with some work on points 1-4 from above.
Tags: independent, veggie-friendly
One Response to "Review: Boulevard Bistro (Oakmont)"
Diane Says:
November 21st, 2009 at 10:38 am
Leave a Reply