Posted by mike | Filed under Beer, Reviews
There's a certain balancing act to doing these reviews. On one hand, I'm passionate about trying new places and highlighting hidden gems; on the other, I've been living in Pittsburgh for almost 10 years and have a good feel for many of the high quality classics. Fuel and Fuddle is definitely one of the high quality classics—a favorite from my time as a student at CMU. On Friday night, I invited a friend to join me in stepping back to my student era so I could give a shout-out to a familiar classic. If you've never tried or heard of "F&F," this is your chance to see what they're all about.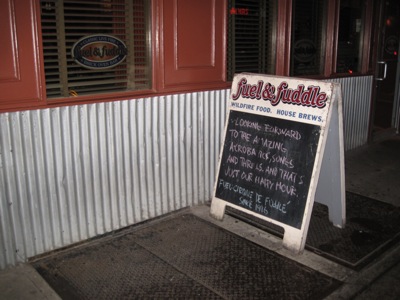 Fuel & Fuddle







212 Oakland Ave
Pittsburgh, PA 15213
fuelandfuddle.com
412-682-3473
Deep in the heart of the University of Pittsburgh's main drag through Oakland, you'll find Fuel and Fuddle just off Forbes Avenue on Atwood Street. When Pitt is in session, it's typically packed with students—especially at night, when most of the menu goes half-price (after 11pm). The menu is playful and eccentric, boasting section titles like "live fire pies" (pizza) and "hands" (sandwiches). The above-average beer selection was even one of my first exposures to anything other than macro-brews—10 years ago, before "craft beer" was a household term. Basically, everything about Fuel and Fuddle says "good time." Remember, they cater to students (and not geeky ones like my former self).
After a far-too-long 3+ year hiatus, I went back. My goal: to make sure the place still held on to everything I loved about them. What I found was the same great place, but with food slightly mis-aligned with my current dining patterns. That's not to say, they're not veggie-friendly; just that the salad wasn't executed very well. Hoping that the problem was strictly limited to salad preparation, I "dragged" myself back yet again (okay, maybe "drag" isn't the right verb here). The second trip showed better results when I went with a sandwich, but even even then some haphazard assembly left me with half the sandwich nowhere near the bottom half of it's supposedly enclosing roll.
The packed bar scene that's worth it. On most nights, a typical Fuel and Fuddle experience starts with waiting in line for a table. If the situation is still anything like what I remember, the crowd starts to pack in right around 11pm, when the late night Pitt crowd decides to pounce on "cheap eats." When that happens, the hostess tends to be quite busy trying to keep on top of the crowd, so it's easy to feel a little overwhelmed. Don't worry, it gets better once you get a table, and the extra seating in the basement level means there are more tables than you might think.
Waitstaff: efficient, fun, and overworked. Whenever I walk into Fuel and Fuddle, I get the feeling that I've already been lost in the crowd. That's not a good thing, but the host table does do a surprisingly good job of keeping things moving anyway. Everyone seems extremely competent and on the ball, but I can't say I've ever developed any rapport with my server. He or she just doesn't have the time.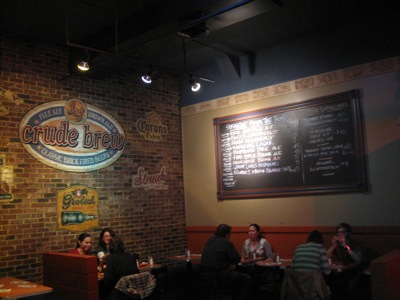 Self-labeled beer options. I have always associated Fuel and Fuddle with good beer, and that continues to be the case as the rest of the world joins the craft beer party. They contract out two brews to Troegs: Fire Brick Brown Ale and Pumphouse Pale Ale. I didn't order either in my recent visits but recall seem to quality brews within style boundaries appropriate to their names—nothing too radical. Basically, if you like Tröegs and can appreciate a plain and simple "good beer," then you'll probably enjoy either option.
Decent, but not exceptional craft options. When you walk in, be sure to take a look back and to the right. You'll immediately notice a chalk board listing the current draft options. I seem to recall about 8 options—all from craft brewers. It has been one of the few times when I looked at 8 options, and announced to my table that I could really go for any of them (actually, I believe I said "all," but hopefully they knew what I meant :P). My eventual choices: Founder's Imperial Breakfast Stout (visit 1) and Atwater Blocktoberfest (visit 2). Both solid choices.
F&F also boasts a fairly substantial bottle selection, but I really only briefly glanced over the list. Also worth nothing: a "frequent drinkers" club that grants you a personal mug and name plate at the bar after ordering some number of beers. The winnings seem to accrue every 100 beers, but I have yet to find definitive documentation of the program.
Wood-fired spin on American casual dining. The menu at Fuel and Fuddle centers on standard casual dining fare with a focus on the fire-grilled. You'll find pizza, salad, soup, sandwiches, wraps, burgers—all the standards. For the curious and slow-to-decide, the full menu (sans beer) is available on the official F&F site. In my opinion, the menu shines primarily on the sandwich department. Creative names for creative sandwiches appear throughout the menu.
Sweet potato fries mixed in. No, not "mixed in" the sandwich/salad (though we are in Pittsburgh). Any sandwich or burger comes with fries by default: homemade fries consisting of with 50% sweet potato fries. That's quite a happy situation for everyone I know. I think you can even go 100% sweet potato fries for a small extra fee. The fries are somewhat thin, but fresh an tasty. Of course, being thing, they cool off very quickly. For my second visit, I made a point to ask for a veggie side instead—a request that was accepted without any trouble at all (though no one asked me to specify the veggie). I ended up with a pretty standard zucchini side: a little heavy-handed on salty/buttery and borderline mushy, but I came away feeling at least a little better than going with a much larger pile of fries and a few more veggies overall.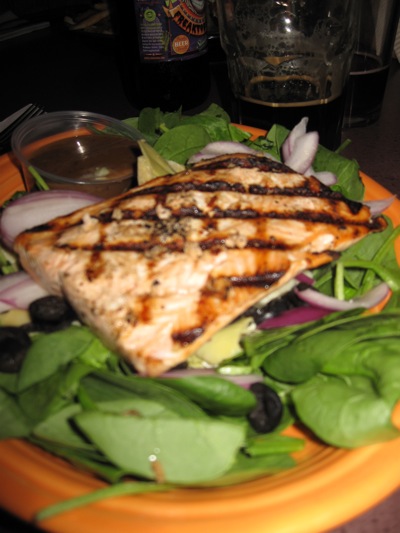 Just don't get the salmon salad. For dinner on the first visit, I ordered a salmon salad. Don't make that mistake. If you thought this place was good one for picking up a salmon salad, thing again. For my salad, the salmon was overcooked and not really a worthwhile filet to begin with (a big, dry plank of bland, really). It lacked much in the way of flavor and covered most of the spinach of my salad. The remaining salad constituents, artichoke hearts and red onion, were thrown on the sides in huge chunks that didn meld well at all. The pieces were so big that they had very little opportunity to mingle (or even share space on a fork). Smaller pieces might have drawn some of the disparate flavors a little closer together and offered some more balance.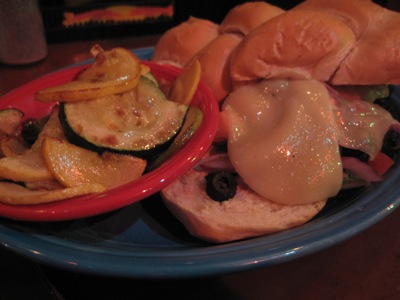 The fall-apart Classic Veg Head. For the second visit, I corrected my salad error and went with a familiar classic: The Classic Veg Head: hummus, cucumber, sprouts, tomato, and provolone all on a fairly large knotted roll. Unlike most places of this sort, there's more than one vegetarian sandwich (well, tw0). You can go with either the Veg Head or the "Grilled Psychadelic" (i.e., Portobello) sandwich. I've had both in the past, and can typically vouch for the components of either. I'm especially fond of the thick tomato slices on the Veg Head. Far too many sandwiches stick to a paper-thin slice of a flavorless tomato variety. F&F does better.
As for the sandwich construction…let's just say it's a big sandwich, and those thick tomato slices don't make the assembly job any easier. That said, it seems like they didn't even try with to follow the roll-stuff-roll patern in the sandiwch from my follow-up visit. The top bun and half the toppings was slanted off the bottom in such a way that I needed to manually reassemble, and never quite found my way to something I could handle very easily. That's a little annoying, but the veg-head components were still good—nothing was missing. Just be prepared for some assembly. I would actually be quite interested in hearing from others regarding assembly (and food in general). Feel free to comment below.
Good times, good beer, and good ingredients. Some assembly required. In general, I'm a big fan of Fuel and Fuddle (despite some trouble with my food on both trips). In terms of hanging out with friends and grabbing a sandwich, they're near the top of Oakland list. They make welcome efforts to offer up something for veg-heads, and the beer is good enough to warrant just going out for drinks.. About the only thing keeping me away is the wealth of other options and the moderate inconvenience of parking. They're definitely worth a try.
Tags: independent, veggie-friendly
2 Responses to "Review: Fuel and Fuddle"
Peter Says:
October 18th, 2009 at 6:11 pm
Chris Mason Says:
October 29th, 2009 at 10:51 am
Leave a Reply