Posted by mike | Filed under Beer, Reviews
Whoa. Talk about a review backlog. I've been participating in a study group for the BJCP (beer judge) exam for the past month or so, and the background reading is a bit of a time sink. Between work, beer reading, and trying out several new places last week, I've barely had time to get out any reviews. Let's see if I can turn that trend around.
To start with, Kelly's Bar & Lounge in East Liberty was definitely one of the most fun of my recent outings—admittedly due at least in part to the people I went with. I've noticed Kelly's hosting a few different beer events throughout the year and I've also seen it recommended as a workable destination for vegetarians. I had been out there for drinks a few times, but my most recent trip was the first time I hit them up for a meal. They may offer up several veggie options, but the general comfort food theme put strong limits on the health-conscious diner.
…then again, I was out for dinner and a few beers.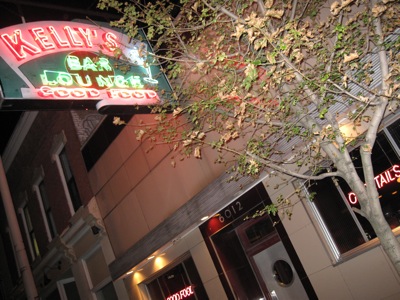 Kelly's Bar & Lounge ($10 for a meal)







6012 Penn Cir S
Pittsburgh, PA 15206
(412) 363-6012
From my perspective, Kelly's is pretty well known in the 'Burgh, but it certainly doesn't get much mention in the local food media (at least recently). The last time the Post Gazette made their way out there was 2004, and they're really the only source in town where I could find a proper review. Perhaps that's because Kelly's serves as a familiar constant to those that love it, and a yet-undiscovered stand-by for the unenlightened.
Where do I stand? I'm probably somewhere between the extremes. I have a huge amount of respect for the place, but I'm also not quite ready to give them the highest of marks.
Make no mistake, Kelly's is a bar. The kitchen is open late, and serving up some quality food, but Kelly's is first and foremost a bar—at least in the evening. The lighting is dim, and the libations flow freely. My first impression on entry aligns almost perfectly with the "lounge" descriptor in the extended name. The dimly lit but artful interior feels almost deserving of a muted jazz trio. Somewhat thankfully, however, Kelly's chooses to use what limited space they have for seating. The bar flows along the back of almost the entire restaurant, and tightly packed leather booths line much of the remainder.
Service complaints abound—but not from me. Having made my way to Kelly's for a late dinner on a Friday night, my pace was anything but rushed. It's worth noting, however, that both the Urbanspoon comments and aged PG review cite slow service as a potential problem. If you're in for a quick lunch, well…don't go in looking for a quick lunch. If you're out with friends for a drink, then just take the time to enjoy your drink. For what it's worth, I didn't notice any objectionable lag from the staff.
Comfort food, with a little class. Yep, comfort food. There's no other way to describe many of the contents of Kelly's menu: mac and cheese, tuna melt, shrimp po boy, cajun meatloaf. They're all based on classic comfort food, but all with just enough class to be noteworthy. Of all the options, the mac and cheese seems to get the most mention. On a future visit, I definitely out to mix it up and consider checking out the shrimp po boy.
Relative to standard casual dining, the menu feels ever so slightly limited. If you're looking for much beyond comfort and appetizers, you might not find exactly what you want.
Mixed greens salad with chevre. Not feeling like the calories involved in comfort, I committed my standard cop-out: a mixed greens salad. The result was a little light for a meal, but very well presented—though a bit heavy handed with the whole walnut halves (crumble them!). The lettuce portion consisted entirely of some quality baby field greens, and a sprinkling of cumbled chevre offered a tart, but not overwhelming, complement to the sweetness of the cranberries. The balsamic was clearly made in-house but rendered a little unnecessary by the strong cheese and berry presence.
My recommendation: for a complete meal, hit up a garden salad with some soup or maybe a tiny order of mac and cheese. If you're not big on the nuts, it may be a good idea to request they cut back.
Extreme comfort: baked mac n' cheese. One of my friends (okay, two of them), ordered some of the now infamous mac n' cheese and gave me a chance to try some. For what it's worth, the concept is incredible. At least in my world, this entire genre gets a bad wrap—due in no small part to the Kraft rendition in a box. If you haven't had the "real thing," you don't know what you're missing.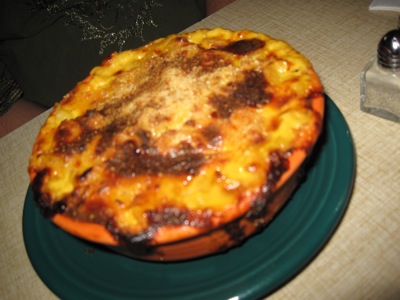 Kelly's is helping us all overcome any mac n' cheese misgivings with individual servings baked then broiled inside an individual ramekin (at least, that's my guess). The result is a toasty-hot casserole with an enticing caramelized crust. The contents are a little less than earth shattering, but I still recommend giving it a try—especially if you're hungry, cold, or just need a little extra comfort in your life.
A few quality beer options. First, I have to admit that I can't recall the complete details of the beer list. That said, what I remember was a reasonable selection, a few notable 750 mL bottles, and a waitstaff that didn't seem to know much about any of it. To make matters worse, I ordered what appeared on the menu simply as "Scottish Ale" before it fully sunk in that the waitress had just explained it to be Old Chub from Oskar Blues. My own fault, I know, but I felt on-the-spot after finding they were out of my first choice.
I'm actually a huge fan of Oskar Blues, but find the Old Chub to be a little overpowering with an almost candy-like sweetness and harsh crystal malt tang. Not a bad beer, but I'm a much bigger fan of the Mama's Little Yella' Pils from that brewery. Try it; you'll find it proves Greg Koch's "fizzy yellow stuff" epithet to be pretty far off the mark.
Getting back to Kelly's, I'll close off the beer analysis by saying you'll find good beer, but limited to bigger styles. I was hard pressed to find something sessionable to enjoy on a night out. To emphasize that point, I've heard great things about their Barleywine Festival. Like I said, big styles.
Will I go back? For drinks with friends, certainly—though I wish they offered up slightly more rounded beer selection. I'll probably also try to head back a few more times for food, but I can't say I want to make a habit of it. The food is good, but comfort food isn't usually what I go out for. That said, I'd like to at least give some of their options a try.
Tags: independent
5 Responses to "Review: Kelly's Bar (East Liberty)"
Leave a Reply