Posted by mike | Filed under Treats
I had a house-guest this past weekend—or at least my housemate did. Whatever the details may be, I found myself with an excellent excuse to visit Pittsburgh's newest doughnut shop: Peace, Love, and Little Donuts. It was just the kind of opportunity I have been looking for.
How did I hear about them? I can't remember my first sighting, but they've already made at least one appearance in the local food blogs and even found their way to the Tribune Review. Not one to fall behind, Post-Gazette food critic China Millman even gave them a shout-out in First Bites.  Oh, and did I mention that you can follow Ron the doughnut man on Twitter—because you can. Not too bad for a founder pushing…well, let's just say he's a generation removed from me.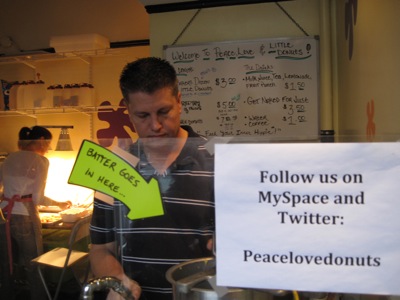 Peace, Love & Little Donuts
peaceloveandlittledonuts.com
$8-12/dozen, based on toppings






2018 Smallman Street
Pittsburgh, PA 15222
(412) 489-7693
Can I call it "PLL Donuts?" Or perhaps "PLLD?" The full name is just a little long to rattle off 20 more times in a review. Whatever you call it, PLLD is Pittsburgh's most recent doughnut shop. The tiny little shop opened just weeks ago in a space formerly occupied by 21st Street Coffee—back when they were "Cafe Intermezzo." PLLD's claim to fame: tiny little donuts. According to The Tribune Review, the shop is owned by Ron Razete, of Moon. Based on my visit, I'll say that at least on the weekends, the shop is a true family operation—with members of the family in to lend a hand with toppings to serve the weekend crowd.
Talk about laid back atmosphere. As always, I made a point to do a quick assessment of the little shop as soon as I walked in. Before long, Ron caught me staring at the menu to scope out possibilities. His response: "Don't pay much attention to that. It doesn't tell you much of anything, because, really, we're just figuring things out." That's probably why you won't find any pricing on the web site: Ron's still kind of feeling his way around. For what it's worth, I think he's doing a great job. He brings all sorts of enthusiasm, a laid back atmosphere, and a great conversation with anyone who cares to comment.
$8 for a dozen plain…and go from there. The deal is, you can buy a dozen small-ish doughnuts for about $8. The only option when I arrived were the mid-sized donuts, which are a step up from the shop's claim to fame: the bite size mini (13 for $3.15). But that's just the baseline…the raw materials. From there, Ron offers up a dusting of cinnamon or powdered sugar. Or maybe you a fan of a topping…with some sprinkles on top. Go ahead, ask for it. It sounds to me like Ron would throw any combination of toppings you could possibly ask for—even if he hadn't ever thought of it.
Remember funnel cake at the fair? Back in the day when you would place an order and watch a guy in the back drop batter into a bath of super-heated fat. Well, it's kind of like that. Of course, Ron runs the donuts through a machine up front and sets them off on a cooling rack to temper just a bit. The flavor, though: it's nearly identical. A quick bite instantly brought me back to the fair, in the days when caloric content really didn't even cross my mind.
Analyzing the base case. I picked up a pretty wide assortment and sampled a bite from each one (remember, I am a bit of a health nut). To start with, I went basic with a bit of the plain doughnut. What I found was a not-quite-crunchy shell surrounding an interior similar to a cake doughnut. The exterior had just enough texture to keep it interesting and lock in a moist, flavorful interior—far removed from the dry, off-the-shelf garbage that might necessitate a topping. Remember, this was just the plain. Actually, the powdered was…really about the same.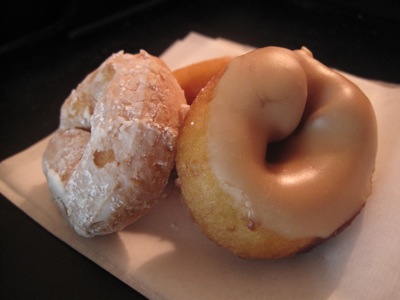 Next up, the maple frosting. Ron called it a glaze, but it's really more of a frosting on top—not the more traditional "glaze" that would fully engulf the pastry. My ultra-variety order included both chocolate frosting and maple frosting. I tried maple, which tasted much like the traditional maple frosting you (hopefully) know and love. That's not to say it was lackluster, just that there's not a whole lot you can do to maple frosting.
I missed the pumpkin frosting! I have to admit, it was word of some experimental pumpkin frosting that really inspired me to make the trip, though, sadly, it wasn't commercially available when I showed up. The good news is, that Ron's tweeted about the stuff a few times: it seems to now be in the rotation, and it's just the sort of thing that might stand a chance at pulling me back to the shop (all health concerns aside).
The one concern. After sampling Ron's donuts, I found a single issue: greasy aftertaste. Like any fried food, I found myself walking away from a doughnut tasting with a greasy taste that would not go away. The frying takes place right in a vat of molten Crisco, so one can imagine the taste is unavoidable.  My eventual solution: a tart apple and a diet coke. What about when you run into the problem, well, don't say I didn't warn you.
Would I go back? To sample some pumpkin frosting and check in on Ron, absolutely! Will I be making weekly doughnut runs from here on out? Not likely, but that's no fault of Ron's. In fact, Peace, Love, and Little Donuts is exactly the type of establishment that I want to support. Heck, they managed to get me even considering a trip to the doughnut shop. Anyone who either likes a good doughnut or wants to nurture a local upstart should definitely stop by and at least give the place a try. Just keep Ron and PLLD in mind the next time you're in the mood for donuts—or perhaps have some guests who deserve a morning treat. It's definitely worth a trip.
Tags: bakery, independent, strip-district
12 Responses to "Review: Peace, Love, and Little Donuts"
Leave a Reply