Posted by mike | Filed under Beer, Reviews
You all realize I'm a beer snob, right? A big part of my selection criteria for seeking out my next dining destination is based on beer selection. That's not to say beer alone is sufficient (or even that it's necessary)—it's just a big part of my selection criteria.
…which leads me to Pipers Pub.
I made my way out to Piper's Pub last week after hearing more than a few mentions of their Cask Ale Project over the past few weeks. Most notably, one conversation singled out Piper's ability to wave off the hop- and alcohol-heavy Extreme Brewing trends of American craft beer over the past few years. Rather than set up a hop-infuser, they've taken on Cask Ale (a.k.a., Real Ale). That willingness to dodge the trend was more than enough to draw me in.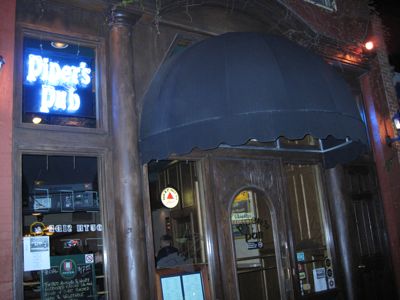 Piper's Pub







($10 salads, $15-20 entrees)
1828 E Carson St
Pittsburgh, PA 15203
www.piperspub.com
(412) 381-3977
Located over in the South Side on Carson Street, Piper's could easily be lost amidst beer strong-holds like Fat Heads and Smokin' Joes. The subdued signage and comparatively small neon lights are even a little hard to notice if you're not looking. In a sense, that's a welcome state of affairs—the crowds are typically a little less rowdy and made up of an ever-so-slightly somber clientele. I think of it as the South Side pub for late 20's and 30-somethings more than the sorta-passing-as-21 crowd.
Fun, personable waitstaff—some with an accent. Having gone out on a week night, the crowd was a little tame, and that gave me a chance to actually interact with my server. I've said here before that a personable server with whom you can comfortable banter and get some honest feedback is hugely important for a successful restaurant visit. My server at Piper's, Tommy, made that possible. I'll come right out and say (based on just one example), that Piper's must have made some effort to seek out or train the right kind of waitstaff. That is, either that or they lucked out. Tommy actually proved to be extremely knowledgeable and enthusiastic about the beer selection and was quick to suggest some vegetarian-friendly salad options with a little mixing-and-matching of a few different salads from the menu (though the salad I went with was one of the standards).
Big greasy eats with a good salad if you want it. The food at Piper's represents, in their words, "a taste of the British Isles." Taken from one angle, that could mean big greasy meals: fish and chips, Irish boxty—much of not very FoodBurgh-friendly. That is, in fact, exactly what you'll find over at Piper's—if that's what you looking for.
Fortunately, there are some healthier options to be found if you skim below the surface. Some of it is even surprisingly healthy—though not much of it is vegetarian friendly. That said, they're extremely flexible if you just ask. Having been there a few times before for Sunday Brunch, I made a point on this visit to seek out the healthy side of the menu and actually found one of the best veggie salads I've had in a long time.
Rather than just spew out the details, I suggest you check out the complete menu on their web site.
If you go for brunch, you'll have a harder time finding something healthy. The tendency there is toward either eggs and bacon or "boxty," which is a potato pancake wrapped around a filling. They do have a grilled vegetable boxty, but I'll warn you ahead of time that it's a bit on the heavy side.
Best grilled veggie salad in the South Side. I have to admit, I was slightly pulled toward the Stilton and Rasher Salad. Topped, with stilton cheese, smoked bacon, and…egg, it's certainly not veggie friendly, but I felt the pull. After some discussion with my server, I swayed first toward a bacon-free variant but ended up caving on a straight up grilled veggie salad. That turned out to be a good decision: I loved it.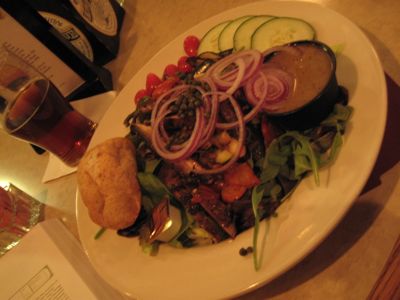 With all sorts of veggies tastefully placed atop baby mixed greens and, I think, a layer of iceberg along the bottom. I've seen a similar layering at other restaurants, and I'm not the type to get all worked up about it. If you are, at least you've been warned. As for the to other toppings, I noted everything from grilled zucchini and portobellos to fresh cucumbers and red onion. There were even a few pickled cherry peppers setting along side. I ordered balsamic vinaigrette to go on the side, but found the need for dressing entirely obviated by the sheer abundance of flavor in the salad itself (thanks to some seasoning in the grilled veggies). I've been telling friends this is one of the best veggie salads I've had in the 'Burgh. [In case you were wondering, Mad Mex has one of the others.]
Back to where we started: Cask Ale. For those of you scratching your head, Wikipedia will help. To summarize briefly, "cask ale" is just beer served from a cask rather than a force-carbonated keg. Traditionally, that beer would undergo a secondary fermentation in the cask itself, which produces the pressure required for carbonation. The result is beer with much less carbonation and typically served a little warmer—both tending to enhance your ability to taste some of the more subtle flavors.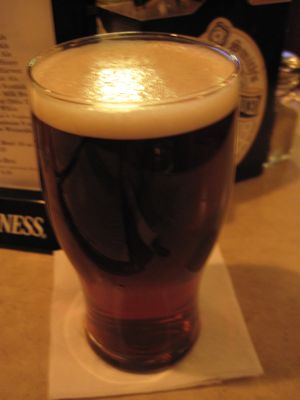 Piper's tends to keep two beers available on cask at all times. Interestingly, they tend to be beers from regional brewers whose beers you've probably heard of or even tried. On my visit, I tried the Red Ale from North Country Brewing (in Slippery Rock) and the vastly stronger Rivertowne Brown from Rivertown Pour House (in Monroeville). Both were quite good, but cask ale stores poorly and (thankfully) is rotated on a weekly basis, so there's always bound to be something new to try.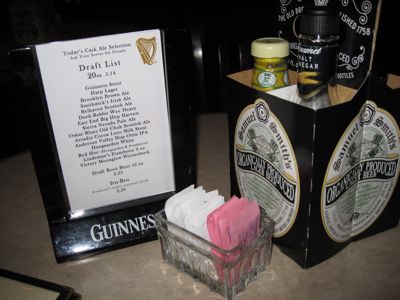 The rest of the draft list has some definite Irish/Scottish/English shout-outs, but also makes a point to include some good examples from the American craft beer scene. You'll even find some options from the city's own East End Brewing Company. For the full list of options, check out the online version of their draft list, with updates on their Firkin Report blog.
Would I go back? Absolutely. I tend not to write up places that I would write off completely. While there are plenty of ways to be unhealthy (if you want to be), there are also a few veggie-friendly and quite healthy options for health-geeks like me (a welcome surprise, actually). While those less enthusiastic about beer would probably still enjoy the place, the beer is has a far stronger pull for all the beer geeks in the audience. Plus, a chance to give the whole "cask ale" thing a try make this one a must-visit destination for lovers of good beer who find themselves in the 'Burgh.
Tags: freewifi, independent, must-try, south-side, veggie-okay
Leave a Reply