Posted by mike | Filed under Reviews
Just weeks ago, I got word of a new restaurant right in my own backyard of Greenfield. Then, just recently, I noticed Connect Greenfield the Greenfield Org was hosting an event there in December. I'm always interested in checking out new restaurants I can walk to, but that can be hit or miss in my part of the 'Burgh (or really any area). On Saturday, I made a point to venture out to try our newest entrant: the 509 Cafe. I was pleasantly surprised.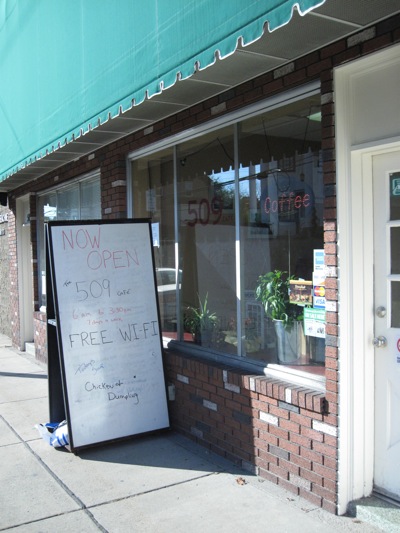 The 509 Cafe($5-8 entree)
www.509cafe.com







509 Greenfield Ave
Pittsburgh, PA 15207
(412) 235-7188
The 509 (at 509 Greenfield Ave) is just down the hill from Hough's—a little further than I normally venture by foot. They've been around for just about a month, but I've heard only minimal buzz from the local food media. I'm hoping that relative silence changes soon, because The 509 deserves to be noticed.
Exactly what I'm looking for. The cafe is only open for breakfast and lunch—7 days a week until 3:30pm, so you'll still need to get your dinner-time fix from Hough's (just up the street). The menu is brief but covers a sufficiently wide variety to please a few different use cases. The major players: breakfast, sandwiches, burgers, quesadillas, and salads. Among my dining companions, I had a chance to see two salads and a quesadilla—and they were all well-prepared, well-presented, reasonably healthful, and bundled into right-sized portions. Those characteristics are really exactly what I'm looking for.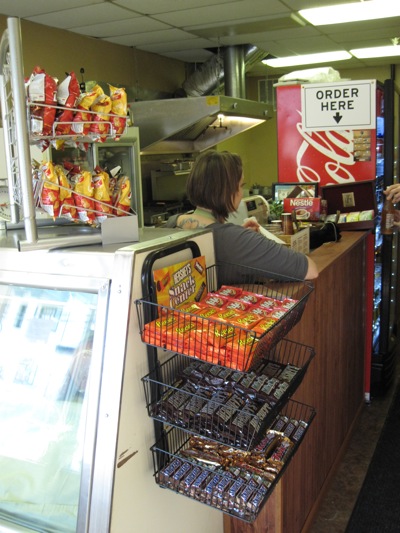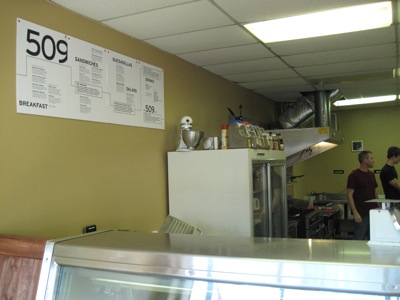 That somewhat misleading quaint look. I'm told that the restaurant interior is still a work in progress, but for now I'd call it quaint or maybe simple. The restaurant spans two relatively small rooms: the first for food prep and ordering with a (currently empty) display counter visible from the entrance. The second room is primarily for dining, with an old-style CRT (not flat panel) television mounted near the top of the far wall. None of that sounds particularly exciting, and that might lead you to under-estimate the food. Don't be fooled: I was impressed.
Awesome people. I counted three employees: The first, Becky, working the register and keeping guests like me in line. The second, Tom, who I later found to be the chef/owner. Finally, a third whose name I didn't catch was really Tom's son–learning how to cook. Once my friends showed up, we had a great time chatting with Becky, and Tom made a point to stop by and check up on our table toward the end of our meal. The whole ensemble was just fun, down to earth, and definitely worth chatting up if you do stop by.
Correction: The 509 is more veggie-friendly than I thought. According to a comment from Becky (one of The 509′s employees), you an actually order a black bean burger in place the All American or Mohican burgers. Based on other comments, I'm guessing you'd have no problem making a special request to make similar adjustments to other items on the menu.
Somewhat vegetarian un-friendly. My only criticism for The 509 is over the limited number of vegetarian options. To their credit, they offer up a spinach and portabella salad along with a spinach and portabella quesadilla. It would also be nice to see the trend continued to the sandwich side of the menu as well. Now, can I hold any of this against them? Not really: a more strict vegetarian has at least two options (and could always make a special request). After all, those options do make up 10% of the 20-item menu. For my part, I went for a non-veggie salad, because I'm anything but strict in my veggie-leaning tendency and was more inspired by the southwest-style of the sonoran than the grilled portobello. Real vegetarians wouldn't have that choice.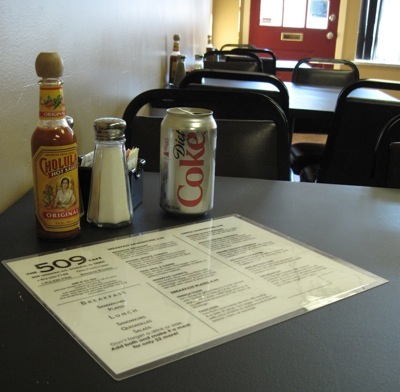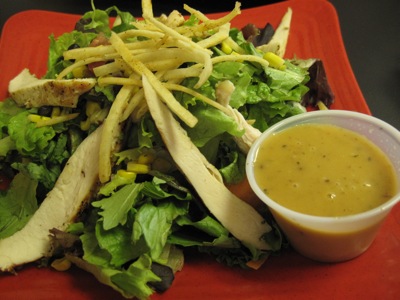 Gorgeous salad presentation. After trying to gather some recommendations, I ended up with the Sonoran Salad: grilled chicken breast over leaf lettuce topped with corn, black beans, and crispy tortilla strips. The salad was actually intended to come pre-tossed with a "southwest vinaigrette," but I requested the dressing on the side. My first impression: the presentation was stunning: artfully stacked relatively high over a stylish square red plate. Beautiful.
Flavor-wise, a little restrained. While not entirely bad–the flavors of the vegetable matter was able to come through un-shield, I could have gone for a slightly more vinegar-slanting dressing and maybe some pepper. To my taste, the southwest vinaigrette (emulsified) was a little on the sweet side. Of course, the dressing issues are largely personal preference: I lean heavy on the vinegar side when I make my own. The chicken was only lightly grilled, and minimally seasoned (though again, not in an entirely bad way). To finish the whole thing off, the crispy tortilla strips made for the perfect finish. They simultaneous improved presentation and provided a nice flavor/texture contrast that pulled the whole salad together.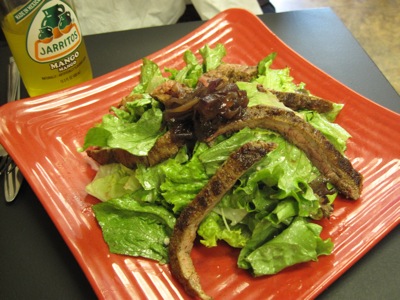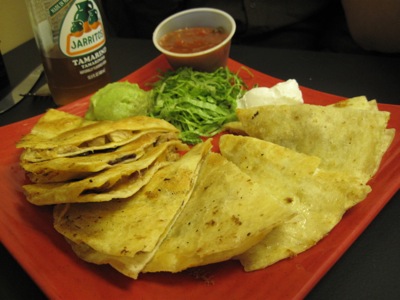 An equally artistic quesadilla. One of my dining companions, Brett, ordered the chicken quesadilla, so I had a chance to observe a non-salad dish as well. The presentation was equally artistic, though I didn't try any to comment on flavor. Brett enjoyed it but only mentioned that the salsa (in a cup on the side) was a little spicy, but he also has only minimal tolerance for that sort of thing. I'm guessing it was no more potent than something brandishing a "medium" on the side of a jar.
We had other food floating around the table as well: potato salad (tossed in the southwest vinaigrette), a side salad, and even a steak salad (for our third companion, Vicki). For the sake of brevity (read: laziness), I'll leave those descriptions out. You should already be planning on heading over to The 509 anyway. :-)
I'm definitely heading back. Actually, I'm already planning on heading out next weekend to try one of their sandwiches. My only-concern there is a shortage of vegetarian options. For the sake of not causing trouble, I left my veggie-trend on the sidelines when I ordered the salad. For a sandwich, I'd really like at least a veggie option.
Tags: freewifi, greenfield, independent, must-try, newcomer, non-veg-meal, veggie-okay
6 Responses to "Review: The 509 Cafe (Greenfield)"
Leave a Reply