Posted by mike | Filed under Reviews
It's time for some FoodBurgh catch-up. I've been hitting up a number of places in the past few weeks (new and old) that deserve a review, but have been struggling to find a chance to post. Now it's time to push through a few quick reviews and clear the queue for next week…starting with China Palace.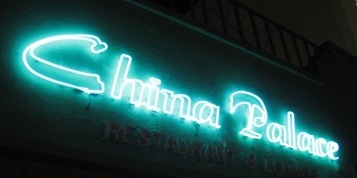 China Palace ($8-15 entrees)







5440 Walnut St
Pittsburgh, PA 15232
www.chinapalacepittsburgh.com
(412) 687-5555
I recently re-discovered some new friends (through FoodBurgh, actually) and made a point to grab dinner with them a few weeks ago. At their suggestion, we set out to hit up China Palace over on Walnut Street (Shadyside). If you follow this blog, you've probably noticed that I don't often set my sights on Chinese food. That trend is driven mostly by my more healthy aspirations; it seems that far too many Chinese restaurants in this country serve up anything but healthful options. That's a shame, because there's nothing inherently unhealthy about Chinese food—we just tend to implement it that way. China Palace isn't perfect but seems to lean in a more healthy direction than most and goes to great lengths to satisfy the vegetarian crowd.
Nice interior—but you can't tell from outside. When I first walked in, I was somewhat surprised by the interior: it's far nicer inside than you might expect based on the view from Walnut. The whole place is divided into two roughly divided sections: the first houses a full bar and serves as a waiting area, while the second (larger) section makes up the primary dining area. I was there on a week night with no lines, so the bar area served primarily as a separate section for take-out pickups. In that sense, the split went a long way to isolate diners from the steady stream of take-out traffic.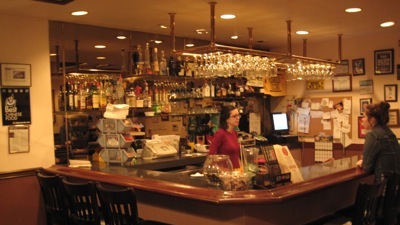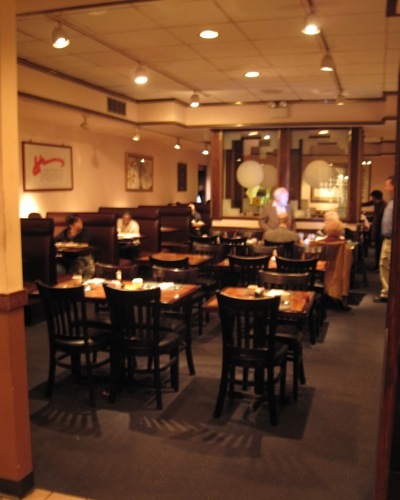 On the menu: vegetarian parity. Having never been there before, I had no idea what to expect of the menu, but it turned out to be huge. The full PDF is available online, and if you're as indecisive as I am, you'll want to glance over it before you go. The menu is roughly divided into 5 sections: lunch, vegetarian lunch, specialties, dinner, vegetarian dinner (my names, not their's). For every standard dish, there seems to be a vegetarian equivalent. China Palace manages that feat by working with a few different protein substitutes—unapologetically named for the meat they intend to replace; chicken with "veggie chicken," for example.
Did they have to call it veggie beef? I can't say I'm thrilled with the "veggie " naming scheme, but it gets the job done. There are plenty of vegetarians who would be quick to chime in against that scheme, and I can't say I blame them. Why can't I order a dish because I like seitan rather than because I'm avoiding beef? After all, I'm not really a vegetarian, but I do make an effort to maximize the number of vegetables on my plate relative to anything else. Of course, I also tend to enjoy seitan more than I do beef.
Taking Chinese "casserole" out for a spin. Looking to try something a little different I set my sights on the Ma La Spicy Tofu Casserole from the Vegetarian Chef's Specials section. I was drawn to that option mostly out of intrigue for what form a casserole might take at a Chinese restaurant. Based on a the wealth of available options, that decision wasn't easy: I very nearly went with the wheat gluten with broccoli instead.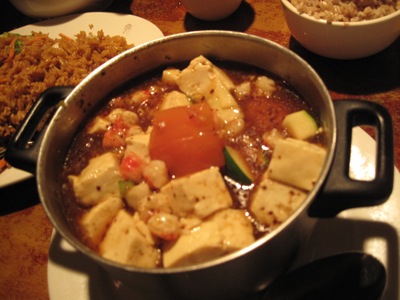 The casserole came served in a little pot with rice on the side—more of a stew than a casserole. I wouldn't call it spicy, but I was rather intrigued by a slight acidity to the base—probably from the tomato. The tofu was soft but had managed to pick up some of the acidity and flavor of the base. Actually, I would have been disappointed by the super-soft texture had it not been for the "soy shrimp" to mix things up a little. That served as quite a welcome addition to the texture.
One thing I did note was a notable lack of vegetables. As advertised, there were pieces of zucchini to be found, but the zucchini portion wasn't near as much as I would hope for. When I pulled out the leftovers the next day, I ended up adding a handful of green beans to provide my target vegetable mix and ended up with just about the balance I was hoping for. The lesson learned here is that "vegetarian" options will always lack meat, but might not focus on the vegetables.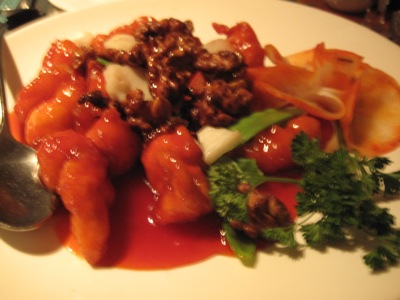 Stealing some Crunchy Walnut Shrimp. One of my newly-rediscovered friends ordered Crispy Walnut Shrimp from the non-veggie specialties menu and gave me a try. The dish turned out to be fried shrimp glazed in what I would call a sweet and sour sauce. As you might expect, that was a little bit thick and syrupy, but was light enough to establish a decent balance. Between the sauce and lightly candied walnuts, this wasn't the healthiest of options (or vegetarian), but I generally appreciated it.
The orange accent to our bill. You know how most restaurants will pass out some chocolate pieces or mints with the bill? For a Chinese restaurant, you might expect that to be replaced by fortune cookies. China Palace delivered on the fortune cookies but threw in an intriguing bit of a curve ball: orange slices. It gives me something to talk about, right?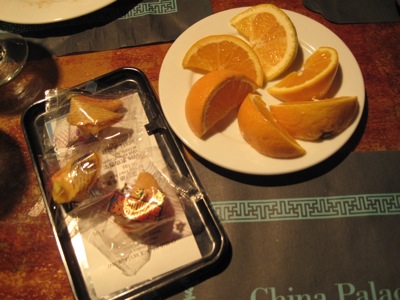 Expect meat-less options—with veggies optional. While the menu is full of meat-less options, I get the feeling that many of them weren't necessarily flowing with veggies. If you're looking for a wealth of vegetarian opitons, then China Palace is definitely worth it. If you're looking for a plate full of vegetables, then be a little careful with the order. Everything they served was both well-presented and delicious, but may not have been the healthiest option in the world. That said, China Palace is leaps and bounds ahead of most restaurants in the category.
Will I go back? At some point. I won't be adding it back into my upcoming rotation too soon, but I was happy with my experience. They try hard to make life easy for the vegetarian crowd and serve up some quality (though not always super healthy) food. For those of you that live in Shadyside, it's well worth stopping by to give them a try for yourself.
Tags: regional-chain, shadyside, veggie-friendly
3 Responses to "Review: China Palace (Shadyside)"
IeatPGH Says:
December 12th, 2009 at 10:16 pm
Foodie Says:
December 27th, 2009 at 4:11 pm
Leave a Reply