Posted by mike | Filed under Reviews
One of my favorite trends in the restaurant world is the ever increasing prevalence of free WiFi. I'm always toting a laptop around, and don't always have the benefit of a group of friends when I'm out looking for a new place to try (or even just a bite to eat). In the absence of conversation, I like to catch up on email or write up a FoodBurgh post while I'm waiting for food and taking time to actually enjoy my meal.
Not too long ago, I found myself in exactly the situation that typically leads to a need for Free WiFi. I was meeting someone in the South Side for a drink but showed up far too early. I was coming directly from work, so a bite to eat and some writing time was definitely in order. That's exactly how I ended up at Carson Street Deli.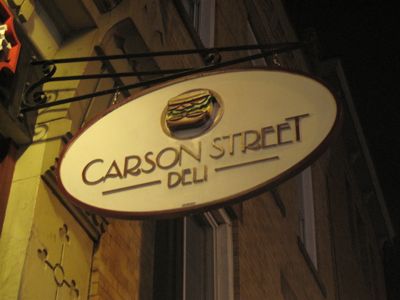 Carson Street Deli ($)
www.carsonstreetdeli.com






(28/50)


1610 E Carson St
Pittsburgh, PA 15203
(412) 381-5335
Carson Street Deli is one of those little sandwich shop in the South Side—actually, one of the more inviting ones. They fit the sandwich shop mold extremely well with a menu of mostly deli sandwiches along with an assortment of deli sides and soups. I'm a big fan of a well-made sandwich, so that assortment can actually be the type of thing I get excited about. According to some background info on the menu, they've been around since 1992 and seem to pull in awards for everything from "Best Deli" (City Paper) to "Best Hangout" (Pittsburgh Magazine). Sounds like it's worth checking out to me.
Spacious and tidy but oddly empty. Upon first walking in, I was simultaneously impressed by the clean, open decor and surprised by the fact that the place was nearly empty. Granted, it was a Wednesday night around 7:00pm, but there was really only one other customer to be seen. I'm not sure why. The single-room establishment has a few well-spaced tables in front, with a deli counter and ordering station along one side in the back. A drink station and a rack of chips fills the opposing wall toward the back. As per usual, I'm slightly confused by the appearance of the always on flat screen—yeah, they have one set up in the front.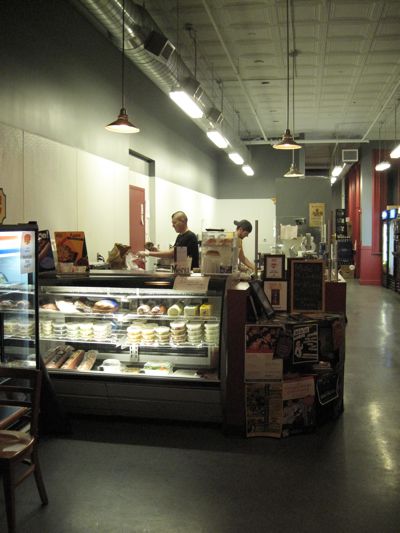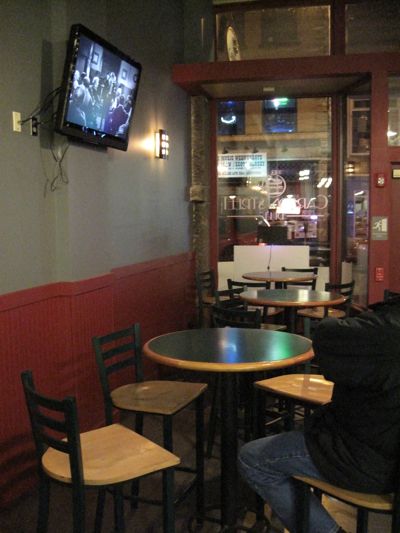 Minimal staff interactivity. To handle two person "crowd," a single employee was stationed behind the counter. The "order at the counter" concept doesn't lend itself to conversation, so I really interacted with him only minimally (which is fine). It's worth nothing that he was pretty cool about me staying right up until the somewhat-early week-night closing time (8:00pm). Rather than making a fuss or appearing annoyed, he patiently cleaned up tables on the other side and closed up shop around me until I took off around 7:45.
The standard deli menu. They keep it simple with a list of pre-designed sandwiches ("Deli Specials"), an assortment of standard deli sides, and the all-important option of designing your own. I count 4 pre-designed vegetarian options, which is commendable—I can't stand when there's only one. Of course, the possibilities are endless once you enter design-your-own territory. Rather than listening to me go on, just take a look for yourself at the menu on the CSD web site.
A [too] basic Vegetarian Sandwich. For whatever reason, I went with a vegetarian sandwich—assorted vegetables on a baguette with Italian dressing. In the spirit of caloric awareness, I would normally pass on the Italian dressing in favor of mustard, but this time I managed to forget. In this case, I'm actually somewhat glad I did—the dressing was a nice touch.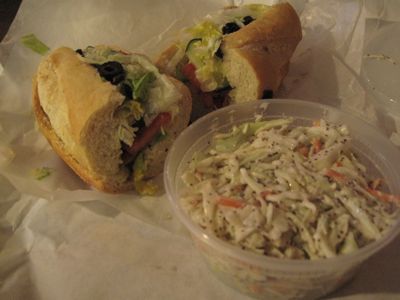 Amazing baguette without enough veggies. My sandwich came on a fantastically crusty and flavorful baguette that reminds me of the rolls Lucy uses for her famous sandwiches in The Strip. I just wish the veggies would have been a better complement. I counted olives, shredded lettuce, tomato, and onion—a far cry from the "fresh assortment of seasonal vegetables" described in the menu. I guess I'll be trying a different sandwich next time.
Classic deli cole slaw. On a whim, I ordered up a side of cole slaw. I'm a fan of certain cole slaw varieties, and it tends to make for a pretty good indicator of how much thought and effort someone puts into their sides. In this case, I was pretty impressed—for a mayo-based slaw (I prefer the vinegar-centric variety). Despite the mayo handicap, the slaw was sufficiently crunchy with thick strands of cabbage and well seasoned with visible additions of black pepper and celery seed. Overall, it was well-balanced and delicious—reminiscent of Primanti slaw made with mayo.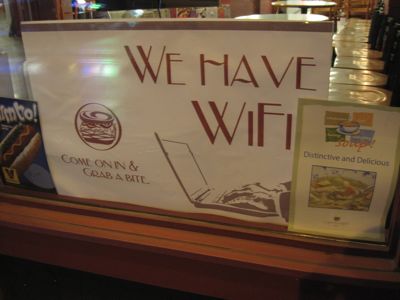 Hoping for another go. I love low-key places where I can chill for a bit and get some work done—especially when they have free WiFi. For this trip, the food was good with a bit of a mis-step around veggie content. Even so, the bread and cole slaw suggested that the food is definitely worth a second try. Given my friends who live and/or work in the South Side, I'll definitely be back.
Tags: freewifi, independent, south-side, veggie-friendly
One Response to "Review: Carson Street Deli"
Leave a Reply