Posted by mike | Filed under Reviews
At some point, one of my readers recommended a FoodBurgh visit to Fajita Grill. When the request first came in, I snooped around the web a little and didn't know what to think. Given the association with Si Senior, I suspected large-ish (but delicious) burritos and wraps—just like the ones I remember from my CMU days. I didn't have much luck finding detail on their web site (a Firefox rendering glitch managed to hide this link), so I added them to the queue and moved on.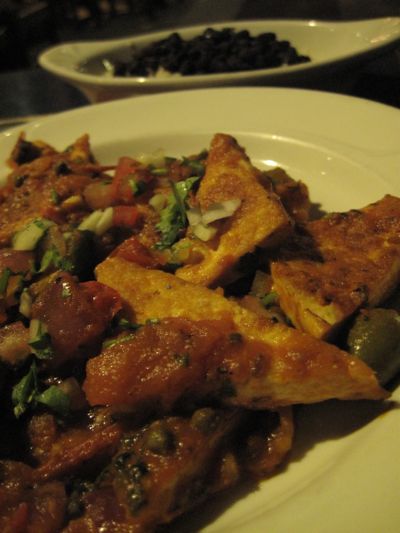 Fajita Grill ($10-15 entree)
www.thefajitagrill.com






5865 Ellsworth Ave
Pittsburgh, PA 15232
(412) 362-3030
Fast forward several weeks, and I decided to use Fajita Grill as a backdrop for dinner with a friend from my days in the CMU Kiltie Band. What I found was a fantastic example of local dining excellence—one that caught me way off guard. With well-presented and flavorful meals, lots of healthy and vegetarian options, and a cozy setting, Fajita Grill could very easily be my new favorite Pittsburgh Mexican Restaurant.
Cozy, dim, and a little quiet. You may not know where they're located, but you've probably walked or driven by Fajita Grill at some point and not even noticed. I've been to most other Ellsworth establishments and can't remember ever making a mental note of Fajita Grill. That said, it's a few hundred feet further up the street than most of the other notable restaurants on that street. In any case, I showed up after dark and had to look around for a few minutes to find the sign. After finding the entrance and stepping inside, I found a quiet, dark dining room with about 12 tables—only two of them filled. That was fairly late on a Thursday evening, so that's likely a smaller crowd than usual.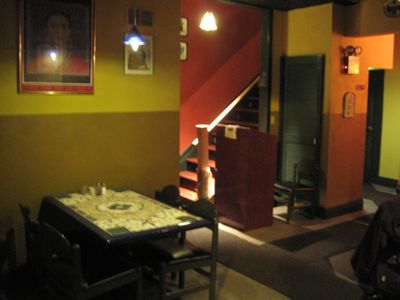 The ever-critical server relationship. I only noticed one server—a single waitress—tending to all the guests, which made sense given the small crowd. Despite a fairly active conversation with my dining companion, I had no problem maintaining that critically important server-guest rapport that I seem to constantly reference here. Especially in the face of a lively conversation, it's pretty easy for interactions to start off on the wrong foot, so I consider a solid rapport to be a credit to the server. Score one Fajita Grill.
Don't forget to BYOB. I go back and forth on how I feel about BYOB. On one hand, it maximizes my opportunity to decide exactly what beverages I want to go with my meal. If I end up with lousy beer options, I have no one to blame but myself. On the other hand, BYOB means that I need to do a little planning beforehand and don't have a chance to be surprised by something new. My point of all that: Fajita Grill is definitely a BYOB establishment. This time around, I planned for that situation by scheduling a stop at 3 Sons to assemble 6-pack with a few different options. Of course, I use "schedule" a little loosely: the Three Sons stop made me fairly late for dinner (okay, really late). I actually owe a big thanks to my insanely patient companion, who took my "little" schedule slip in step. (thank you, Susie!)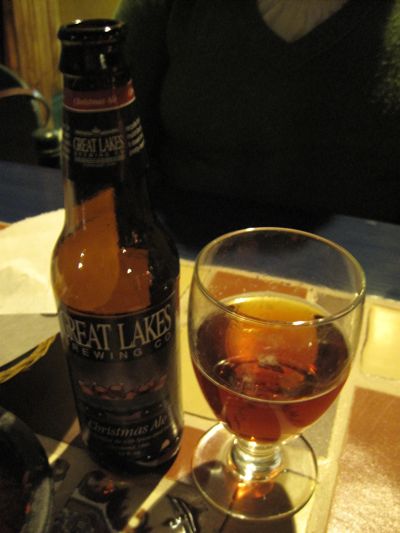 When I finally arrived both me and my Kiltie pal picked out a Great Lakes Christmas Ale from my 6-pack—one of my favorite seasonal beers from one of my favorite craft brewers. The spicing for that particular brew is somewhat more subdued than some of the pumpkin [pie] beers but still sufficiently un-beer-like that it can be just little bit too different depending on your mood. For this trip, I found that it balanced the sensory weight of my meal quite well.
Fewer options can mean better options. Have you ever noticed the completed matrix menu trend at a typical Mexican restaurant? I have. First, start with tacos, then fill the row with N possible fillings: chicken, steak, maybe fish and/or veggies. Then move on to burritos to find…the same set of options. Tostadas? Same thing. The complete matrix ensures you'll be able to order any possible combination; it also makes for a dense, boring menu. At Fajita Grill, I really enjoyed the menu's lack of completeness. The options for tacos don't align perfectly with the analogous list for fajitas, and the rest of the menu pulls away complete with unique options like Vegetables, Tofu and Eggs and Entomatado (chicken with tomatillo and chipotle).
Vegetable plates that aren't an afterthought. One of my favorite aspects of Fajita Grill was the better than average availability of vegetable options. In at least one section, the vegetable options have their own flare—Tofu with Vegetables a la Mexicana rather than fajita with some type of veggie mix added to the list of filling options. I counted three such tofu entrees, each somewhat unique. That's not to say you can't find a vegetable option on the fajita page; just that there are also some other options as well.
My order: Tofu with Vegetables a la Mexicana. When it came down to ordering, I seemed to consider options from several parts of the menu. The home-made soups caught my attention first, but I also found myself wavering between Tofu with Vegetables and a Veggie-filled Fajita. My final decision: Tofu with Vegetables—and I couldn't have made a better decision. My plate offered up sautéed onions, relatively thick jalepeno slices (seeds in tact), capers, olives, tomatoes, and a chipotle-leaning flavor all coated in a moderately thick (and spicy) tomato-based sauce. The dish was fairly spicy, but that heat played very well with the rich roastiness of the smokey chipotle peppers and briny capers/olives. This was easily one of the best dinners I've had all year, and it was probably fairly healthy to boot.
Some black bean disappointment. Mostly out of curiosity, I also ordered the black bean soup. In trying to save room for my yet-to-arrive tofu dish, I didn't eat much of the soup. I'm only mentioning it here out of disappointment: it fell so far short of my dinner entree. First, the soup texture was way off. It may have been some type of authentic touch that flew right over my head, but my soup had the consistency of a extremely thick paste; It felt more like refried bean dip than soup. That would have been tolerable if the flavor managed to draw me in, but it didn't. Don't get me wrong, the flavor wasn't bad—just not sufficiently good to overlook the odd texture. I'm hoping my experience is a fluke and would love some input from any other Fajita Grill fans on the subject. Any experience with the soup?
Interestingly, my partner-in-dinner ordered the chicken tortilla soup and it looked perfectly normal. Rumor has it, the flavor was also quite good. Go figure.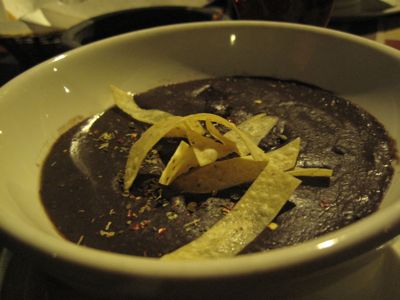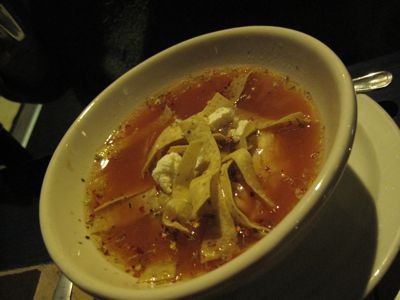 Would I go back? In an instant, but not every week. Fajita grill was trending toward what I would consider a slightly expensive dinner, but I'll be the first to say it's well worth it. My dinner was excellent, and the atmosphere was nice but certainly not stuffy. I did take issue with the soup, but I fully expect that to be just a fluke. While I can't say I'll be there every week, I can definitely see myself returning on a regular basis. Fajita Grill is definitely in the running for my favorite Mexican destination in the 'Burgh.
Tags: byob, must-try, shadyside, veggie-friendly
One Response to "Review: Fajita Grill (Ellsworth)"
Leave a Reply