Posted by mike | Filed under Beer, Reviews
Due largely to my own poor planning, I ended up at Lot 17 in Bloomfield last night. Prior to that, I was familiar with the place only through Wheel Deliver (a service I used frequently for ordering research group dinners in grad school). I actually intended to visit another place (Avenue B)—for some reason, I thought it was in Bloomfield. That's just how my brain works sometimes.
In an attempt to salvage the situation, I bring you Lot 17 (and a promise of some future Avenue B coverage). I had never eaten in at Lot 17 anyway, so it was a new experience for me (and still worth writing about). That all said, I can't say this particular visit was all that great.
Note: I have since found that I wasn't as far off as I thought: Avenue B is in Bloomfield—despite a quick (but inaccurate) last minute search the night of my attempted visit. My search pointed at Edgewood; turns out, it's actually on Baum (just past the point where Liberty branches off).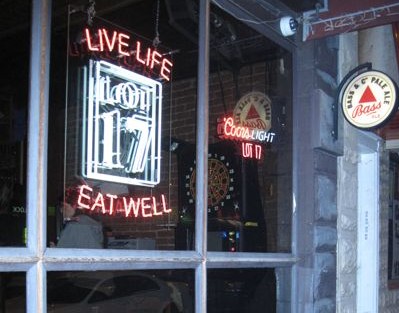 Lot 17 Bar & Grill ($7-10 sandwiches)






(21/50)
4617 Liberty Ave
Pittsburgh, PA 15224
(412) 687-8117
Lot 17 is just a little bit bi-polar—at least with respect to decor. In the front, you'll find a loud bar area—nearly filled, when I arrived; in the back, the place does a complete 180 with a surprisingly quiet dining area. The bar is rustic in appearance, dimly lit, and a bit cramped: I had trouble navigating past. The dining room looked completely different: spacious and crisp—though still dim. Two rows of booths lined the same brick walls from the bar area, only this time adorned by nicely framed artwork. A sizable inter-booth walkway even left plenty of room to walk around. The juxtaposition here isn't really that crazy, but my journey through the bar on my way to the dining area definitely highlighted the contrast.
So should I seat myself? Unfortunately, it was relatively difficult for me to figure out the right protocol for finding a seat. I waited for a minute or so at the border between bar and dining room, but there was no good place to stand or host in sight. Eventually, I asked the bar tender and was told that I could just sit anywhere and wait for a server. They seemed busy relative to the number of employees, so the confusion is at least somewhat excusable. Even so, my expectations were already falling.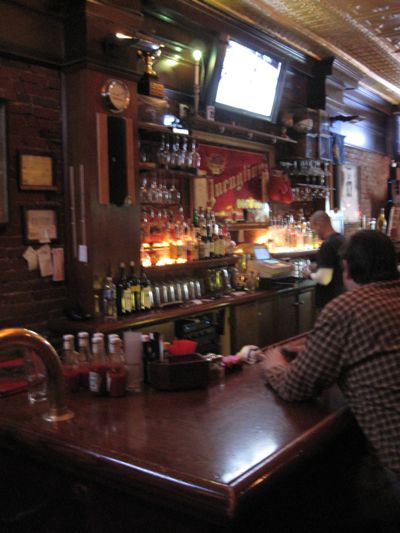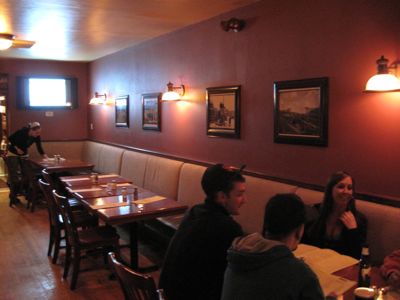 Excessive server enthusiasm. When I go out, I'm always interested in finding a certain level of comfort with my server. I tend to bring it up in these reviews because I think it's critical to enjoying a dining experience. Good server-customer rapport is good for everyone involved. For this visit, my server leaned in the direction of going way too far: my waitress dished out an extreme enthusiasm that couldn't have possibly been her own personality. That left me feeling a little distanced and uncomfortable. That said, I suspect she was the only waitress on duty (besides the bar tender). It's quite possible her exuberance was nothing more than a her way of dealing with a huge number of guests without a grumble—or something along those lines. Hopefully that wouldn't always be the case.
Menu: standard American fare. There's nothing too noteworthy on the menu, but it's hard to find on the web. I dug a little it to find a PDF over at wheeldeliver.net, so you can give it a read before heading out. Take a look and you'll find sandwiches, burgers, soup, salad, and a healthy slate of not-so-healthy appetizers. I saw a couple of interesting sandwich/wrap options and even four vegetarian possibilities among them. Not being all that hungry, I landed on the veggie pita. I could have just as easily seen myself with a chicken wrap or Lot 17 salad.
Veggie pita and soup. After the minor issues noted above, I was pleasantly surprised by the veggie pita. I expected an over-sized wrap with more cheese than veggies. Actually, I expected something in wrap form—apparently, I missed the "pizza" in the name. What I actually received was beyond my expectations but still not spectacular. A more traditional pita has the potential to be a lousy pizza crust (too tough/easily dried out), but this one was a little soft and kept moist by a thin layer of pesto. on top, I found grilled zucchini, eggplant, and tomato below a somewhat thick layer of melted cheese. While I would have preferred just a little less cheese, the asiago worked pretty well—adding a nice depth of flavor.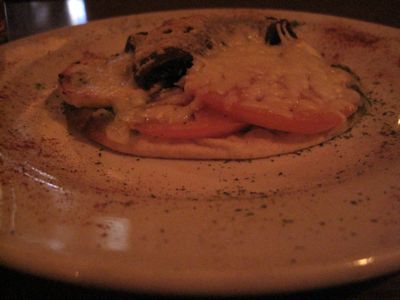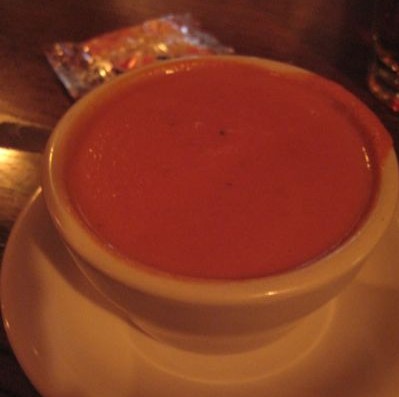 For my side, I had ordered the day's soup (tomato). There's not too much to say about this one, as it was fairly standard. I will note that it was served piping hot, which I really appreciated on an extremely cold night. The flavor was good, but not to the point of sticking out as unique among tomato soup.
Almost minimal beer selection. The draft list was larger than the standard handful of macro-brews but still somewhat lacking. I noticed to craft brews in the bar-side beer chalk board but not on the menu: Terrapin India Brown Ale and Magic Hat #9. I'm not a fan of the Magic Hat #9 and wanted something a little milder than the India Brown Ale (IBA?). That left me with one final craft option: Red Hook ESB. That was my first exposure to Red Hook, which I had previously suspected was a label from one of the big brewers. Some quick research proved that isn't the case, so I went for it. At first, most of the ESB's flavor was hidden by an extremely cold serving temperature. A little time to warm up eventually brought out quite a bit more malt more flavor than I expected (a tactic recommended in a related BeerAdvocate article).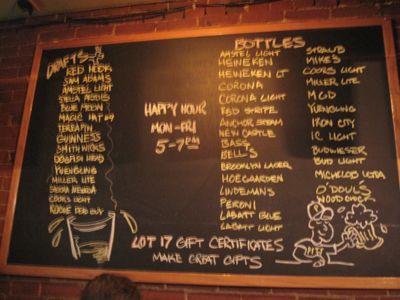 I'm hoping that the disagreement between menu and actual beer list indicates an ongoing shift. There's definitely some potential in the current draft offerings, but they could definitely be extended. Here's hoping the (possible) trend continues.

Will I go back? Overall, I still rate the experience mediocre. I wasn't exactly in a fantastic mood when I left and the beer list made only basic attempts at decent options. In the end, I found a good beer, and a surprisingly well-prepared entree, but neither was exceptional and both were clouded by a negative overall experience (related to atmosphere and lousy server-customer rapport. Based on my new rating scale, I landed on a score of 21/50 (2.1 stars)—for mediocre food and lousy atmosphere. Depending on what you're looking for, they may fit your needs exactly, but they didn't really do it for me.
Tags: bloomfield, independent, veggie-okay
6 Responses to "Review: Lot 17 (Bloomfield)"
Leave a Reply