Posted by mike | Filed under Reviews
I have a friend who's obsessed with those half price dining gift certificates (we'll call him Brett). He picks them up under the guise of trying out new places, and every once in a while I get an invite to join him on such an adventure—typically right before they expire. Not too long ago, this precise scenario gave me a chance to try yet another place: UUBU6 in the South Side Slopes.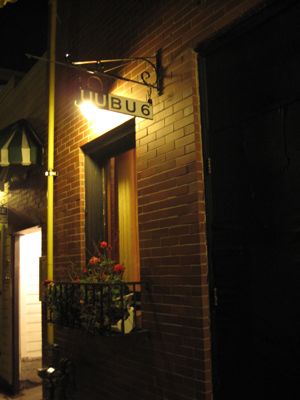 Restaurant UUBU6
www.uubu6.com






178 Pius St
Pittsburgh, PA 15203
(412) 381-7695
I had heard some buzz about UUBU6 in the past, but never really knew too much about them. For some reason or other, I was under the impression that they were related to Big Burrito; they're not. In reality, they seem to have a far more interesting story with an independent owner and a space with roots going all the way back to the Slopes' German immigrants—more than 100 years ago. The name, adapted from "Workingman's Beneficial Union No. 6" or "WBU No. 6," is a reference to a social club for those immigrants. Today, UUBU6 occupies the building for that club. At least, that's the story on their web site (which is actually pretty well done).
Trouble is, I'm not exactly sure how I feel about the place. Though they advertise a "casual" atmosphere, the white table cloths made it feel a little stuffy for my taste. The menu changes from night to night, which can be a very good thing for the sake of variety. The only problem: the night I showed up, it listed a grand total of zero vegetable-leaning entrees. Given my not-really-a-vegetarian status, that wasn't too problematic for me, but a real vegetarian might have been forced to make a special request (which I'm sure they would have obliged). The food was exceptional, but the atmosphere just didn't do much to make me want to go back.
A look straight out of the 20s (intentionally). The main entrance for UUBU6 drops you into a hallway filled with signs and photos that seem to fall right out of the 1920s. There are a few different doors and no one around to hint at the right direction, so I was a little confused about where to go for my table. For reference, the main dining room is the door on the right; the bar is the door at the end of the hall; the bathroom location really depends on your gender (mine's in the bar :P).
When I actually walked into the dining room, I started to sense the somewhat stuffy atmosphere I reference above. I saw fancy table settings and those dreaded white tablecloths, which usually makes me feel a little out of place. I wasn't really, my jeans and cotton shirt didn't contrast all that much with other guests, and there was definitely a group in the bar with nearly identical attire (though I didn't see them until later).
The non-interactive server. I don't have too much to say about our server: we interacted with him minimally. That's not to say he wasn't attentive, just that we didn't really have much of a conversation with him. Some view that style of service as a good thing, and maybe the management trains people that way. I hope not; I've said here before that I prefer interaction. When I first walk into a new restaurant, I feel uncomfortable and uncertain of how I'm perceived. A server that cracks a joke goes a long way to pulling me in and making me feel welcome. Part of that is me being self-conscious, but I certainly can't be the only one who feels that way.
Switching it up with sauerbraten. I very nearly pulled my usual stunt and went for a salad—or maybe it would have been the Mixed Greens appetizer. Eventually, I thought better of it: without a single veggie-leaning entree to be found, I decided that wouldn't be the best strategy to get the most of my meal. I went for the Sauerbraten. After being so utterly disappointed by the Hofbräu variant of the same dish, I needed a better example anyway. That particular dish happens to be a deep fascination of mine from my pre-veggie-leaning days, so it's appearance on the menu happened to out pretty well. For the uninitiated, there's a great Alton Brown episode to intro the dish.
So how was it? Excellent. What UUBU6 lacks in atmosphere, they seem to make up qualify of food (almost). My plate came with sauerbraten, mashed potatoes, and a vegetable goulash; all three were quite good. The beef was soft but still carried a pleasing stranded texture, and the sauce brightened up the flavor with just the right amount of sauer. This is exactly the sauerbraten I would hope for. The goulash and potatoes were decent accoutrements, but I would have liked to see a little bit more in the way of greens: my plate was overflowing with starch. That said, they were good for what they were.
Brett ordered the salmon and received identical sides.
My lackluster choice of wine. The wine list is far better than the beer list, so I mixed it up a little and ordered a glass of wine. That's often frustrating for me, because I can listen to server rattle off a beer list and know something about everything on it; it's not too hard to zero in on what I want. When it comes to wine, I know some styles but am minimally familiar with brands. The best cue I have for quality is price (not the cheapest and not the most expensive—just the way they want me to order). This time, I went with a pinot noir. It was good enough, but not particularly noteworthy (at least to my completely untrained wine palate).
Beer: they seem to really try. The beer list was limited to bottles and could have very easily been worse: I can count at least 10 different bottles I would have been happy to order. The beer list even boasts a few different craft beer options: Erie Railbender and Tröegs Hopback were the most notable. This isn't a "beer destination," but they do try to make peace with the beer world.
Will I go back? Like I said at the start, I'm torn on this one. I don't have much interest in going back on my own, though perhaps I can see this as a good restaurant for a date. But even then, the minimally interactive waitstaff would still be less than ideal. They also need to work on including a vegetarian entree. I'll give them a 3.5-star rating for exceptional quality of food and for at least trying to appease the beer geek in me. I feel guilty for not rating them higher, but really get the feeling the place isn't for me.
Tags: independent, non-veg-meal, south-side, veggie-fail
5 Responses to "Review: UUBU6 (South Side)"
Leave a Reply