Posted by mike | Filed under Reviews
Over the weekend, I made my way downtown to celebrate a friends birthday. The heart of the city is largely uncharted territory in my world. When I go, I rarely have any idea what to expect, and this visit was no exception. Prior to being invited out, I had never even heard of Palomino. Going in with just about zero information, I can't say I was all that thrilled. Don't get me wrong, the food was good, and I had a good time–it just wasn't really worth the price.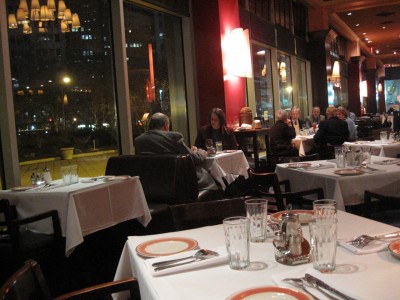 Palomino
www.palomino.com






444 Liberty Ave
Pittsburgh, PA 15222
(412) 642-7711
Turns out, Palomino is a chain—according to the Post Gazette, they're based out of Seattle. Really, my biggest problem with chains is lack of variety, so in this case the fact that Palomino is operated by a larger organization doesn't really both me. It's new to me, and I don't exactly see Palomino's popping up everywhere. To me, that means it's at least worth a try; I just want to make sure everyone is aware of it's status: this isn't exactly a local/independent business.
Up-scale but not too pretentious. Don't be confused, Palomino is "classy," but they do manage to pull it off in at least a somewhat unpretentious way. I showed up wearing—well, exactly what I wore to work: jeans and a cotton shirt. The place is casual enough that I didn't feel at all out of place, but it only feels casual; it's actually leaning toward up-scale. The servers are well-dressed and well trained. They care about what they do, and they're good at it. A good half the restaurant is glass and looking out on the very center of town, which seems to emphasize the "you're in a nice restaurant" theme without being too over the top.
Comfortably up-scale. If I had to wrap it all up, I'd say Palomino is "comfortably up-scale." I have a strong distaste for restaurants that feel uncomfortably stuffy in an effort to make it feel like a nicer place than it is. Along those same lines, it's quite refreshing to see a place like Palomino that undershoots. They feel a little more approachable than they actually are. If that makes any sense.
Bit of a calorically-intense menus. Though the Post Gazette goes so far as to call their appetizers "light," I didn't find that to be the case. I wasn't thrilled with the meat and starch tendency, but the fish entrees improved the situation—slightly. Finding a vegetarian option was nearly impossible.
Others in the group were interested in other items on the menu—Kobe Ravioli and Baked Four Cheese penne among them, but much of the options seemed a bit heavy for my appetite. Salad-wise, I almost went crazy with the (non-veg) Chop Chop chopped salad, but backed of thinking it would be a good place to go out on a limb and order some grilled salmon.
From the brick oven. Pizza is another option that they seem to push, but I don't remember seeing any orders among those in my group. A house-baked pie would have been $5 if we ordered from the bar, but that price balloons into $10-12 in the dining room. Either way, it would be been interesting to see what they did with it. Fancy-pants pizza can go either way.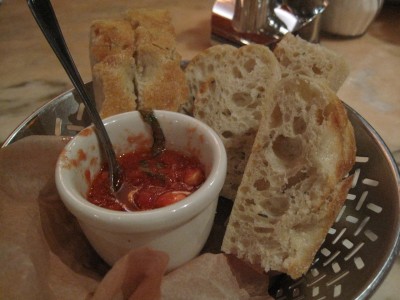 If I ever go back, I'm thinking I'll hit up that Chop Chop Salad. If you want to do a little pre-dining perusal, they do offer the full menu online (minus any specials). I found it easier to grab the PDF than to navigate the site.
Grilled salmon—from the rotating fish menu. Please, hold off all the warnings about ordering any type of "fish special;" I get it. In this case that all the fish options were offered off a rotating list—presumably to stick to what's available and in season. For this visit, there were two salmon entrees on that list, and I went for the one with grits and asparagus—at least partially drawn in by the asparagus. The alternative was pecan-encrusted, whereas my order was grilled and more lightly seasoned.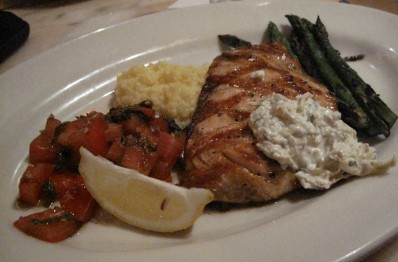 I was pleased with the salmon itself. The seasoning was light—possibly just a dash of salt and pepper, so the flavor of the fish itself was really able to shine through. Texture-wise, the exterior was just slightly crisp with an easily flaked interior—just about what anyone could hope for. Basically, the fish itself was good.
As for sides, the asparagus was fresh and fairly well prepared—I would call it grilled, with a little bit of crunch still remaining. Along with the asparagus, I received a balsamic-marinated tomato salad. That salad was actually quite good: plenty of tart vinegar augmented what could have been flavorless fall tomatoes. The tomatoes also seemed to lack a heavy oil component, which was a welcome (even surprising) change.
"Tartar" sauce? Really? The only real problem I ran into food-wise was the dollop of sauce on top. Reminiscent of tartar sauce, it really rubbed me the wrong way. It seemed to be haphazardly dropped on top of the fish, so there was no easy way to avoid it either. That was hugely disappointing, as I hadn't exactly set out to pay $25 for the not-so-delicate flavor or tartar sauce. Save that for the fish sticks. That said, my distaste for that decision is largely personal preference.
Photos from around the table. Others in my group ordered everything from lobster ravioli to a spit roasted pork loin. The ravioli came out in two over-sized pouches in a splattering of marinara. The pork loin looked, well, like a piece of meat. Honestly, I didn't get much of a chance to take note of other meals around the table. I did pass around the camera and collect a few pictures (below).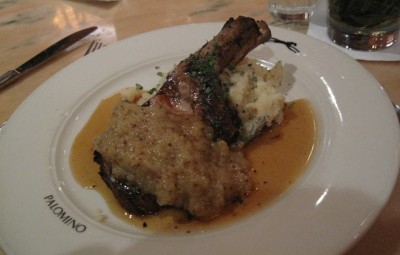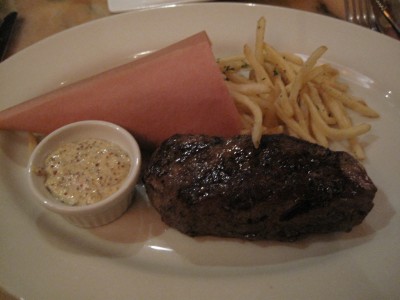 The beer list: not so "crafty." This is one of those times when I'll say, "at least they tried." I say that mostly with a memory of experiences years ago when you could go to a restaurant with only a single viable option—and even that was typically Yuengling. Nowadays, most everyone tries; that's just the price of entry. In this case, they offered Dogfish 60 Minute, Sierra Nevada Pale Ale, and Widmer Hefeweizen—plus our regional standard Yuengling. There were also some decent macro-brews on the list but certainly nothing to write home about. If you're looking for a craft beer destination, well, keep looking. If you're just looking for dinner out and at least one or two decent beer options, then go for it.
A Mint Julep straight from Gatsby. Several in the group ordered the night's drink special: a mojito—served in a 12-oz pilsner glass. Others ordered a mint julep, served in a slightly more traditional glass. The drink reviews from my cohorts were good—and the presentation noteworthy, but I didn't sample any and can't really comment.
So what is my opinion? You might read my review and notice that…I'm not horribly excited about this one. That's not to say it was bad—ignoring poor decisions involving a tartar-like sauce; rather, it just wasn't notable. It was also unnecessarily pricey; I've run into several other places around town with better food and an even more comfortable atmosphere for far less. Better yet, some of those better options offer up a vastly superior beer list. If I had to guess, I'd say you're paying primarily for a highly skilled waitstaff and impressive center-of-town location. Personally, I'd rather invest that in better beer.
To end on a positive note, I did go out with a fun crowd and was received by an attentive (and friendly) server. Overall, I had a good time; I just won't be spouting out Palomino praise in conversation for the next few weeks.
Tags: chain, downtown, non-veg-meal, veggie-fail
4 Responses to "Review: Palomino (Downtown)"
Leave a Reply