Posted by mike | Filed under Beer, Community
Last week, Penn Brewery hosted their first event in a while: a sneak preview. Contrary to what you might be thinking, the event served primarily to show the world that they really are on the path to re-opening. As far as I can tell, it was also the world premier of their first ale: Allegheny Pale Ale. They're not open yet, but they're well on the path in that direction: all the beer served at the preview was brewed in-house.
The event was well covered already, but I was there and taking pictures, so I wanted to take the time to post my thoughts here.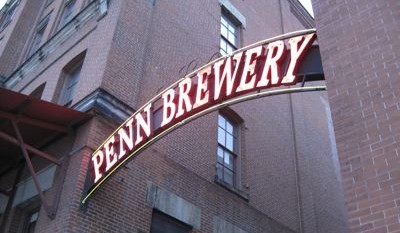 Penn Brewery and Restaurant
www.pennbrew.com
800 Vinial St
Pittsburgh, PA 15212
(412) 237-9400
Though positioned as a special "sneak preview" the event was pretty well publicized: invitations were posted on multiple brewery Twitter accounts as well as the main page of the Penn Brewery site. As a result, the place was packed. Everyone, it seems, is excited to see an old favorite return. The event featured beer samples, (extremely) light snacks, and ongoing tours of the brewery. I was there for the first two hours (of 4) and the place was packed to the point that I had trouble moving around.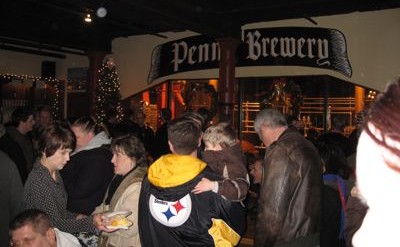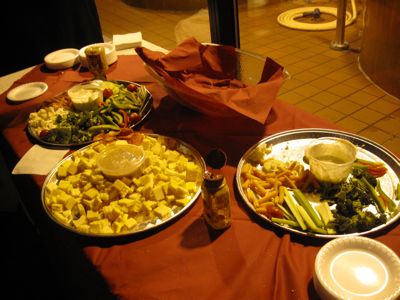 So how was the beer? Four different beer options were available for sampling: Penn Pilsner (unfiltered), Penn Weizen, Allegheny Pale Ale, and St Nicholas Bock (from a previous year). A free ticket available in in the rear claimed that the first sample was free, and most everyone I talked to expected that to be a full glass. It wasn't: just tiny sample in a plastic sampling cup. Luckily, you could buy a full glass for $3—though it was also served in plastic cups. In an effort to avoid hitting the 25-minute line twice, I pro-actively ordered two glasses: Allegheny Pale Ale and unfiltered Penn Pilsner.
Though I'm still not hugely confident in my beer evaluations, I can say that I enjoyed both. Due largely to equipment availability and timing, the Pilsner was served unfiltered, which was a new and therefore welcome experience. Basically, this was the same clean, bright lager you have probably come to expect from Penn—only with a slightly yeasty flavor to keep it interesting. The newly released pale ale was…very hoppy (in the true American style). I picked up a heavy dose of hop bitterness plus the familiar citrus flavor typical of American hops. From my perspective, the bittering here was almost too harsh, but that's really the style in this case. If anyone was pondering the style of hops, I seem to remember Tom mentioning Chinook during the brewery tour—though I didn't notice any of the piney flavor normally associated with that variety.
A tour of the brewery. One of the better aspects of the event was the brewery tour—except for that part where I waited out in the cold for it to start. The tours were running every 30 minutes, and the tickets being passed out inside assigned a particular time. No one was really checking tickets, but the tactic did lead to a relatively small tour group—which I appreciated.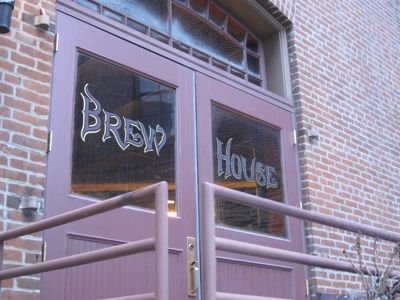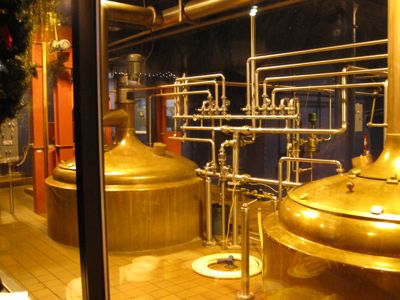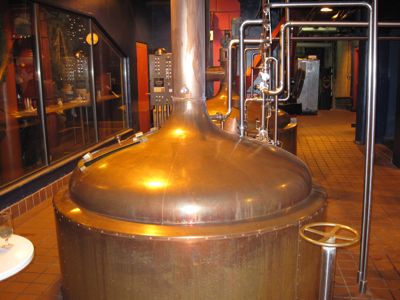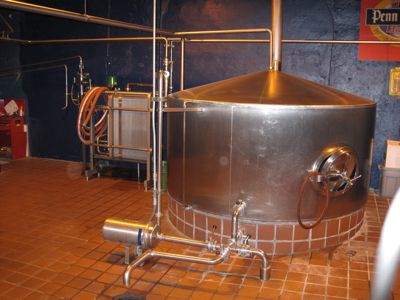 The tour was really just standing just inside the brewery entrance and listening to an overview of the brewing process from Tom Pastorius himself. I don't think he showed off much beyond what you can see from the dining room's window into the brewery, but it was interesting to hear his spiel and pick up some details regarding their brewing operation. Most of description was geared more toward the non-brewing crowd, but there were some interesting operational tidbits thrown in for good measure.
Here are some of the more interesting announcements I picked up…
The restaurant will open when they have enough beer to satisfy demand
Tom has no idea (or isn't saying) when that time might come
There's a good chance another "preview" will occur in a few weeks
A new German bottling line has been ordered (and paid for)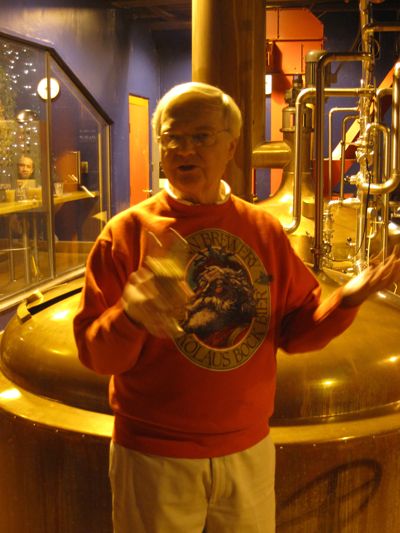 A founder's plea. Another interesting aspect of Tom's "tour" was a plea for support. His major request: buy a case of Penn beer. Yes, that means it will have been brewed in Wilkes-Barre by the Lion Brewery, but there's a lot of Lion-brewed Penn product in the pipeline, and he can't push out his new stuff until that has worked through the system. In his words, he needs us to "take one for the team" (no really, he said exactly that). In the spirit of supporting our local, independent brewers and restaurants, I can support that request. If I'm buying a commercial beer for an event at my place, I'd be happy to make it a case of Penn.
Tags: independent
4 Responses to "Penn Brewery's Ongoing Return"
Leave a Reply