Posted by mike | Filed under Beer, Reviews
I am always surprised by the number of people who have never heard of or tried The Sharp Edge. Granted, I was one of those people at some point, but my introduction was years ago in grad school. Now, I'm definitely a fan of the atmosphere and what they seem to aspire to. The food, however: not so FoodBurgh friendly. I like to focus on food I don't feel guilty about eating, and that can be a little hard to find at any of the Sharp Edge locations.
Fast forward several years out of grad school, and The Sharp Edge came up at a Birthday outing for one of my friends. She was interested in hitting it up in the next few weeks, so I took full advantage of the opportunity to assemble a FoodBurgh post (and hang out with an old friend). For the non-veggies in the audience, I even have some non-veggie coverage courtesy of said friend.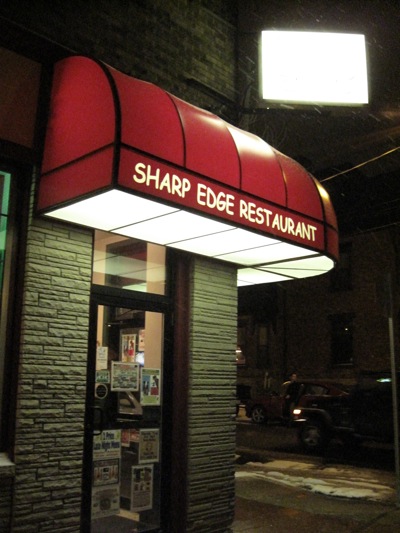 Sharp Edge Beer Emporium
www.sharpedgebeer.com






302 S Saint Clair St
Pittsburgh, PA 15206
(412) 661-3537
The Sharp Edge really falls into the category of "regional chain," but the Shadyside/Friendship location that I went to this time is the original. They call it the "Beer Emporium." Other instances are available throughout Pittsburgh—from Sewickley ("The Bistro") all the way down to McMurray ("The Brasserie"). Each location takes on both it's own tagline and it's own distinct personality. Basically, they do a good job of keeping things interesting.
The "beer bling" decor. Being the original, the Beer Emporium that I hit up with this visit is a little bit homier, than the comparatively pristine Brasserie (located in a strip mall, of all places). Each location is decorated with its own mass of rustic "beer kitch" on the walls—though not nearly enough to overdo it to the boring extent of a big chain establishment. Applebees, anyone? Overall, the setting seems to match the restaurant.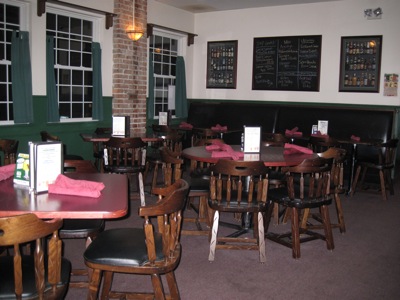 About that winning atmosphere. I can't remember ever going to the Sharp Edge and not feeling comfortable, welcome, and at ease. The wait staff is always friendly and outgoing: that all-important server rapport never fails to develop. That alone makes for a great place to hang out and have a beer with friends.
I don't know if it's due to good hiring practices, good training, or just providing the right atmosphere, but the servers never fail to be interesting and talkative. For this particular visit, my experience was no different. I showed up a little early, and developed a really nice back and forth with the waitress while I took way too long deciding on a beer. Even after being joined by my companion, the playful back and forth continued through all of our interactions.
Not my favorite menu. I'm certain to get some angry responses to this position, but I'll come right down on it: the menu just isn't what I'm looking for. That's not to say it's not good; it's just not for me. Though they include a few veggie shout-outs, the trend is toward big and greasy—a far cry from healthy.
So what is on the menu? The more notable options include some rather eccentric burgers: ostrich, buffalo, Kobe beef. Other menu sections offer up the more traditional sandwiches, salads, and even pizza. On the veggie side of the fence, the options are really either a grilled veggie panini or veggie pizza—plus the obligatory field green and house salads. Of course, the mac and cheese entree is a non-meat option as well, but I wouldn't call it veggie-focused (or healthy).
Like I said, my opinion isn't universal. For some people, the Sharp Edge food is fantastic. My dining companion, for example, absolutely loves the ostrich burger. Another favorite: the pomme frittes with three different dipping sauces.
Beyond the salad: fish tacos. Knowing full well that the veggie items could very easily be a disappointment, I went crazy and ordered the fish tacos. As some readers have probably noticed, I'm a veg-head for the sake of general healthfulness, and have no problem hitting up seafood from time to time. I'm also particularly fascinated by the quest for quality fish tacos.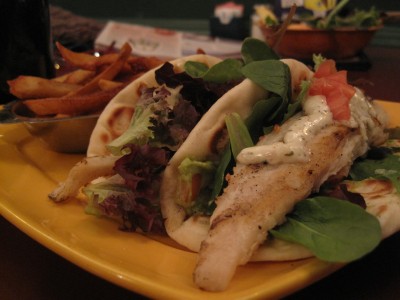 Well presented; lackluster flavor. Given the Sharp Edge's good reputation with the stuff that is on their menu, I expected some high quality fish tacos. For $16, they prettymuch had to be. Sadly, they were only partway there: not $16 worth of good. The presentation was beautiful, but the quantity was excessive (perhaps explaining part of the $16). The lengthy wedge of grilled cod was well cooked, but could have used some additional seasoning. In many cases, a fish taco almost implies some sort of slaw to offer crunch and a little flavor, but this one didn't: instead it came with a dose of "herbed aoili." I found that it added very little other than excess calories. I would have preferred a sauce with a little more bite or acidity to accent the fish.
I still had an awesome salad. Turns out, when you order fish tacos (an entree), you get a salad as well. I opted for field greens variant, and can easily call it highlight of my visit—and not just by default. The "greens" (mostly spinach) were fresh, and the quantity of cranberry and nut was well in balance. The apple pieces were unnecessary, but good apple specimens: crunchy and tart.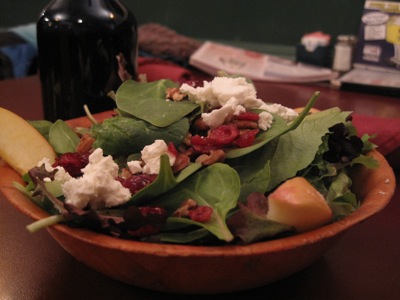 That bottle you see in the background? It's not my beer: it's the dressing—the house balsamic vinaigrette. It had a great flavor, but I didn't really even end up adding it to the salad proper: between the cheese, cranberries, and pecans, there really wasn't a big need.
Remember how my companion ordered meat? Opting to branch out from ostrich, she hit up a meatloaf sandwich (a special for the night). Like the fish tacos, it looks well presented. In this case, however, I've been told it was quite good—though far too much food for one sitting. I think she ended up taking home half.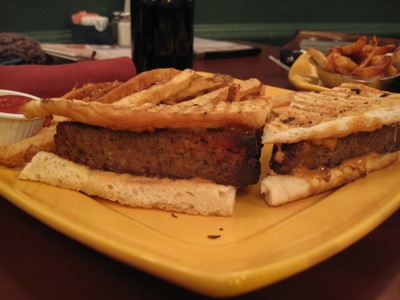 The beer? Lots of Belgians. The Sharp Edge is kind of a mixed bag when it comes to beer. Don't get me wrong, the selection is fantastic—complete with some Belgian varieties you probably can't find anywhere else. After all, Belgian is really the unifying theme. My issue: I sometimes wonder if they don't lean too far in that direction.
Though they've picked up ever so slightly on the recent explosion of high quality craft beer, they still focus primarily on Belgians—plus all kinds of other imports. If that's what you're looking for, you want to be there. My biggest problem: on the draft side of the menu, it can sometimes be difficult to land on more than a handful of sessionable options: Belgians tend to be big beers. Of course, the recent trend in American craft beer seems to be toward pretty big styles anyway, so I may not even have a solid complaint.
Keep an eye on your wallet. The Sharp Edge can be damn expensive. I've heard horror stories of guys going there for drinks and dinner after work and ending up with a $100+ bill for two people. Somewhat hard-to-find imports drive part of that equation, but the food also tends to reach into the upper limits of the casual dining spectrum. Order an entree and a few of the more interesting beers, and things quickly add up. My advice: pay attention to what you order, and you should be fine.
Overall, a solid hang-out. I like supporting the Sharp Edge (any location), but I can't say I'm universally a fan. The atmosphere and waitstaff are alway fantastic, and that alone makes it one of my favorite places to hang out over a beer. The food, on the other hand, really doesn't fall into the category I'm aiming for. The beer selection, though extensive, can often been expensive and focussed on some rather big styles. For a beer with a friend, the Sharp Edge does the trick quite nicely. For a full dinner, it's not my destination of choice.
Tags: good-beer, non-veg-meal, regional-chain, veggie-fail
9 Responses to "Review: The Sharp Edge"
Leave a Reply