Posted by mike | Filed under Beer, Reviews
Just before things got really busy for Christmas, I made my way over to the South Side after work to exchange gifts with a pair of friends. For the sake of some new FoodBurgh content, I had suggested we do the exchange at a relatively new place: The Bar @ 2132. I had been there for drinks a few times already, but never ordered any actual food. They seem like exactly the type place I want to support, so I wanted to try the food and post my thoughts here.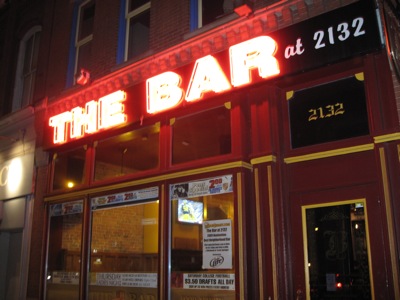 The Bar at 2132 ($$)
www.barsmart.com/2132







2132 E Carson St
Pittsburgh, PA 15203
(412) 488-3980
First off, I love the name: "The Bar." The first time I noticed their unapologeticaly clear sign, the name alone inspired my group to stop in for a drink. If I remember correctly, we were walking past in an attempt to salvaged a mediocre dinner elsewhere. The Bar seemed like just the place.
I estimate they opened under the current ownership in 2008—replacing "Wild Bill's Sports Bar." Based on my experiences at The Bar, I'm glad they did. On the surface, there's nothing special here: a pretty standard slate of pub-type food and an above average beer list. But that impression doesn't account for my favorite quality: The Bar is far more low key than the likes of Fat Heads or Smokin' Joes. At The Bar, I can actually find a place to sit down (table or both) and don't have to compete quite as much with the music to carry on a conversation—though both of the other places above have a better beer list.
Based on details pulled from some recent Munch coverage, it also sounds like I share an alma-matter with the owners. It's always good to see some non-tech CMU success stories. That's not to say I have a problem seeing tech-oriented CMU success stories; I am, after all, a computer engineer. :-)
More casual than it appears. The new owners have put a lot of effort into remodeling, and I think it has paid off. You might even say they did too well: when I first walked in, the tall ceiling and statuesque furnishings almost scared me away. For a minute, I thought it was a nicer place than I wanted to visit. Worry not: The Bar manages to be a far more casual an establishment than it first appears.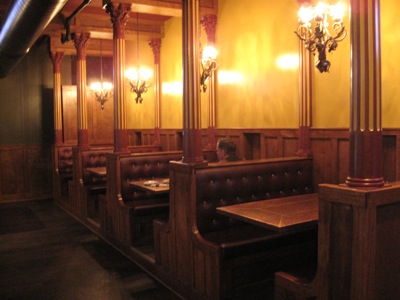 For my most recent visit, I showed up before my friends and found only a single bar tender—no wait staff. He suggested I take a seat anywhere I like and served up my first beer. It's worth noting that if the place were busier, he wouldn't have had a chance to explain seating (i.e., there's a potential for confusion). In any case, I found a booth and made use of the free WiFi network to catch up on email while I waited for friends. That's one activity that I'd feel comfortable with at The Bar but not some of the other South Side destinations. Also, did I mention the free WiFi? They have that.
Pub Food Plus. The menu splits out appetizers ("drinking buddies"), salads, sandwiches/burgers, and pizza—a fairly standard spread. If you're looking for details, the whole thing is available online. One thing I will note is the availability of veggie appetizers that aren't breaded and fried: a grilled vegetable stack, grilled mushroom caps. If you're looking for deep fried, well, they have corn fritters too (served with maple syrup). They also serve up almost as many salads as sandwiches—a trend I particularly enjoy.
A non-fried veggie stack. Out of enthusiasm for the non-fried veggies, I ordered a grilled vegetable stack to share with the only friend that actually made it out. Think of it as a better implementation of the grilled veggie pita from Lot 17—only without the pita. Basically, it's a well-presented stack of marinated grilled zucchini, yellow squash, eggplant, and portobello—with goat cheese and roasted red peppers around the edges. The flavor was well balanced and lacking the overpowering grease that has a tendency of finding it's way into this type of dish. Basically, this was a big score for The Bar; I was impressed with this one.
Panini with no (structural) integrity. When it became apparent that the third in our group couldn't make it out, we ordered a sandwich to share. Partially out of consideration for my companion, I went non-veg on this one with an herbed chicken panini. My first impression: the sandwich was huge—and precariously resting between thin (but large) slices of toasted white sandwich bread. Unfortunately, the flimsy bread didn't have a chance of supporting that much surface area—it fell apart almost instantly. The fact that it used chicken pieces rather than a single chicken breast didn't help either. That said, the chicken pieces did avoid a common chicken sandwich problem: without some heavy tenderizer work, chicken breast really doesn't fit evenly into a sandwich.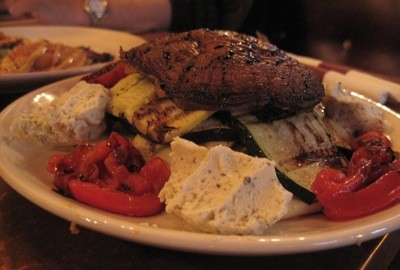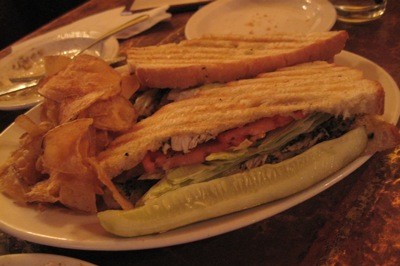 It's actually, a shame the sandwich fell apart so easily. The chicken carried a nice herb flavoring that I could have mistaken for a pesto spread. The shredded lettuce and relatively bland winter tomato weren't ideal, but didn't really detract too much; they almost fit in with the sandwich. Even disregarding the structural challenges, I still won't call this one an excellent sandwich—but it certainly wasn't bad either. Basically, there was room for improvement.
Above average beer list. I've used that phrase too much lately. At what point do I need to adjust my notion of "above average" beer lists? Everyone is taking note of the current trendiness of craft beer, so the average is definitely shifting up. That said, The Bar still does pretty well. I count about 12 exactly 24 tap handles with a selection dominated by what I would consider good beer. The selection pales in comparison to more beer-centric establishments, but there's still a good chance you'll find something you like.
UPDATE: Note the correction I made to the number of different beers available on draft. I originally indicated 12, but there is actually a second set of tap handles to bring the total up to 24. A full list is available here. Thanks to Joe, one of the owners, for pointing out the error.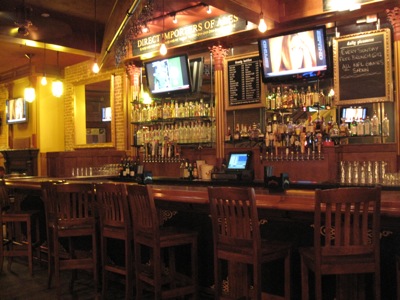 Do they really serve homebrew? Well, yes and no. One of the owners brews his own beer (a "homebrewer" in beer geek parlance). As a side project, he brings in kegs of his own beer about once a month. According to the bar tender, it never lasts through a single weekend, so you'd be lucky to catch it. Sadly, I was not so lucky: I have yet to run into homebrew in any of my visits.
Looking forward to my next visit. Overall, I loved The Bar's laid back atmosphere and paring of good beer with free WiFi. Food-wise, I could go either way. The menu aligns fairly well with my tastes, but there were some definite issues with my sandwich. I'm actually rather excited to go back another time and try out one of their salads. I'm hoping to find one of the better salads in the South Side, but, for now, that expectation is completely unfounded.
Luckily, I'm heading back with the Pittsburgh Beer MeetUp later this month, so that salad will have its chance.
Tags: freewifi, independent, newcomer, south-side, veggie-friendly
3 Responses to "Review: The Bar at 2132"
thetornado Says:
January 29th, 2010 at 8:28 am
Leave a Reply