Posted by mike | Filed under Reviews
For whatever reason, Avenue B has been high on my list of culinary destinations from the time I first heard of the place. Judging from the number of other foodies that have suggested the place, I'd say I'm not alone. Really, all I needed was a good excuse to make my way over there. Lacking such an excuse, I made my own: the first outing of the FoodBurgh Meetup. I had actually considered starting such a meetup for a little while, and this was just as good an excuse as any to get one started.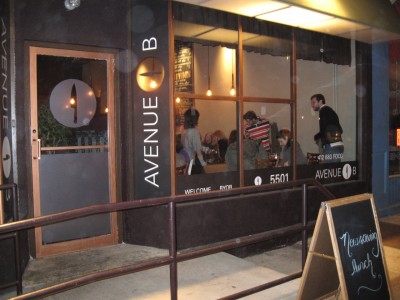 Avenue B ($$$)
www.avenueb-pgh.com






5501 Centre Ave
Pittsburgh, PA 15232
(412) 683-3663
From what I've read, Avenue B aims to be a casual establishment with up-scale cuisine. If you've ever read me grumbling about "stuffy" restaurants that try to hard, you have a pretty good idea of how well that placement suits my tastes. Founded by Chris Bonfili, the former executive chef from the Red Room, Avenue B does a pretty good job of hitting that target—though with an up-scale price point.
Clean, crisp, and slightly rustic. The restaurant sits on Center Ave in the space previously occupied by the Istanbul Grille—just up Center from the Giant Eagle Market District. The view from the street is clean and crisp with solid colors and somewhat rustic brick walls. The sign is simple but effective—though it would be easy to miss if you were just driving by.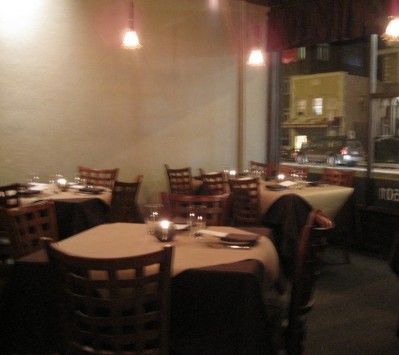 The interior follows the straightforward look of the main storefront. The dark green colors and high ceilings really make the right impression: clean, but also rustic; exceptionally comfortable. The tables are topped with brown paper tablecloths, which probably sounds horrible in writing, but make for a much more laid back environment than tablecloths of any color. That brown paper also makes for an interesting contrast with nicely presented place settings and napkin-wrapped menus.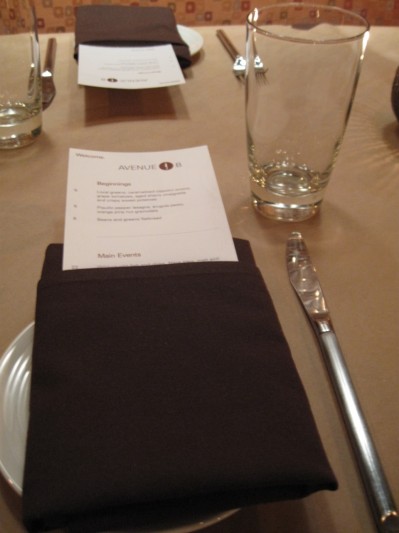 An awkward start. Because I was heading out with a fairly large group, I made a point to call ahead and make reservations—for 8. Despite my planning, things were a little awkward when I showed up—mostly because the rest of the group was running late. I ended up sitting around, posting a quick photo to Twitter, and trying not to feel out of place. For the first stretch, our waitress seemed just a little too eager to get everything right. That was by no means a bad thing, but completely unnecessary and slightly strained. Thankfully, that weirdness quickly improved.
By the end, an amazing wait staff. Once everyone arrived, the all important server-customer rapport started to improve significantly. One of my fellow diners in the back of the table felt a little ignored for a few minutes after arriving, but I'll write that off as completely acceptable given the burstof new people; our waitress was pretty busy.
Once we all started ordering and our waitress got the message that we were an easy-going crowd, the interactions started to get much more light-hearted and fun. By the end of the meal, the table's corner occupant was being addressed with an "Okay, dude" and an arm around his shoulder. It was great to have a waitress so quick to realize that such informalities were fine by us.
The menu: tiny buy sufficient. The menu at Avenue B is thin—literally; it covers only a single side of a single column page. That brief menu changes seasonally and is accompanied by about the same number of items on a list of nightly specials—presented on elevated chalkboards on either side of the restaurant. Sometimes a sparse menu can be a challenge, but this one seemed to have enough variety that most everyone found something to get excited about.
Separated into just three sections—"beginnings, "main events," and "desserts," I counted only a single salad: mixed field greens (though, another appeared as a nightly special). In terms of vegetarian options, I counted one of the three from the printed menu's main events—crispy eggplant over tagalini with a red pomodoro sauce. On paper, 33% veggie-friendly is pretty good, but facing just a single option can be hard to stomach. Luckily, the specials list included a few veggie options and the lasagna appetizer was veggie as well—so there's a good chance you'll have more than just the one. It's also worth noting (as our server did) that big chunks of the menu could easily be made vegetarian by request. Our table took up that possibility by ordering an order of flat bread with beans and greens…minus the sausage.
The picture below is the standard version—with sausage; we ordered one of those too.
If you're interested in details, the Avenue B web site has a copy of the print menu available for download. Presumably, they update the PDF with each seasonal update.
The field greens salad. None of the salads on the menu were what you might call an entree salad. That kind more robust salad was actually what I was looking for, so I compromised by starting my meal with the field greens salad. Actually, I was going to just order the salad and maybe have a piece of flat bread. The waitress convinced me that the salad was a little small for that—and she was right.
The salad was basic, but extremely well prepared. At just about any other establishment, I would request dressing on the side to avoid a greasy, and even unhealthy salad. I gave Avenue B the benefit of the doubt and ended up with a nice balance. Just a light coating of a balsamic vinaigrette—sufficiently light that none of it dripped on to the plate. The curly things on top are some type of seasoned, fried potato—basically, potato chip in curly thin strips. I picked up a sweet tangy flavor reminiscent of barbecue flavored potato chips—only without the aftertaste.
Seared ahi with soba noodles. Because I had ordered the salad, I went with an appetizer for my main course. I was actually leaning toward the eggplant dish for the sake of being veggie, but ended up skipping it in favor of something a little lighter. To my (strictly) vegetarian readers, I'm sorry to let you guys down.
Like every item, the serving size was "right-sized." It was small enough that I could eat the whole plate and not feel guilty for the rest of the night. The fish itself was very nearly raw—in a sushi kind of way. Despite a seared exterior, the fish was cold throughout. That cool temperature seemed to really prop up a nice texture and some rather subtle flavors, so it was more than welcome.
The tuna came propped up against a mound of cold soba noodles seasoned very lightly with something close to soy sauce, and maybe some rice vinegar. I suspect greens on top were some type of seaweed, and the red on top—well that's roe (further apologies to the vegetarians). Overall, I'd say all pieces of the ensemble were light and refreshing. You might think soy sauce would stick out, but that must just means that we're all used to using too much in our own kitchens.
Others at my table ordered a number of other dishes, so I'll post some pictures of the highlights below. I should note that I heard minor complaints from my companions regarding bland mashed potatoes accompanying the meat loaf, but nothing else.
Some screamed for ice cream. It's also worth noting that two of my companions went so far as to order desert. One opted for a multicolored arrangement of three ice cream flavors—basil, pistachio, and one other I can't seem to recall. The other ice cream recipient has an egg allergy, and our waitress took it as her personal mission to identify a desert he could actually eat. The chef sent out a dish of (presumably non-custard) ice cream on top of homemade graham crackers—all with a drizzle of chocolate on top. He was both impressed and very pleased with the result.
Bring your own beer. Avenue B is a BYOB establishment, which is always a mixed blessing. On one hand, you get to pick up whatever beverage you want (and probably pay less for it); on the other, you need to do a little planning. For this trip, I had done sufficient planning to hit up Growler Hours over at East End Brewing Co before dinner, so I definitely have to give a shout-out to Scott for making that an option.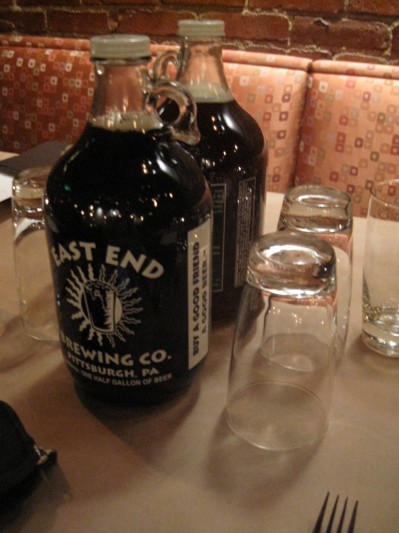 I knew ahead of time that several of my dining companions weren't open to beer with much of a hop backbone, so I went with Fat Gary (East Ends's highly sessionable standard) and the 32nd iteration of East End's experimental session beers: a Belgian Pale Ale. I won't really try to describe each of them; if you're interested, then make your way over to growler hours and try some for yourself. Get a move on it, though, I'm not sure how much longer that Belgian Pale Ale will last. :-)
Worth every penny. A trip to Avenue B can be pricey—that's just the genre it fills. That said, it's worth noting that the pricing at Avenue B is nearly identical to another restaurant I just reviewed: Palomino. If you can recall, I came out of Palomino somewhat dissatisfied with what I got for my money. Avenue B was very much the opposite. I left Avenue B thrilled with the experience and truly excited by the quality of food and the quality of our experience—thanks in part to an exceptional waitress. Given that enthusiasm, I had no problem dropping a sizable chunk of change for an exceptional experience—at least on a somewhat rare occasion.
Tags: independent, newcomer, veggie-okay
6 Responses to "Review: Avenue B"
Leave a Reply