Posted by mike | Filed under Beer, Reviews
It's about time for some FoodBurgh cleanup: going way back in my stack of review score sheets, I have notes for a place called Beer Nutz. I really don't like the name, but one of the owners emailed me a while back to suggest I might check them out. I'm always on the look out for a great place to grab a beer, so it seemed worth a try. Back in early January, I rounded up the troops and headed out with a group of friends on a Saturday night.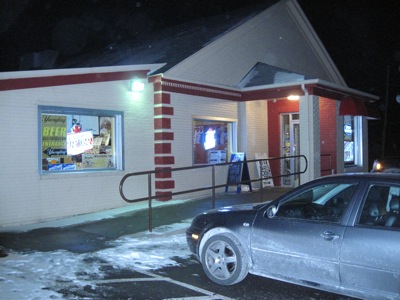 Beer Nutz Bottle Shop
beernutzplaza.org (broken link!)







1335 Freeport Rd.
Pittsburgh, PA 15238
(412) 963-6882
As a place to grab a beer (or buy a case at the adjoining distributor), Beer Nutz does a pretty good job. With different sets of coolers and some un-chilled shelving, they have a lot of beer options. That's not to say they outdo either D's or Bocktown, but there's little chance you won't find something worth enjoying—unless you're that one friend that doesn't like beer at all (we'll call her #5 in my group).
Situated way out in Aspinwall, they aren't anywhere close to local for me, but if you're out that way, it's a solid place for a beer. Sadly, that didn't seem to be the case relative to food: I and multiple others at the table were somewhat disappointed by our meals.
Inside: bright, clean, and spacious. When you first drive up to the place, it's not clear what to expect. Some of my companions were even a little nervous about even walking in. Fear not, there's absolutely no reason to fear. A step inside shows off a well-kept, bright room with a decent row of tap handles, an open kitchen, and plenty of beverage coolers. The main room offers up a decent amount of seating at bar-height tables—in this case, all of those tables were filled. A second, smaller room on the other side of the kitchen offers up dart board and a few more (normal-height) dining tables. The second room was empty, so I and my 5 companions found a table there.
An adjoining distributor. Though I didn't stop in, I should note that the same building houses both a beer distributor (i.e., cases of beer) and a bottle shop (i.e., food and individual bottles). This is the first I've heard of such an arrangement, and one can imagine using the bottle shop as a method to decide what to pick up next store. I'm not sure I would ever make use of that possibility, but somebody out there might. In general, the trip I take to the bottle shop and the trip I take to the distributor are two very different use cases that don't really tend to overlap.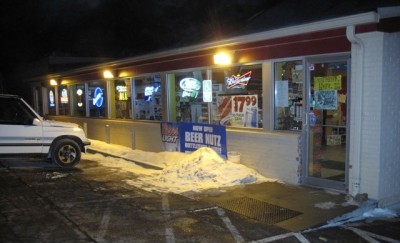 Holes in the menu. Though the "placeholder" site (on around-foxchapel.com), suggests they have a "large menu," I didn't find that to be the case. I found only burgers and salads and various piles of fries—plus some wings. The whole list is up on Urbanspoon for anyone looking to check it out. The unitary vegetarian option: a pita platter with hummus, feta, pita, and a few veggies didn't really make sense as a meal. To be fair, the focus is clearly on beer, and they never promised to serve up healthy or vegetarian options, but I wish they had done better on that angle. I would have liked to see at least one vegetarian salad or maybe some kind of wrap.
Based some positive trending salad sightings, I suspect I'll be ordering one of those in any future visits. I'm sure they would have no problem serving up a grilled chicken salad sans grilled chicken.
Beer selection? Good, but no surprises. Departing from my normal format, I'm going to talk about beer options before I go on to nit-pick the food. That follows and the Beer Nutz approach and gives me a chance to start with the positive. I found options from just about every brewer I expected to see and even a few I didn't. Somewhat notably, I found multiple "He-Brew" options from Shmaltz—something I haven't exactly started to see everywhere.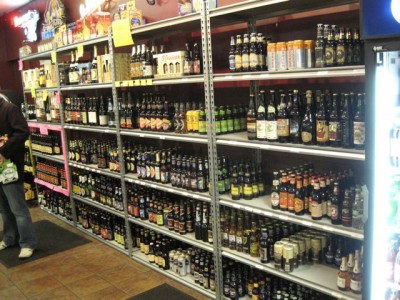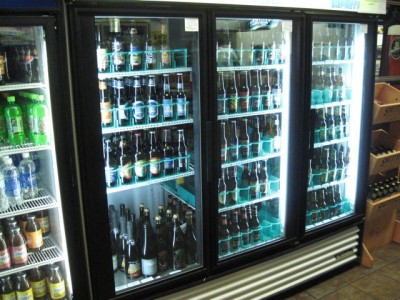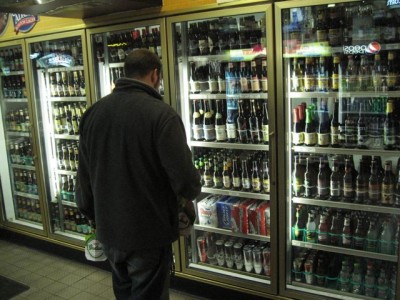 One category in short supply: less common options. Most places will have a few 750mL bottles of some more interesting options or just beer that I hadn't heard of. Sometimes I'll even find 12 oz bottle I never expected to see. Those are winning stories: I consider a bottle shop to be successful when they show me something I didn't know about before walking in. Beer Nutz didn't really manage to do that.
Not seeing something new and unexpected may just mean that I've been saturated with beer awareness, but, given the industry's rate of change, I find that hard to believe. My hope is that this is just a characteristic of being relatively new. My hope is that they'll start to reach a little once they turn through a few more iterations of their regular inventory.
The Mediterranean Platter. While this "platter" did provide for a vegetarian option, I was somewhat disappointed by the execution. The platter consisted of kalamata olives, peperoncini, slices of feta, sliced tomato, soft pita, and hummus. First off, there are some positive notes: they could have done far worse on the olives, and the presentation was fairly well done. As the pita, I find that it usually comes in one of two varieties: hard pockets from a "lean" dough (i.e., minimal fat or other additives) and softer, "flat bread" without much in the way of a pocket. Beer Nutz served up an example of the latter.
What went wrong? A couple of issues. First, the tomato slices were the kind really meant to top a sandwich. For the platter, I would have liked to see a different variety (or at least thicker slice). The tomato the did use was flavorless and not particularly easy to consume with the pita. Second, the hummus was…lacking in complexity and overly salty. Hummus is a relatively easy to make in-house, but I'm fairly certain the Beer Nutz hummus wasn't: it was wet, overly salty, and otherwise dull—basically, cheap manufactured hummus. They could have done a lot better—even without making their own.
Continuing with the nitpicks, the feta pieces were somewhat large for consumption without first being broken up, but that's was difficult with the sparse collection of toothpicks and notable silverware shortage. Even dining companions who ordered a salad had to go hunting up front and make special requests for a fork. I decided not to go to the trouble.
Some brighter notes on salads. Two of my companions ordered a salad, so I did get a chance to see if they turned out any better. Thankfully, the situation seemed to be an improvement from the platter. Though neither salad-ordering companion was extremely happy with the salad, I should note that their only complains surrounded off flavors of the chicken/steak on top. Somewhat unexpectedly, all of their salads sat on ample beds of mixed greens. That much was a plus. By default, all salads came topped with fries and a handful of cheddar. I also noted a peperoncini floating on top of each.
Overall, the salads came with plenty of greens, but that's where any notion of healthy eating collapsed. Fries, cheese, and off-tasting meat were just about about the only other components. More veggies on top would have been a a big plus.
Don't forget the burgers. Two of my dining companions ordered burgers, and their reviews were somewhat contradictory. One was overall moderately happy with his cheeseburger, the other was frustrated by an aggressively charred and overcooked patty. I'll give Beer Nutz the benefit of the doubt and assume that was a fluke. Based on appearance, and at least one success: I'll say the burgers are probably pretty decent.
Will I be going back? Well, there's a lot of room for improvement, and I'm actually quite interested in what happens over time. I'd like to go back to check in on them, but I wasn't really impressed. As I've said before, both D's and Bocktown have better food and a better beer selection. Those places lack an adjoining beer distributor, but I'm not sure what use case requires the two to be connected. If Beer Nutz is a convenient destination for you, then by all means give them a try. If you're in the city like me, then I don't really see the need.
Tags: freewifi, independent, newcomer, veggie-fail
11 Responses to "Review: Beer Nutz"
Leave a Reply