Posted by mike | Filed under Reviews
I have a pair of friends that I happened to meet through other friends. We all have those, right? Well, the "source" friends are currently out of the country—volunteering for a good cause, but the follow-on friends are still in Pittsburgh. In fact, they joined me in heading out to a restaurant I had only recently found out about. On Saturday, we made our way out to Franklin Inn up in the North Hills.
For those of you that aren't completely lost in the layers of friends, I'll give the follow-on friends names: Kate and Brad. Brad is a fellow computer geek professional that works in an office building the street from my own. Kate is one of my two photographer friends, so she volunteered to do all the photo work for my post. If you like what you see or happen to be seeking a photographer for a special event, go ahead and seek her out over at Captivating Imagery. The lighting at Franklin Inn was less than condusive to quality photography, and she still managed to pull of some good shots—without a flash, no less.
Now on to that review…
Special Note: This and all photos for this post from a professional photographer (and friend): Kate Miller of Captivating Imagery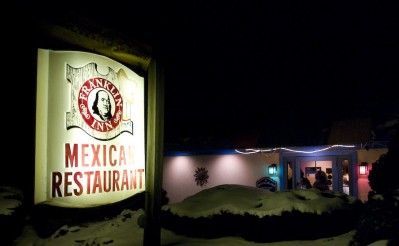 Franklin Inn Mexican Restaurant
www.franklininn.net






2313 Rochester Rd
Pittsburgh, PA 15237
(412) 366-4140
Franklin Inn is way up in the North Hills—somewhere along Rochester Road between I-79 and Route 19. It's not really near anything else—largely in the middle of a largely residential area. According to the restaurant's web site, it was founded by the Cibula family in 1978 and is currently owned and operated by the original owners' children. Here's the funny part: you won't find even a hint of Mexican blood in the Cibula family tree—though they have traveled to Mexico in efforts to refine their craft.
According to various sources, the restaurant was founded as the "Franklin Inn" in 1978. During the first few years, the Cibula's found some success in Mexican-themed nights. By 1980, the restaurant had been converted to an almost entirely Mexican theme—with the pesky exception of a decidedly American name (and Logo). The "Franklin" here refers to good ol' Benjamin of US history fame.
Complete packed on a Saturday night. Remember, Franklin Inn is a little off the beaten path. The parking lot is a reminder of that fact. It's definitely a big lot, but all gravel and, when I showed up, completely packed. Thanks to the gravel, the parking spots aren't exactly delineated very clearly. Walking into the restaurant explained the overflowing lot: the place was packed. I made my way out on a Saturday night, so it wasn't unreasonable to be that packed. More than anything else, I was impressed; who knew a place I had only recently heard of could attract such a large (and seemingly devoted) crowd?
Once we waited in a (somewhat cramped) waiting area, we were seated in the front dining room. The wait for the table was long, but once we sat down, things started moving very quickly. Given the mass of people, and a lively conversation at my table, conversation with our server was minimal. That said, he seemed friendly and was quick to help out when I was looking for a recommendation for my order. With everything else going on around us, it's hard to say much else about that all-important customer-server rapport that I'm always looking for. In this case, there was some potential, but no real opportunity.
Fairly standard menu with some noteworthy options. The menu over at Franklin Inn is rather large, but it's available online for anyone who wants to review before you head out (it's available in PDF as well). The first section, soups, actually lists some rather exciting-looking options—all very clearly made in house. I think the next time I go, I might have to go non-veg and give the Aztec Chile a try. Interestingly, the next section features some not-so Mexican sandwiches and pseudo-Mexican salads. I'm guessing this is an homage to their not-so-Mexican origins.
The real meat of the menu gets into Mexican combos, dinners, and "house specialties." In those sections, I found the following vegetarian options:
Black bean and feta burrito
Pinto and cheese burrito
Grilled portobello and vegetable burrito
Chile Relleno
Portobello and vegetable fajita
Trying to be a wee bit healthy, I was aiming for a decent amount of vegetable matter (rather than just beans and cheese). That left me with either the portobello and veggie burrito or analagous fajita. Quite honestly, a number of other options on the menu—both seafood and beyond looked appealing (and possibly open to being veg-ified). The net time I hit up Franklin Inn, I would definitely consider going a little wild and trying a non-veg option or seeing what they can do to pull the meat out of something else.
The owners are paying attention. While writing this post, I actually received an email message from one of the owners (Wendy). She sent me a personal note in response to my comment card and Urbanspoon review. Based on her feedback alone, I think I definitely need to schedule another trip out to the Franklin Inn. She was actually the source of several points in the previous paragraph. (Thanks Wendy!)
In addition to giving me the full details on veggie options, Wendy put in a plug for the Mason Jar Margaritas. I noticed several of the jars on tables throughout the restaurant and imagine some of my readers would be rather interested in such an option. If you're one of the people that likes Big Azz Margaritas from Mad Mex, well it sounds like you found your next adventure.
Chips and Salsa. When I was a kid, I lived fairly close to a Mexican restaurant with a daily ritual of making their own chips—you can only imagine how good my bus stop smelled in the morning. Wendy was sure to point out that the Franklin Inn's chips are made in house. Once she made that comment, I pulled the pieces together: the Franklin Inn chips were almost identical to the fresh chips of my youth (and those were made by a couple straight out of Mexico).
Franklin Inn also makes their salsa in house.  Saturday night's salsa was a fairly straightforward cooked salsa. It's the wrong time of year for fresh salsa, so that made sense. The result was well-rounded with just enough heat to be good for a full range of restaurant-goers. According to Kate and Brad, the salsa served up over the summer is made with fresh tomatoes (making use of a better season for tomatoes).
Portobello and Fresh Veggie Fajita. There are times when I might be a little bit more lax in my search for vegetarian options, but plans for a FoodBurgh write-up tend to make me lean ever so slightly more vegetarian. It was in that vein that I decided to go for either the veggie fajita or veggie burrito. My water was rather quick to recommend the Fajita as the better option, so I went with it. I pondered such veggie options as chile relleno or the bean and feta burrito, but both seemed like they might be a little heavy on the cheese (i.e., unhealthy). Plus, I was hoping to get some actual vegetable matter—beyond just beans and cheese.
Huge on veggies; subtle on flavor. I actually made this same comment in my review on Urbanspoon (on the night of my visit). The fajita involved a larger quantity (and variety) of fresh vegetables than I ever expected to see: I counted zucchini, broccoli, green/red peppers, and onions—plus the portobello. Served in the traditional style of fajita's at an Mexican restaurant, the veggies occupied the entirety of the an oblong skillet. Tortillas came on the side, along with a dollop of sour cream, guacamole, and salsa—each in a small plastic cup.
Less seasoning than anticipated. The veggies themselves were varied and still slightly crisp, but I really expected a little bit more from the seasoning. Wendy responded to this comment, by indicating that most of her clients were looking for a minimal amount of heat. The veggies served with fajitas are prepared with only olive oil and garlic (and presumably at least a little salt/pepper). Wendy also pointed out that hot sauce was definitely available. I'll accept that; heck, I even used a little hot sauce (and salsa) from the table to season the veggies to my liking—though I ran out of salsa fairly quickly.

Photos from around the table. Brad and Kate also ordered some good-looking dinners. Brad hit up the Frisco Enchiladas: chicken, corn tortillas, sour cream, corn, cilantro, and lime. Kate hit up the chicken enchilada—which was a quick switch-up from the Diablo Relleno special she originally planned. Neither of my companions had all that much to say about their orders, but I'll post photos (from Kate!) below.
Don't order salad in a mexican restaurant. Being a salad aficionado, my official stance on salads in a Mexican Restaurant is simple: authentic mexican and a good healthy salad are mutually exclusive; you can't have both. I say that because Brad ordered a side salad as one of the sides with his dinner and was a little disappointed. The smarter option in this context would have probably been the black bean and corn salad (which Kate did order).
How about the beer? This is yet another situation where I'll say, "at least they tried." They do serve up a few different mexican beers: notably bottles of Negra Modelo—a classic example of Vienna Lager, by the way. I also caught a reference to Dogfish 60 Minute on the bottle list, which has apparently become the de facto craft beer option for restaurants that traditionally wouldn't have craft beer on their beer list. I went with a Newcastle Brown Ale, and it was…enjoyable enough. My advice, if you're looking or alcohol, order up a margarita. They serve those in rather exciting mason jars and offer up a number different flavors—some of which you probably haven't seen in a margarita.
Good overall, but I need to head out again. There are times when I hit up a restaurant, order some vegetarian dish, and write up a review while thinking how good my next order could be. That's exactly where Franklin Inn stands. I'm giving them 3 stars here, based on difficulty finding healthy vegetarian options, a desire for more flavor in their vegetables, and a beer selection with room for improvement. That said, I have a feeling some of those issues would be overcome if I went back and hit up some of their other vegetarian options along with a margarita in place of a beer. Clearly, that's exactly what I need to do in this case.
Should you try for yourself? Well, yes. If you're interested in trying a Mexican option you might not have hit up just yet, then you should definitely head up to Franklin Inn and give them a try yourself. This place is exactly the type establishment I like to support.
Tags: independent, pittsburgh-north, veggie-okay
13 Responses to "Review: Franklin Inn"
Leave a Reply