Posted by mike | Filed under Reviews
Pittsburgh is home to a wealth of small ethnic restaurants—most of them independently owned, and nearly all of them at least worth a visit. Having previously been scheduling most of my outings for the Pittsburgh Beer Meetup, those establishments just didn't come up. On the other hand, the newly created  The FoodBurgh Meetup brings a dramatic increase in my pool of options: ethnic food becomes a possibility. It may even be the ideal category for a foodie gathering. Shortly after I created the group, one of my members requested Abay and even helped out with organizing the whole outing. All I really had to do was take pictures and write this post. Thanks Dawn!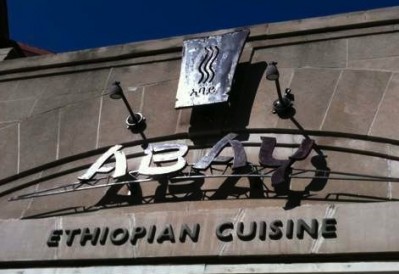 Abay Ethiopian Cuisine
www.abayrestaurant.com
130 S Highland Ave
Pittsburgh, PA 15206
(412) 661-9736
Abay is actually one of two Ethiopian restaurants in Pittsburgh, which are each located within a block of one another—the other is Tana. The close proximity is somewhat conspicuous, but I'm unaware of any relation between the two, or Ethiopian population in the area. As far as I can tell, they just happen to share the same neighborhood.
Prior to this meetup, I had been to each only once—with a rather long time between respective visits. Given the time lapse, the most substantial comparison I can form is a liquor license: Tana has one (and serves alcohol), but Abay does not (and offers BYOB). I've also heard reports of Tana's slow service and (which I also observed in my visit). In addition to noting the slow service, the Post Gazette also complains of Tana's small menu; a quick skim over on their web site seems to confirm the same.
Based on my own rapid-fire survey, you might go so far as to consider Abay the better option. The Post Gazette doesn't say it, and I'll hold off on any definitive comment until I visit Tana for FoodBurgh. For now, let's just say you should probably start with Abay.
A little small but pleasingly decorated. Tucked between Royal Caribbean and what used to be The Red Room, Abay occupies a relatively thin column of a space, but the single dining room still manages to pack in a reasonable number of tables while still keeping the space somewhat navigable. Richly colored walls show off a collection of African artifacts without ever appearing cluttered or kitschy. Most of the tables are small and ling up against the walls, but our group was actually seated at a large round table in the back. According to reports from the outing's organizer (Dawn), they accept two reservations for the big table each weekend night: one at 6pm, and the other at 8pm. We chose the 6pm slot and found the table set and ready when we arrived.
And yes, the Red Room closed.
Large veggie-friendly menu. In contrast to Tana, the menu at Abay is huge, though composed of only 3 real sections: appetizers (including soups), mix-n-match entrees, and deserts. Though the soups and salads are geared toward consumption by a single person, the entrees are intended to be shared and should be served family style to better align with Ethiopian tradition. Abay suggests ordering a combination platter with 3-4 different entrees, which are presented in small mounds on top of a thin Ethiopian flatbread known as injera.
The pricing seems to support the mix-n-match option: individual entrees are only $4-5, so it's easy to order more than one per person.
As many different options as we could order. Our group was sufficiently large to order 3 platters: covered with about 70% of all entrees on the menu, plus a shrimp-based special offered the night of our visit. I'm not going to describe each of them (mostly because I couldn't), but I can say that each item was distinct and flavorful. I found different textures, different flavors, and a wide range of ingredients. Some included a substantial amount of greens, while others tended to feature mostly lentils. About half the options are vegetarian, but the meetup was fairly mixed, so we also ordered multiple platters including meat options.
You can ask for silverware, but the preferred strategy is to tear off pieces of injera and use it to scoop small bites directly from a mound of interest. Given the size of our table, I took a somewhat mixed strategy and collected a piece of injera and a few small mounds on my own plate.
Yeah, it's BYOB. I've mentioned before that I have somewhat mixed feelings on BYOB. Given the high cost of a liquor license, BYOB is a necessary evil for small establishments, but it can also require a fair bit of planning on the part of patrons. For a pre-planned event like a Meetup outing, planning ahead is relatively easy. Particularly in the FoodBurgh Meetup, I've been using our BYOB outings to showcase local brewers. For both visits so far, I've picked up a couple of growlers from East End Brewing. It's actually been a great opportunity to educate local foodies on the craft beer scene.
You should check it out if you haven't. Not every city offers opportunities to try Ethiopian cuisine (let alone two of them). As far as I can tell, Abay does a pretty good job of offering a chance to eat traditional food in a traditional way (not that I can speak for authenticity). I'd even say they stand up as a pretty good restaurant: the service was friendly, and the atmosphere warming. In my new star-less rating scheme, I'll go ahead and call them must try. With very reasonable pricing and a knowledgeable staff, every Pittsburgh foodie should make they're way out to Abay at least once.
Tags: byob, ethnic, independent, must-try, veggie-friendly
4 Responses to "Review: Abay Ethiopian Cuisine"
Leave a Reply