Posted by mike | Filed under Beer, Reviews
Some of you may remember my first trip to Over the Bar (OTB). I liked the experience, but have always felt like it wasn't a very representative trip. I had gone out on a Sunday afternoon after working on projects around the house all morning. As you might expect, the restaurant was nearly empty at that point. I also branched out from my usual salad. I have long suspected that OTB would probably dish out some quality greens, and a second trip would let me test that theory.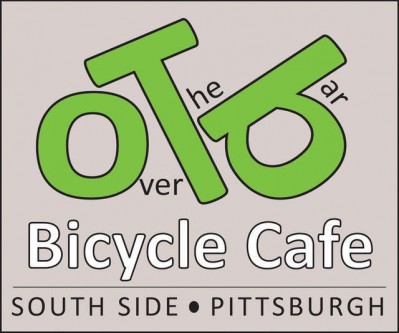 OTB Bicycle Cafe
www.otbbicyclecafe.com


2518 Carson Street
Pittsburgh, PA 15203
(412) 381-3698
For the second visit, I invited "the community;" this was the third outing of the FoodBurgh Meetup—my little experiment in reader participation. For the OTB trip, about 8 people made their way, and I'd say it went pretty well. The diversity of the group made for some interesting conversation, and one discussion even inspired another outing, to Las Velas (in Market Square).
If you don't remember, OTB is a South Side bar with a definite bicycle theme. The interior artwork includes colorful murals, and dangling old-time bicycles (and bicycle parts). They serve a "relatively small" number of draft beer options, but take care to focus on some more worthwhile options than just macro-brews. For the veg heads in the crowd, the menu also does a pretty good job of offering up vegetarian version of several meals (thanks to seitan and tofu substitutes). For the more carnivorous crowd, I'm told they serve up a pretty good burger.
For this trip, the bar was definitely busier. The staff was more than willing to save us a large-ish table in the back, which is notable given the number of restaurants that refuse to accept a reservation for any group. A quick email to one of the owners (an earlier FoodBurgh connection), and a call to the restaurant the night before was really all it took.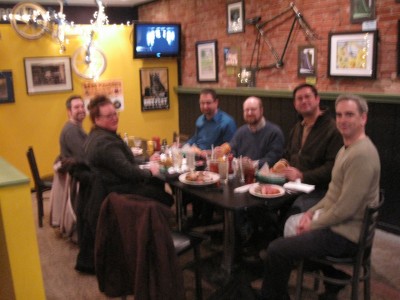 Fun and knowledgeable server. In my original review, the service was effective but not very interactive. This time, the situation was far different: the bar was packed, and we had a far larger group. Despite the crowd, our server was attentive and friendly—she even knew something about the beer. That's not to say she was a "beer person," but at least she knew some basic styles. Actually, my second beer came as one of her recommendations: a Singletrack Ale from Boulder Beer.
Good ingredients, but way too much seitan. I discussed the menu in my previous post, so I'll spare the details here. For my meal, I ordered an Allegheny Cycling Salad—with seitan, though chicken is also available. What came out of the kitchen was kind of a mixed bag. The ingredients were top notch: quality greens, tomato with some actual flavor, shredded carrot, and red onion. They top it with big pieces of seitan and will optionally present it 'Burgh style with fries cheese for $1.50 more. The seitan, unfortunately, was the problem.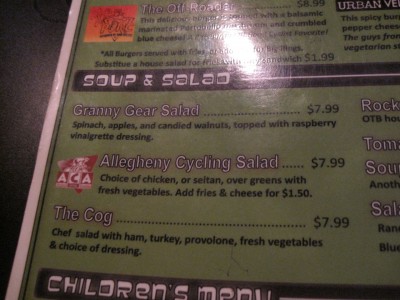 I like seitan, and this seitan had great texture, but the pieces were far too big—really out of proportion with the rest of the salad. Smaller pieces would have offered up just enough flavor to complement the salad, but the big chunks drowned out the veggies and came across as bland.
Recovered by a great server. Being good at her job, our server noticed that I lacked enthusiasm in my consumption of the seitan. She suspected I was looking for more flavor and offered to bring out one of their wing sauce options, which are apparently available with really anything on the menu. I went for the standard wing sauce, which she explained is actually vegan, thanks to a kind of butter substitute. Granted, a lack of flavor wasn't the whole problem, but the fact that the waitress took note and gave me a chance to effectively munch on a few "winged up" says to me that they're trying.
From the rest of the table. I picked up photos of a few additional items around the table: mainly the Clipless Pedal (a crusted tuna appetizer) and the Granny Gear Salad. The clipless pedal looked outstanding (see below) and was complimented by a meetup-goer as having an excellent sauce. The Granny Gear was well received, but looked to me like it went a little overboard on the candied walnuts—a little reminiscent of my experience with the seitan.
Getting past the winter beers. The beer list over at OTB isn't huge, but they do lean almost entirely toward craft beer. They have a pretty good relationship with East End Brewing, and always have something from Scott on tap. In fact, this year's keg ride (and reverse keg ride) ended (and started) at OTB.
One thing I'll note about the beer: this time around, I ran into an overwhelming number of big heavy beers. Given the season, that kind of spread is fairly standard. The problem? Winter beers tend to be big beers—delicious, but also high in both alcohol and calories. This time I was aiming for something a little "smaller" and more sessionable (lower in alcohol and caloric content). With guidance from our server, I found something, but could have used a few more options from the category.
Good for a drink, okay for dinner. It's not a must visit, but you can certainly find good beer and a place to hang out with friends. I tend to appreciate the less noisy, less crowded scene than what you might find at the South Side's far western bars, but that comes at the expense of a smaller beer list. On the food side, the ingredients are fresh, and they make a strong effort to please a veggie (and even vegan) diet. Even if you're not a health nut, they actually offer up a few rather interesting burger options. All that aside, I wish the execution was a little more reliable, and others in the group seemed to echo much the same. Even so, it's at least worth a shot.
Tags: freewifi, good-beer, independent, worth-a-shot
7 Responses to "Second Take: Over the Bar (OTB)"
Leave a Reply