Posted by mike | Filed under Beer, Reviews
I go to to the South Side frequently—more now than ever, that I'm scheduling meetup outings along side my restaurant review blog. Think about it: Pittsburgh's South Side lines up far too well with two familiar FoodBurgh themes: good food and good beer—all rolled into one. At first glance, the whole area appears to leave healthy eating in the dust, but I've actually found that you can do pretty well if you pay attention.
Last week, various meetups gave me two chances to strike south of the Monongahela, starting with a Beer Meetup at the Birmingham Bridge Tavern. The took me to OTB (a FoodBurgh Meetup), but that will have to wait for another post.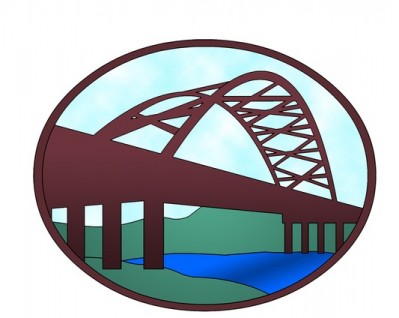 Birmingham Bridge Tavern
www.barsmart.com/bbt
2901 Sarah St
Pittsburgh, PA 15203
(412) 381-2739
Unless you've gone looking for it, you may not have ever noticed the BBT. It's tucked away on Sarah St, East of even the Hot Metal Bridge. Questions of why they called it the Birmingham Bridge Tavern come to mind, but I'll let that one go. If you ever do drive down that section of Sarah St, you'll probably notice the lights—they stand out in a part of the South Side that's otherwise residential and, well, dark. One benefit of being tucked in a far corner: I actually found a parking space within a block of the door.

First a bar and second a dining establishment. BBT does have a full menu with all the standard bar fare, but, at least in the main room, most the tables on the first floor are within an arm's reach of the bar. That doesn't necessarily say anything about the food; it just says you really ought to order a beer while you're there.
On this visit, I really only entered aforementioned "main room"—a rather narrow room on the corner of the building. I'm also told there's a second floor for larger groups, but didn't get a chance to see it. Focusing on the first floor, the bar sits on the longer interior side, with stairs and restrooms on the short interior side. The lighting is somewhat less dim than the usual bar—but still not bright (because it is a bar).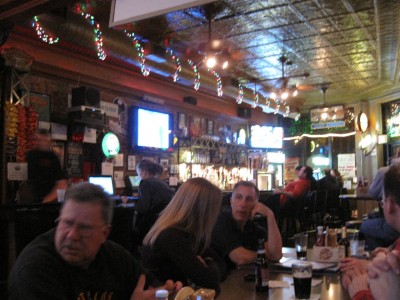 …and, of course, flat screen television pop out at every angle.
An attentive waitstaff of one. When I showed up, members of the Beer Meetup were situated at a long table downstairs, and a single employee served as bar tender, server, and restaurant spokesperson—though I can only imagine there was at least one other person in the kitchen. That "uni-server" turned out to be quite personable, and very much in touch with the beer: both traits I appreciate when I go out.
Got beer? 20 Drafts, 100 Bottles. If I were to drive past BBT and maybe even peek my head in, I would be quite sure of what kind of beer to expect. Sure, there's the requisite neon out front—from the likes of Sierra Nevada, I seem to recall. But it's still sometimes hard to tell. Fear not, BBT offers up a respectable number of "good beer" options. They even had something from 21st Amendment—just weeks after it first arrived in the 'Burgh.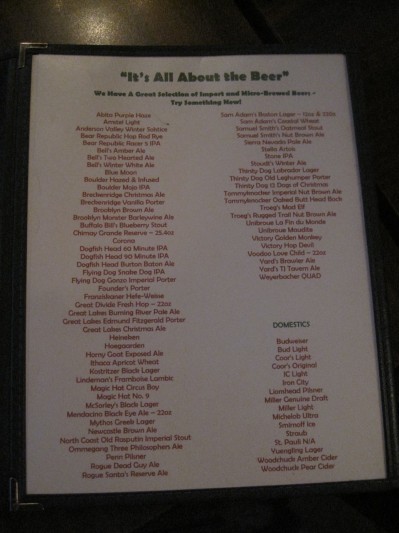 Beer travels faster than ink. Good selection aside, both the draft and bottle lists were slightly outdated. The first two drafts and first bottle I asked about had recently been replace by something else. That actually ended up working out pretty well for me: the uni-server suggested a bottle that wasn't on the list: Pandora's Bock from Breckenridge Brewing. That was both new to me and a far better bock than expected—a welcome outcome out of possible disappointment.
Complete menu, but it's not online. Working from memory and sparse notes, I'll say the menu is fairly complete (even relatively large): appetizers, salads, sandwiches, wraps, burgers—just about everything you would expect in a good pub. Sadly, I can't verify that memory with anything on the web: the closest I've found to a menu online is a catering menu over on BarSmart. One thing I did take note of: vegetarian options in every category, which were much appreciated.
So I ordered a shrimp wrap. Despite ample vegetarian options, I took the seafood route: a shrimp wrap with a side salad. All sandwiches came with a choice of sides that included even a side salad, and that's exactly what I ordered. The shrimp came served along side a pretty good mound of quality greens along with greens and croutons. The wrap itself included a reasonable quantity of internal veggie matter: lettuce and tomatoes along with large chunks of shrimp and some cheese—though not so much that I felt guilty for eating it. I found the big chunks of shrimp to have a somewhat pleasing texture that shined through everything else—that familiar not-quite-chewiness, which I rather enjoy.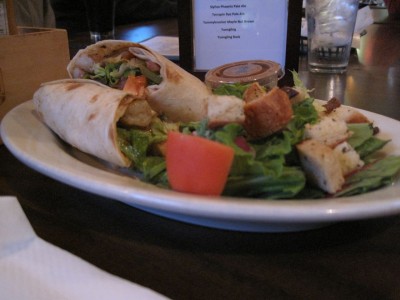 I ended up eating all of the salad and half the wrap. Both were good. That's not to say that either qualified for gourmet cuisine, but they were definitely worth eating. I enjoyed a nice shrimp texture with every bite with enough flavor to keep it interesting, but not so much flavor that the shrimp itself was hidden.
Not all that unhealthy. The best part: neither the salad nor the wrap was all that unhealthy. Both included a more than adequate supply of veggies, and the thick balsamic that came along side the salad went along way in tiny drizzles, and the veggie to shrimp/cheese ratio of the wrap was well within reason. I didn't even feel compelled to add extra veggies when I ate the second half at home the next day—a practice I seem to follow almost anytime I'm eating leftovers.

In general, I'm a fan of BBT. The uni-server was friendly enough to make me (and the entire meetup group) feel welcome, and the food was good enough (and healthy enough) to make it a good place for a beer. I wouldn't call BBT a "must visit" 'Burgh establishment, but it definitely holds it's own. BBT actually makes for an excellent alternative if you're driving in circles around the rest of the South Side and can't find a place to park. Chances are, there's a spot somewhere not too far from the BBT. Plus, if you're really desperate, they're even within a few blocks of the parking structures on Sydney.
Tags: good-beer, independent, non-veg-meal, south-side
9 Responses to "Review: Birmingham Bridge Tavern"
Leave a Reply