Posted by mike | Filed under Reviews
Yo Rita. I have no idea what the name suggests, but it's been on the tip of every Pittsburgh foodie's tongue for more than a year now. Somewhat surprisingly, I had never made my way out there. Then, just when I was gearing up to make it my next stop, I realized that it ranked high on the list of a long-time friend—and I pretty much needed to make my way out there with her.
Shout Out: Some of you may remember Sally, my photographer friend.  You should definitely check out her site if you're in need of any photo work—especially of the more artistic variety. She's responsible for some (not all) of the photo work here, so you can praise her for the good shots. :-)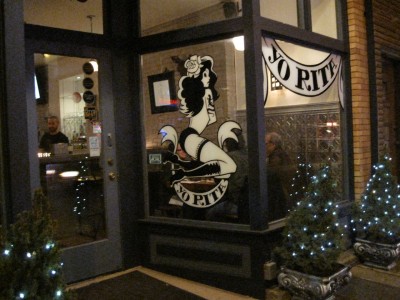 Yo Rita
www.yoritasouthside.com
1120 East Carson St
Pittsburgh, PA 15203
(412) 904-3557
I normally don't like writing about places that everyone has heard of; my time is better spent documenting those establishments that aren't getting enough word of mouth. Yo Rita certainly has no shortage of attention, but I really couldn't bring myself to avoid them any longer.
A Sousa makeover. Formerly the Iguana Grill, the restaurant that is now Yo Rita never used to serve up much in the way of quality Mexican food. At least, that's what the reviews seem to say; I never went. More than a year ago, that changed: they brought in Kevin Sousa, who you might call one of Pittsburgh's "celebrity chefs." He completely redesigned the menu and, by all accounts, really turned the place into something noteworthy.
Having now been to Yo Rita, can report that I really like what Sousa did. I even went in with a bit of a personal grudge after some disparaging remarks toward non-chef food bloggers. Now, I'm left with a highly bi-modal Sousa position: Yo Rita's reboot has served it exceptionally well, but I'm still rather put off by some Sousa's antics.
Clean, uncluttered look…but what's with the logo? I'm a big fan of a very clean decor, and Yo Rita seems to really nail it. The look is, uncluttered and still somewhat bold. The biggest issue for some seems to be the restaurant's logo. Several of my friends noted a distaste for the figure: a somewhat suggestive cartoon of a seemingly topless brunette. Short of being a conversation piece on the way in, the logo has no impact on my own experience. It's just worth noting that it has given several friends (typically female) the wrong impression of the place.
Friendly, hands off waitstaff. When I walked in (on a Friday night), my dinner invite and I had no problem finding a table: the place was only about half full at the time. We were escorted to a table in the back, and (as usual) needed far more time to decide on our orders than we waited for a visit from our server. Beyond the prompt attention, it's hard to comment on the service. Our server was friendly but seemed to notice our fairly involved conversation and took a mostly hands-off approach (which was fine in that circumstance).
Mostly tacos; mostly healthy. Though, the menu at Yo Rita's does sport a single salad and a handful of soups, the main focus is tacos. Some are completely veggie-based, others attract a more carnivorous crowd. Regardless of which side they fall, just about every option is rather unique and unexpected—everything from root vegetable with a quail egg to duck confit. In addition to the menu offerings, it's quite common to hear Yo Rita twitter updates announcing an intriguing ingredient and/or combo.
One thing I especially liked about the menu: moderate portions. The tacos themselves are all available a la carte. They aren't that big, but I'd say they were more than sufficient for a meal—especially with a few chips and a beer. If you don't think a single taco is enough, they're sufficiently inexpensive to make ordering two quite easy. At the end of the day, you're in control of portioning and should have no problem avoiding excesses.
In terms of fillings, I count 6 vegetarian, 4 fish/shellfish, and 6 meat options, and just about every one of them sounds like it would be worth ordering. The fillings themselves have a definite creative flair and diverge significantly from fillings you might find elsewhere. Myself? I ended up trying the tortilla soup and a taco—but that was really an attempt to experience the menu from two different angles.
Chips and salsa. To start with, let's talk chips and salsa. The chips weren't particularly noteworthy, but the salsa was at least a few steps above average. By default, Yo Rita served up two different salsa: one hot, one slightly more chunky and mild. The hot had a definite bite that went beyond some more restrained "hot" salsas, but it wasn't extreme in any way. I'd say it found a good balance. The best part: we didn't have to pay for chips and salsa—which isn't often the case these days.
Tortilla soup. The tortilla soup came in chicken or seitan varieties, and I went with seitan. Appearing in the bottom of an oversized, cone-shaped bowl, the base consisted of a puree with chunks for seitan, and cotija cheese placed carefully in the center—both topped with thin slices of radish. I enjoyed the presentation and found the ensemble to be quite flavorful.
Mushroom taco. While I could have ordered just about anything, I ended up going for a mushroom taco: mushrooms, greens, red pepper, tomatillo salsa, and huitacocohe (a fungus that grows on corn). The taco itself featured only that filling. Unlike many lesser establishments, Yo Rita stuck to their guns skipped the (rather unauthentic) rice and beans. I found plenty of quartered mushrooms and a pleasing level of spice that played only a single part in a rather complex cast of flavors.
At this point, I'd be willing to see that this was just about the best taco that I've had in Pittsburgh. Everything seemed spot on.
Known for their 'ritas. The margarita is probably the focal point of beverage options at Yo Rita. One might even suspect that the restaurants name serves to highlight that theme. My companion, who you might call a margarita aficionado, seems to discriminate good margarita's from bad. At least to me, a "good" margarita means quality tequila, moderated sweetness, and tastefully small quantities (which is follows immediately from the first two points). I'd say Yo Rita hits this mark—though Sally was a little disappointed to find a lack of salt on her rim.
A few craft beer options. Let me be clear: Yo Rita isn't a craft beer destination. You should go, but you shouldn't go purely for beer. That said, they do carry a small number of craft options. When I went out, I ordered a Brooklyn Brown Ale, but also remember at least two other craft options on tap. Additionally, several Mexican (and some "Mexican") beers were also available in bottles.
A must-try kind of place. Beyond a somewhat distracting logo, Yo Rita nails just about every attribute I look for in a restaurant: welcoming atmosphere, pleasant waitstaff, a menu I don't feel guilty about, and (most importantly) exceptionally prepared and presented food. On that basis, it easily makes my list of must-visit Pittsburgh establishments. It's one of those places everyone should try at least once.
Tags: independent, must-try, south-side, veggie-friendly
8 Responses to "Review: Yo Rita"
Leave a Reply