Posted by mike | Filed under Beer, Reviews
Not long ago, I made my way over to Duke's Upper Deck Cafe for dinner. I had noticed the place a few times in the past, and even stopped there for a beer with my parents when they were in town for Easter. Trust me, my parents are more open to trying a new place than you are. They may have even twisted my arm a little—all without any knowledge of how well it would turn out.
Fast forward a few weeks, and I've been to Duke's a total of three times: once for my pre-Easter parental bar crawl, and twice for dinner. That means I've managed to see several different parts of the menu.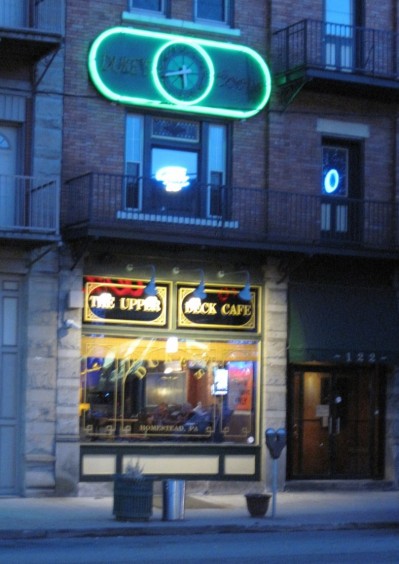 122 W 8th Ave
Homestead, PA 15120
(412) 461-8124
Duke's is yet another Homestead find—just to the right of where the Homestead Grays Bridge hits 8th (and across the street from the Walgreens). If you pay attention, you can even see them from the bridge.
Being so close to Blue Dust, it seems like I walk or drive by fairly frequently and always wondered what to expect. From talking around, it sounds like some of my friends feel the same way. That uncertainty makes it exactly the kind of place I like to write up for FoodBurgh. Remember, even Blue Dust started out that way.
Traditional bar, quiet dining room, and even a patio. Okay, so the the patio is still in the works, but a quick peek outside tells me they're close—maybe just waiting for the right weather. For now, your options are either the bar or an offset (and elevated) dining area. The bar is filled with all the visual noise you might expect: neon lights, hanging glassware, and…oh yeah, Steelers paraphernalia.
The dining area is a little bit more quiet—along multiple sensory dimensions. From the separate room, the sometimes loud music and conversation of the bar is pretty well muted, and the assorted visual kitsch drops from view—replaced by bare brick and a few chalk boards for specials and beer lists.
Beyond just the menu exploration, my multiple visits allowed for some exploration in seating. I spent my first visit in the bar and subsequent visits in the dining room—where I picked up some free WiFi the the purpose of finishing up my Molly Brannigan's post. It's worth noting that there was really no host table at the front. The policy seems to be just walk in and find a table—bar or dining area.
Who knew Homestead had more good beer? Because Duke's is really a bar, I'll move on to the beer. I count 12 or so tap handles with 3-4 macro beers, a couple of European imports and pretty much finished out with some quality craft options. You're not going to find the huge craft beer focus and rapidly evolving beer list as Blue Dust, but they do carry at least one option from East End. For both my visits, that was Big Hop, though Scott tells me they're big EEBC supporters—sometimes with 3 of his brews on tap at once.
Here are some of the non-macro notables I found on draft over the course of my visits:
As you might expect, the bottle selection is quite a bit more extensive. I was particularly pleased to find 4 different Samuel Smith options—Nut Brown Ale, Old Brewery Pale Ale, Oatmeal Stout, and India Ale. I think I enjoyed at least one of those every time I stopped by. If you haven't had one yourself, each one is a primary example of the British style it represents. My favorite: the pale ale (a.k.a extra special bitter).
Fantastic…in the world not revolving around beer. Overall, I like to think of Dukes' beer options as top notch among establishments that don't hold craft beer as part of their DNA. You can't really compare them to D's, Blue Dust, the Sharp Edge, or even Mad Mex—but they do rate pretty highly against just about any place else. In the context of their own weight class, they present an outstanding beer list.
Vegetarians beware: this is a Pittsburgh food. Let me start off by saying that I love the atmosphere at Duke's. Part of what drove me to return so many times was  just menu exploration. I wanted to find some food that aligned with my tastes. Sadly, I didn't find it.
While the beer gave me something to be excited about, the number of veggie options on the menu are limited. The options for reasonably healthy veggie items on the menu are exactly nil. Overall, I count just a veggie "riverboat" (a big hoagie) and a veggie calzone as the only two options—besides deep fried bar food.
A Chef Salad. Putting the veggie trend aside—for lack of alternatives, my second visit involved a chef's salad. On balance, I was pleased: leaf lettuce, red onion, cherry tomato, and a hard boiled egg. The bowl was even filled out with a nice thick layer of lettuce in the bottom—which is somehow rare among restaurant salads. My chosen dressing, a balsamic vinaigrette, was emulsified and probably not made in house.
For the remaining toppings: the meat and cheese, I found cheddar, Swiss, provolone, roasted turkey breast, and ham. Actually, the whole mix produced a pretty thick layer that covered nearly all the lettuce. From my perspective, the proportions were off: I'd rather smaller amounts of meat/cheese over mostly lettuce. That basically just meant that I ended up sweeping most of the pile to the side and eating around. I'm sure the proportions were pleasing to someone, but that someone wasn't me.
A Corned Beef and Turkey Rachel. The second time I went back, I went completely insane: I dove straight into the heart of the sandwich list with the Rachel: turkey, corned beef, coleslaw, and American cheese. I suppose that's exactly the kind of item that Duke's carries itself on, which should have made it a great place for me to dive in. Sadly this one seemed like a miss as well. The bread was really more of a marbled soft Italian than a marbled rye, and the cole slaw biffed an opportunity for texture. The American cheese didn't really help either. Again, I'm sure the sandwich was spot on for somebody—it just wasn't me.
On the plus side: the waitstaff. A fun and interactive wait staff was one place where Duke's really succeeded. Though there was some initial uncertainty over waiting for a seat versus sitting down anywhere, I was more than happy with the three different servers I had across three different visits. None of them were fully in tune with the beer list, but all three quickly jumped in with friendly banter and quickly established a positive customer-server rapport. On my last visit, I even got a quick visit from my pre-Easter server—who immediately asked about my parents. Definitely friendly and attentive.
Worth a shot. Overall, Duke's is worth a shot—assuming you're okay with the menu. Though the veggie options are slim and the food isn't really my style, I still love the atmosphere, and appreciate the well-rounded beer list. Plus, their support of East End is always a welcome trend. The way I see it, a trip out there is just another way to do your part for the 3/50 project.
Tags: freewifi, good-beer, homestead, independent, non-veg-meal, worth-a-shot
3 Responses to "Review: Duke's Upper Deck Cafe"
Brett Says:
April 21st, 2010 at 11:13 am
Leave a Reply